Lots of Jewelry Display Ideas and Photos
If you buy something through links on Craft Professional, I may earn a referral fee. To learn more see my
disclosure
.
---
I could write forever about jewelry display ideas, but what you really want and need are pictures of great jewelry booths so you can see what actually works.

Am I right?!
That's what I really wanted when I started to design my own jewelry booth.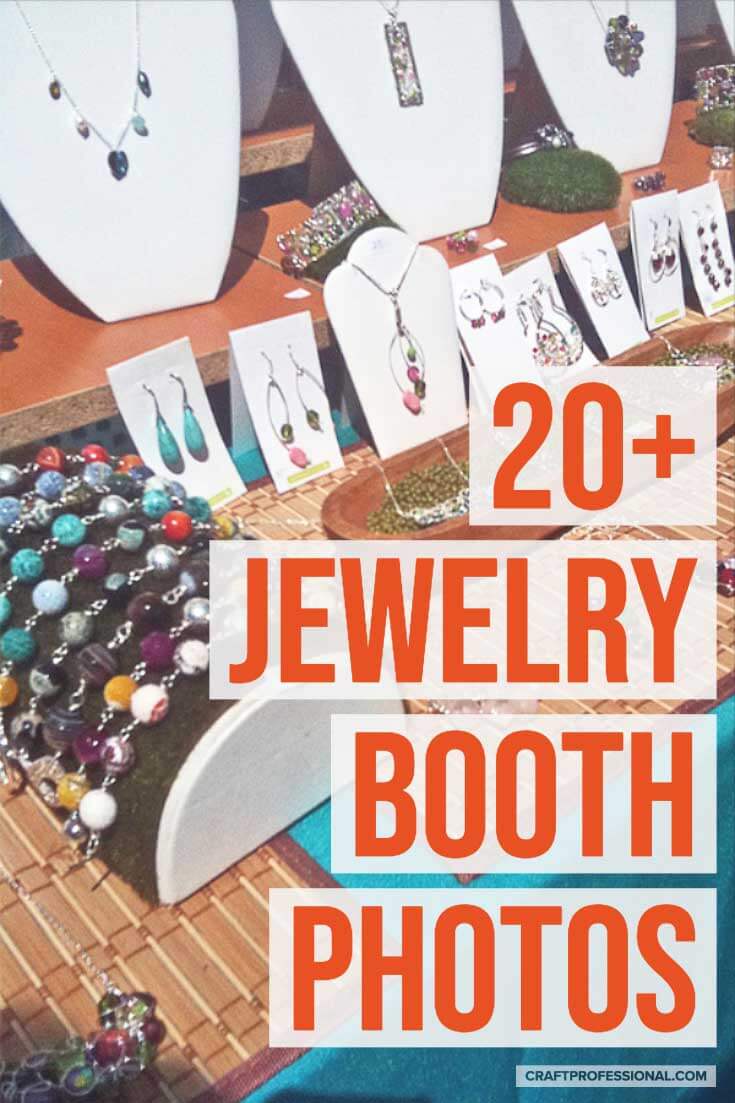 It's fine to read about booth design concepts and ideas in theory, but I really needed to see those ideas in practice to fully understand how to design a great booth and avoid common pitfalls.
I really had a hard time finding examples of booths when I needed them, so I've made it a priority to collect lots of booth photos to share here. I hope it will make the task of visualizing and designing your booth easier.
Below you'll find pictures of more than 20 jewelry displays that represent different styles and a couple of different types of sales venues.

Please be sure to use these photos for inspiration only.  
Take a look at what works and what effects or impressions are created with different types of booths.  Then consider what will work for your own handmade jewelry, and interpret (don't copy) the ideas here to create your own unique booth.
Neutral Display Colors and Varied Heights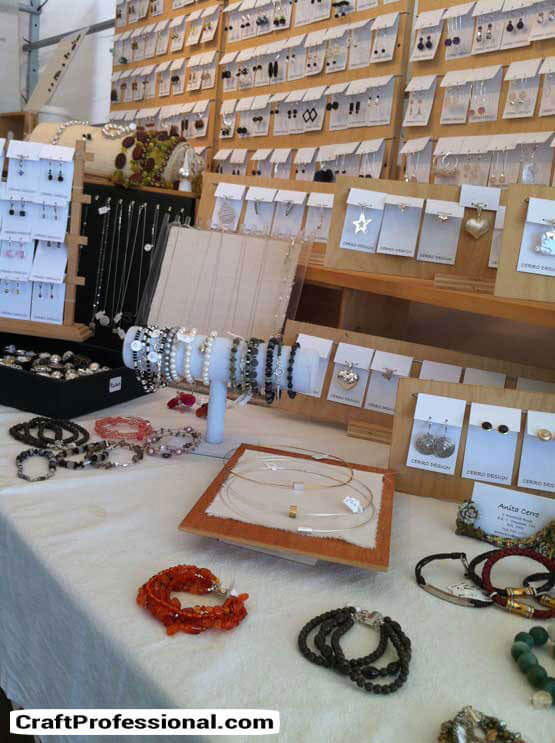 The neutral colors in this booth are nice because they don't compete with the products. The geometric pattern on the display table covers draws your eye in from a distance, but doesn't detract from the jewelry once you get up close because it is out of view at that point. 
The booth is jam-packed with handmade jewelry, but it is easy to see each piece, and the multiple levels created with the boxes, shelves and tables create a nice flow.
| | |
| --- | --- |
| Top right corner - Notice the great booth lighting | Neutral display doesn't compete with the handmade jewelry |
BLACK OR DARK COLORED DISPLAYS
Displaying jewelry on neutral white or black stands against a black background can really make it pop and appear more luxurious. Here are a few jewelry display ideas using a black background.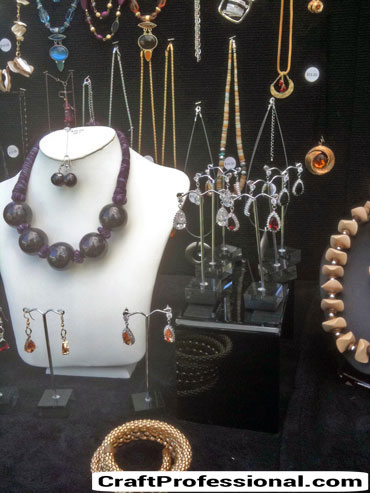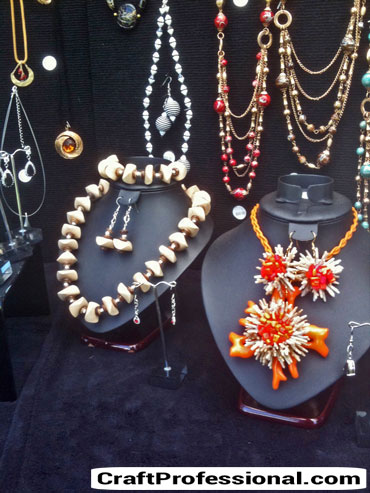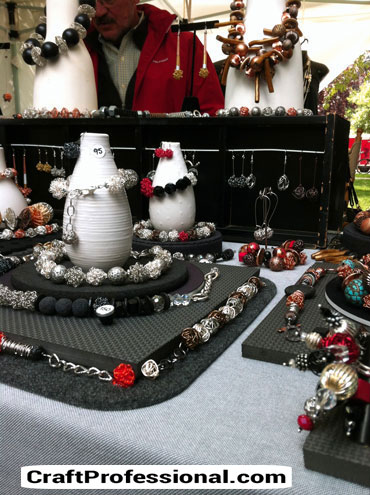 ---
I love the idea of displaying your jewelry on a display dress form or mannequin .
I'm not sure if the pictures below fully do these booths justice, but they were all quite effective.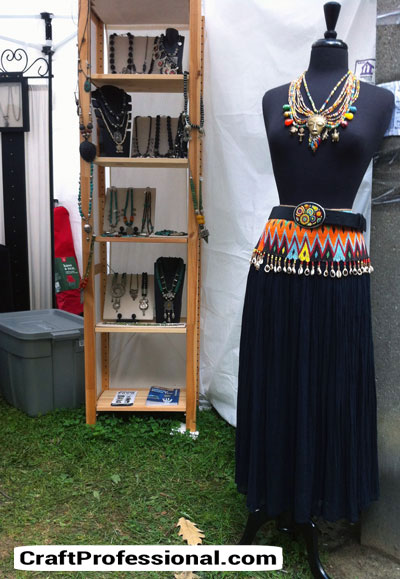 The mannequin accomplishes a couple of things.
First, it shows how you might wear the jewelry and helps customers to imagine how chic they could look walking down the street in one of these gorgeous necklaces.
Second, the busts helps take a small item (jewelry) and make it larger to stand out more and draw customers' attention more easily.
These displays work because the bust and clothing are simple, basic black. They don't compete at all with the jewelry. And the necklaces displayed are big, colorful pieces that easily grab attention, take center stage and draw customers into the booth.

| | |
| --- | --- |
| Notice the attached matching earrings | The black display makes the jewelry "pop" |
Here are a couple more jewelry display ideas - Full-size display cases with jewelry under glass, and several shelves with standard necklace display stands.

| | |
| --- | --- |
| Display cases for jewelry | Necklace display stands |
These pretty frames with just a few pieces of jewelry displayed give the items extra importance. I have only ever displayed jewelry in simple frames myself because I didn't want to detract from the items, but, to my eye, these fancy frames work. They make the jewelry inside them look like special works of art.

I'm not absolutely certain, but I believe the display on the left uses a small room divider that's been turned into a necklace display stand (very smart!). The booth on the right is bright and colorful.

| | |
| --- | --- |
| Room divider as a jewelry display stand | Colorful craft booth |
Here's another effective use of color. The pretty blue draws your eye in, but because it's simple, it doesn't divert your attention from the jewelry once you're up close.

The photos below are handmade jewelry display ideas from a museum. These items are all displayed under glass in a museum gift shop.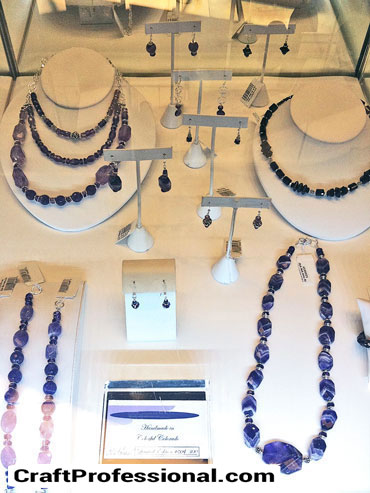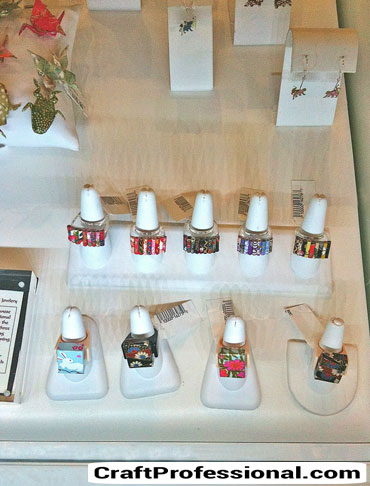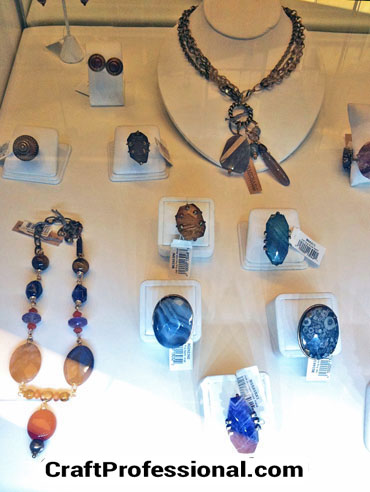 I hope these photos have given you some good jewelry display ideas that you can translate into your own booth.
Below you'll find links to suppliers who sell some items commonly used in jewelry displays so you can start creating your own booth.