Display Pedestal Ideas for Your Craft Booth
If you buy something through links on Craft Professional, I may earn a referral fee. To learn more see my
disclosure
.
---
Portable display pedestals are a versatile option for displaying handmade products at craft shows. Check out these 6 booth photos to learn how portable pedestals in a craft fair display.

If you spend much time looking at craft booths, you'll quickly see that display pedestals are not as commonly used at shows as other display furniture. People generally think about using tables, shelves, grid walls or slat walls, but the idea of using pedestals isn't as popular.
While pedestals won't be ideal for all types of crafts, for the right items, they can provide a very versatile display platform that can be easily arranged in endless configurations to suit all kinds of booth spaces.
Here are photos of 6 booths that show how pedestals can be used effectively to display handmade items.
---
I earn a commission for purchases made through links on this page.
To learn more, please see my disclosure.
---
Displaying Sculpture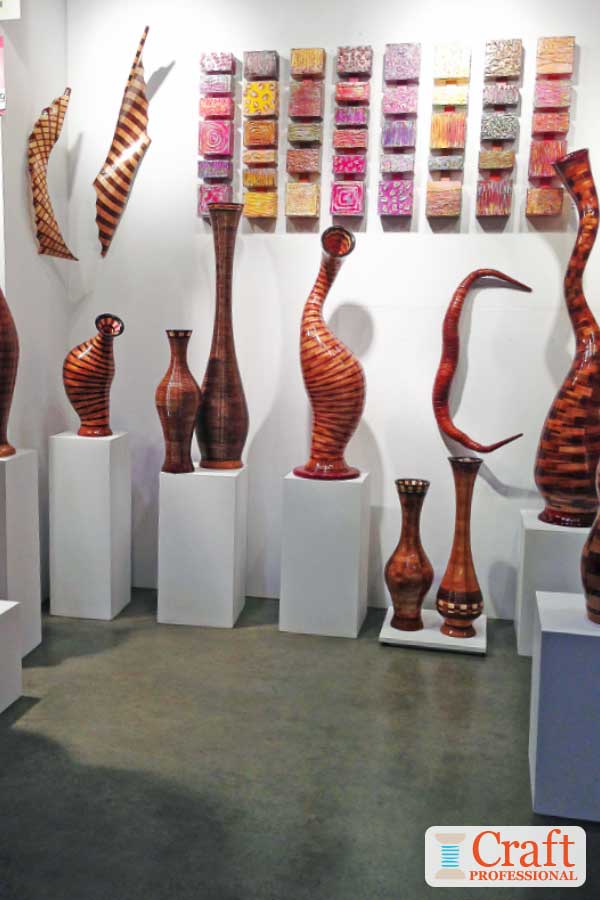 Pedestals are a great option for displaying sculptural pieces.
In this first booth picture, you can see that the artist has used pedestals to get the pieces up off the ground, which gives them more importance.
There's something about displaying items directly on the ground that often detracts from the work and makes it seem less special and valuable. Getting these items off the ground helps to raise their perceived value.
The display pedestals also raise the sculptures up to eye level, an important element of effective visual merchandising. The varied heights of the stands, combined with the varied heights of the sculptures helps to draw your eye around the booth.
I also like the way the artist has hung several small, colorful items on the wall behind the sculptures to add more interest and height to the display.
x-Shaped Pedestals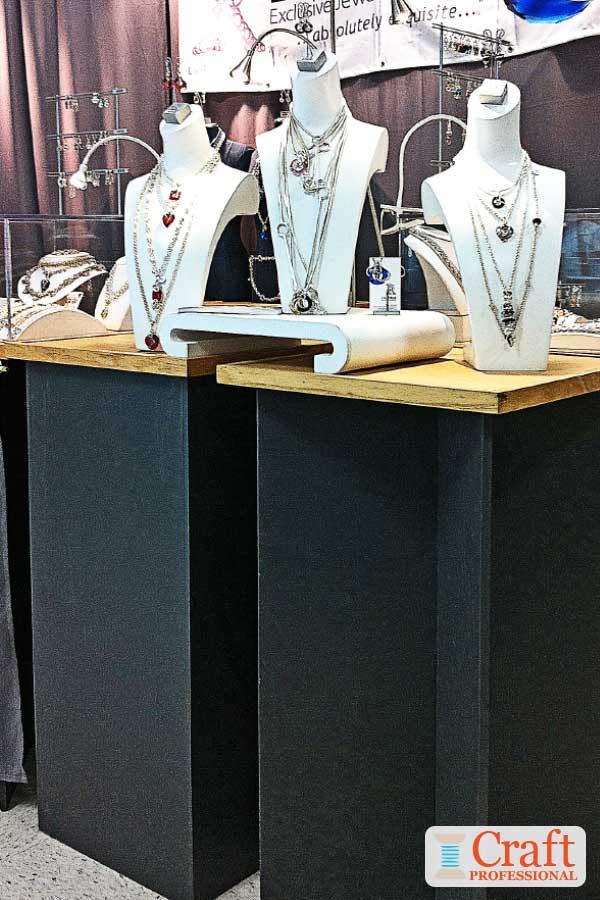 Take a close look at the front right of the next booth photo. This jewelry booth uses an X-shaped pedestal that probably would be quite easy to make if you (or a friend) had some basic woodworking skills.
It also looks like it would come apart to fit nicely in a vehicle and to store compactly when not in use.

Notice the artist has used fairly large jewelry busts, each with several substantial pendants on top of the pedestals. Smaller items might feel out of place and lost, but the larger display gives more importance and attention to these pieces.
Display Pedestals Made from Sonotubes
First, let me say that this next picture does not do the booth justice. It is actually a gorgeous booth, but something about the lighting, or the angle of the photo doesn't show how lovely this booth really is.

These pedestals appear to have been made from sonotubes with a round top added. Commercially made pedestals are gorgeous and convenient, but if they are out of your price range, constructing your own with sonotubes can be a good, budget-friendly option.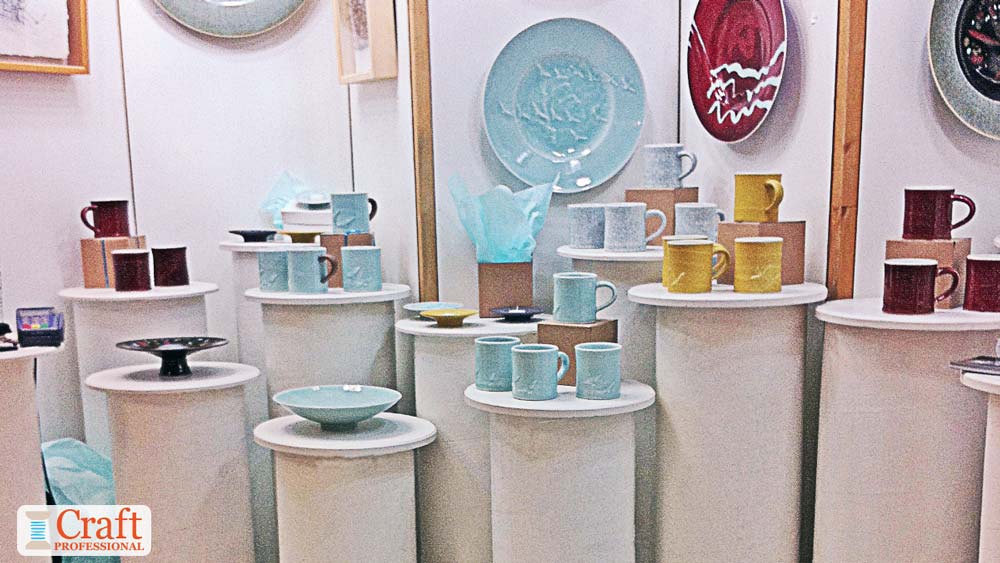 Not Quite a Pedestal, But Not Quite a Table...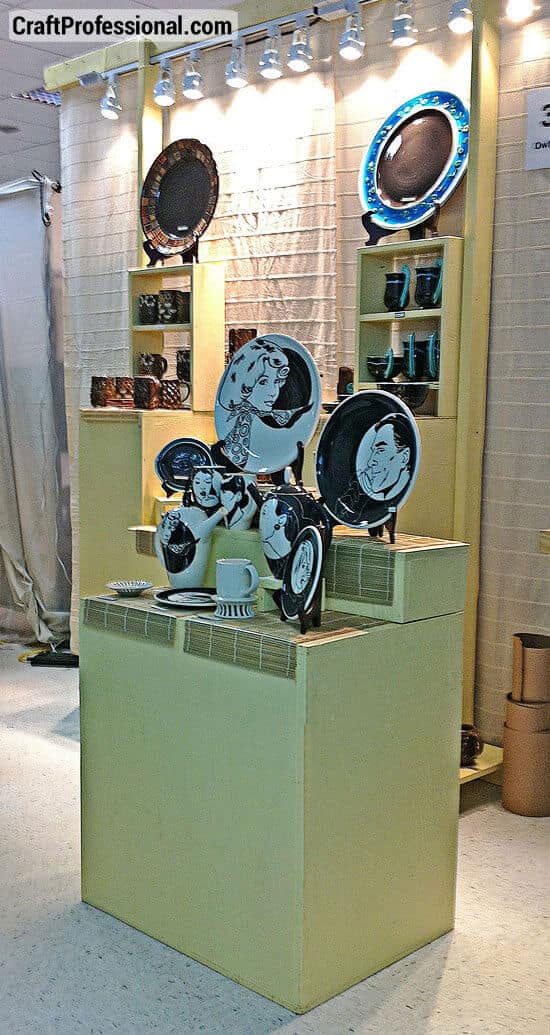 Okay, this next example might be a bit too big to qualify as a display pedestal, strictly speaking. However, it is smaller than a table and functions much like a pedestal, so I decided to include it.

If you don't have something this large, you could put two square pedestals together to make a larger space and create a little vignette like the one pictured here.
Also, notice the riser on the back. It adds more height, and ensures that you can see items at the back as well as items at the front. All of the display furniture in this booth is painted a single color for a cohesive look that allows the product to be the main focus.
Mini Pedestals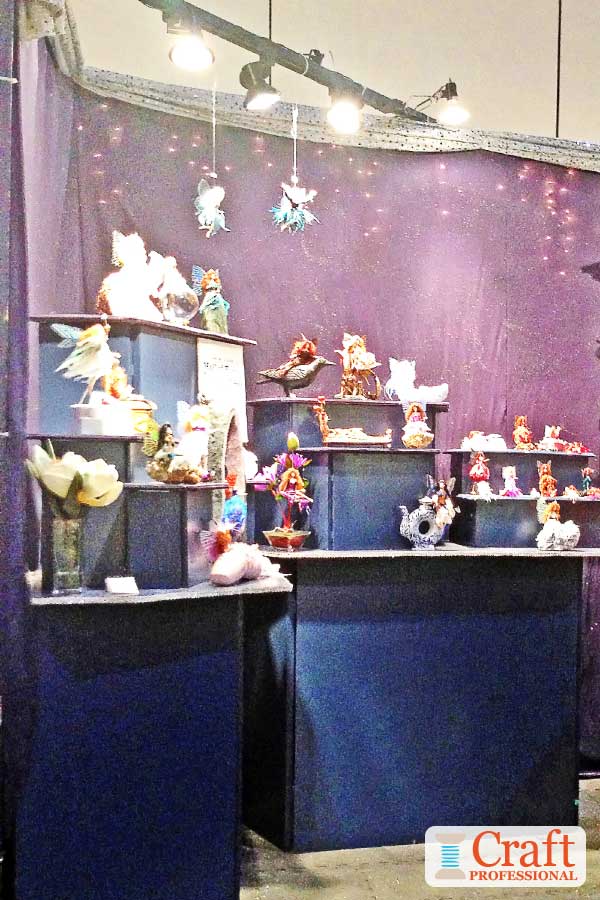 I do apologize for the quality of the next photo. Normally, I'd never post something so blurry, but it shows an option that none of the other photos show, so I decided to include it.

This booth uses mini pedestals on top of large pedestals to create a great flow and variation in heights.
Notice how the small pedestals look exactly like the large ones they are sitting on. That choice creates a good continuity throughout the booth, so the display fixtures fade into the background, and you can focus on the sculptural pieces and not the display itself.
Illuminated Display PEdestals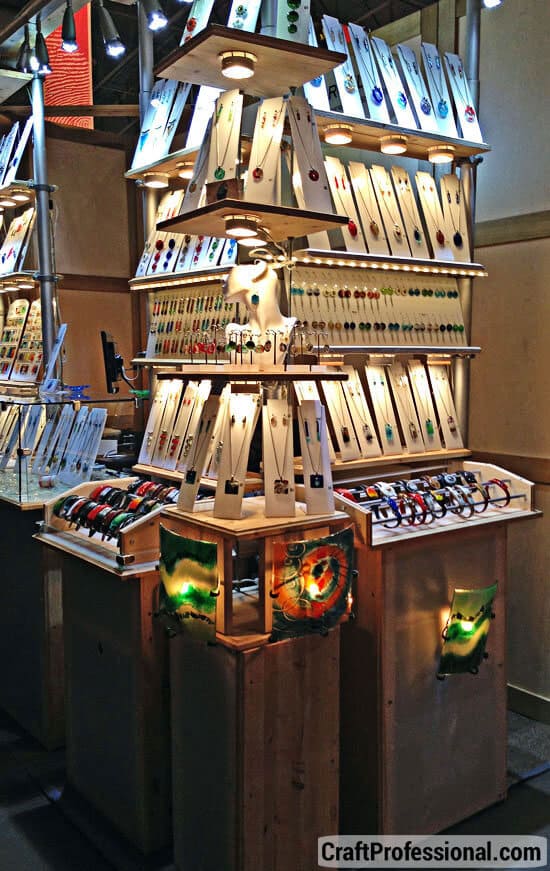 Here's a completely different way to use pedestals in a craft booth.
This jewelry booth uses what appears to be large, rectangular wooden boxes turned on their sides to function as pedestals. I bet they double as excellent, sturdy crates for packing up and transporting everything before and after shows.
Notice also, the abundance of lighting in this booth. Good lighting is an essential element of craft booth design, and it is particularly important in a setup like this one where you have several rows of shelves. Without all of that lighting, the items on the bottom rows would be completely lost in darkness.