Eight Portable Jewelry Displays
If you buy something through links on Craft Professional, I may earn a referral fee. To learn more see my
disclosure
.
---
When you start to really look at portable jewelry displays, you see a huge variety of styles that can be created, sometimes just with the simple change of a table covering.
Here are eight photos of some very different booths to help you see how certain choices impact the overall look and feel of your booth, and to inspire you to create your own great jewelry display.
Jewelry Booth With Shadow Boxes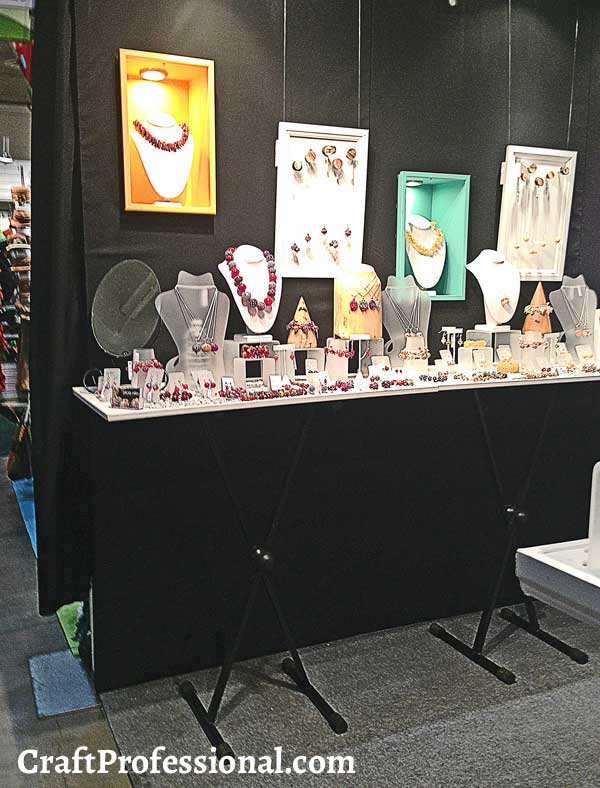 I love this portable jewelry display. I'm not sure if it is obvious from the photo, but those colored boxes on the wall are actually shadow boxes that are set into the back wall of the booth.
Notice the puck lights in each shadow box. The shadow boxes, plus the lighting of individual pieces gives a special museum quality to the necklaces displayed.
I also love the narrow, high table in this booth. It provides plenty of display space for small items while still leaving room for customers to walk around.

Black and White Display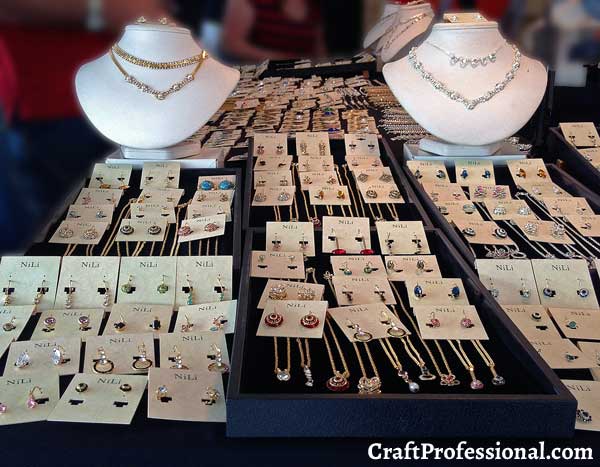 Here's a simple earring and necklace display using white against black. The black grounds the white, and the two colors together are elegant and let the jewelry stand out and speak for itself.

All White Jewelry Booth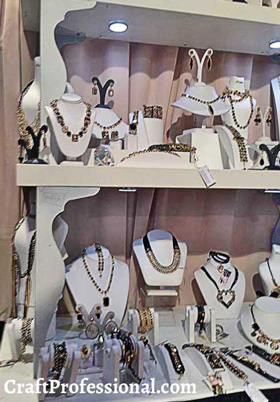 Compare this all white portable jewelry display to the black and white one in the previous photo. The white without black crates a completely different feel.
Notice the tidy puck lighting on the under-side of the shelves. Under-shelf lighting is extremely helpful if you're going to stack your shelves the way they have been stacked in this example.
All Black Jewelry Booth

Here's a jewelry booth that breaks a lot of the "rules" but it works.
Normally, you wouldn't use anything other than a white tent for your craft booth. Also, there are piles and piles of jewelry clustered all around. Usually you wouldn't fill the booth so full because it can take away from the perceived specialness of each item.
In spite of breaking the rules, I see this booth year after year, and it is always full of customers.
It works because they have broken the rules with incredible enthusiasm. So, instead of buying a black tent, and then trying to tone it down with white table coverings, these jewelry artists have gone all out with the black color. It is clearly intentional and part of the look, and everything is created to work cohesively with the black tent.
The huge amount of stock displayed in a completely unrestrained manner makes you feel like you're hunting through your grandmother's piles of great, vintage costume jewelry. The style of the jewelry in the booth really fits with that vibe, so the display works with the product.
This look would be tough to pull off, but these jewelry artists make it work.
A Lot of Jewelry Displayed in a Small Space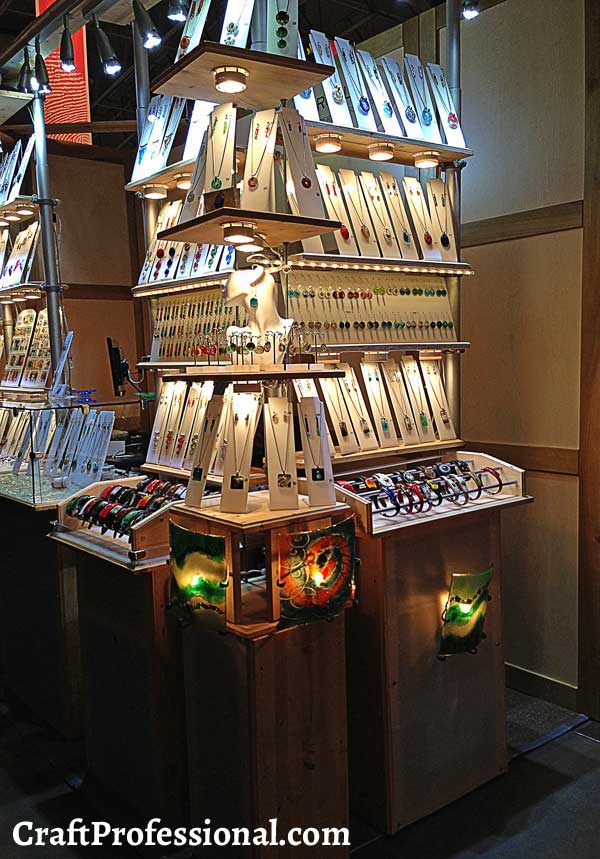 Here is another example of a booth with a lot of jewelry displayed in a small space.
In contrast to the all-black booth, though, this jewelry is displayed in a more orderly, row by row, manner, which gives a completely different, more modern feel.
Also notice the puck lights again. Under-shelf lighting is extremely helpful with this type of display.
Photo Stand as Earring Display

Here's a cute, simple and very portable jewelry display idea - Use a wire photo display stand to hold earring cards.
This photo stand is such a perfect display solution for handmade earrings, you'd almost think it was made for the purpose. 
Portable display pedestals bring items up to eye level and provide a flexible option for your craft booth. 
Natural Elements

I love the natural elements and neutral browns combined with color used in this jewelry display.
This booth is at a Christmas show, so the deep red works with the festive season. However, the red doesn't scream out Christmas, so it could still be used year-round.
Jewelry Display Kiosk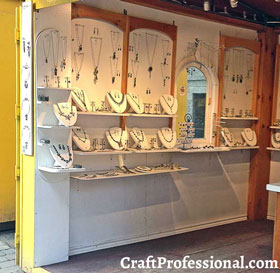 This simple jewelry display is in an outdoor spot frequented by tourists. You'll notice stacked shelving again, but this time, there's no under-shelf lighting.
Unlike the previous examples, this is an outdoor booth, so it benefits from sunlight. Although there is lighting in the booth (I've cropped it out of the photo) this booth works with less lighting than some of the others because it is outdoors.
Also notice that everything is off the floor, leaving plenty of walking space. the booth is in a more permanent wooden kiosk-type space, so the craft artist had more freedom to attach display shelves to the wall.