10 Necklace Stand Photos to Inspire Your Jewelry Booth Design
If you buy something through links on Craft Professional, I may earn a referral fee. To learn more see my
disclosure
.
---
Necklace stand ideas for jewelry makers. These photos of portable handmade jewelry booths show you how to display necklaces at a craft show.
Distressed Wood Necklace Stand

The wood necklace stand (pictured below) with distressed white paint is a perfect fit for this casual line of handmade jewelry. If you can't find a necklace bust that matches this look, you could create a distressed paint effect on plain wooded jewelry busts.
Several delicate pendants are displayed on a single stand, which is a smart way to give more presence to displays of smaller jewelry pieces.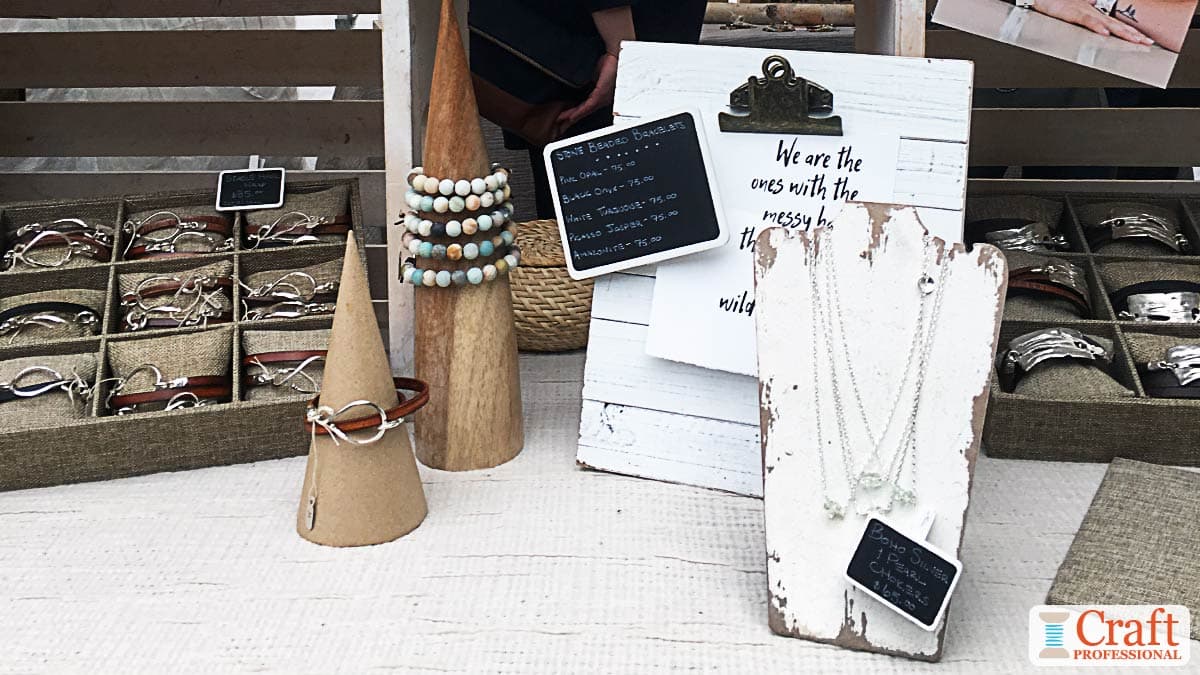 Tabletop Display Mannequins
Next up, I have two photos of the same booth set up at two different craft shows - one indoor, and one outdoor show.

Small, layered pendants are featured on a couple of mannequin torsos in this display.
On the left, you'll see an effective stand simply made from wood and nails with large heads. This necklace stand would be very simple to DIY, just be sure to measure carefully to keep the line of nails straight and evenly spaced. Notice chains are draped across two nails to better display the pendants.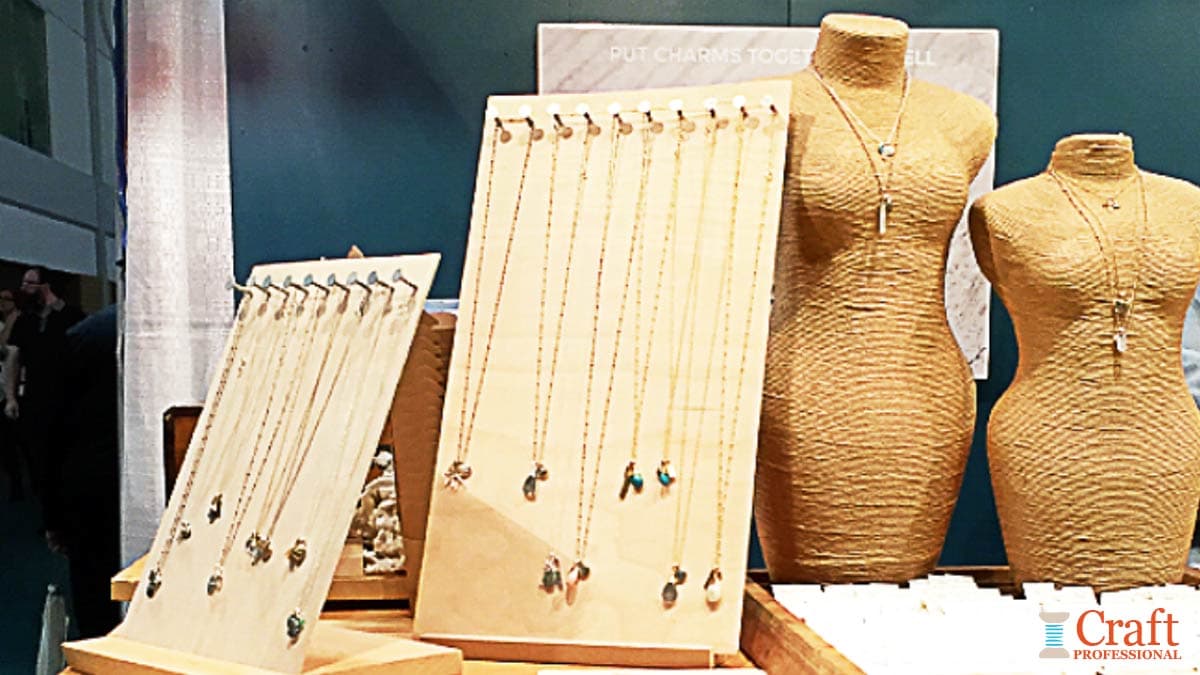 Here's the same jewelry display at an outdoor show. Once again, the tabletop mannequins create a focal point and add height to the display. The wood display boards pictured in the photo above are on the opposite side of the table, and not visible in the next photo.
The wood tray to the left of the mannequins is another necklace display you could easily DIY. I have more photos of this portable jewelry display at yet another craft show, if you'd like to take a closer look.

Signs suspended with chains from the frame of the craft tent are at eye level. When you sell small items, like jewelry, that can't be seen from a distance, large-scale signs featuring your more eye-catching designs can help to draw shoppers into your space.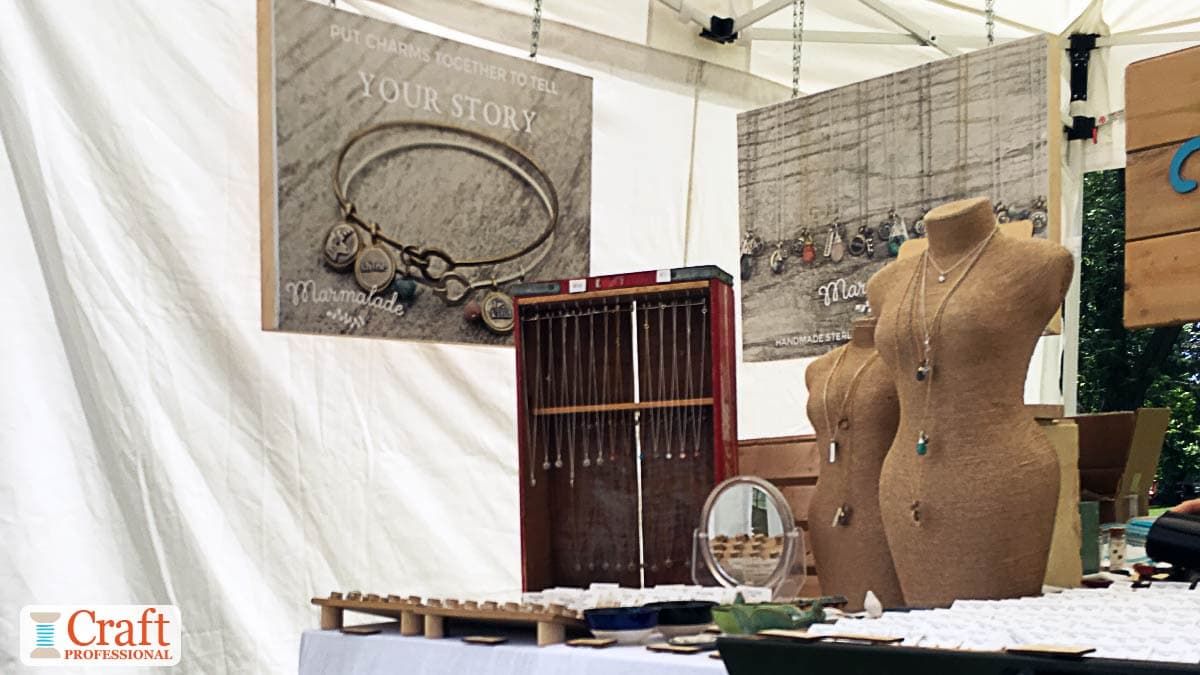 Angled Display Board

I love this angled necklace display board. It gives the two necklaces featured on this tabletop display a little more importance and visibility than they would have on a flat display board.
A display board like this one would not be tough to DIY if you have some basic woodworking skills.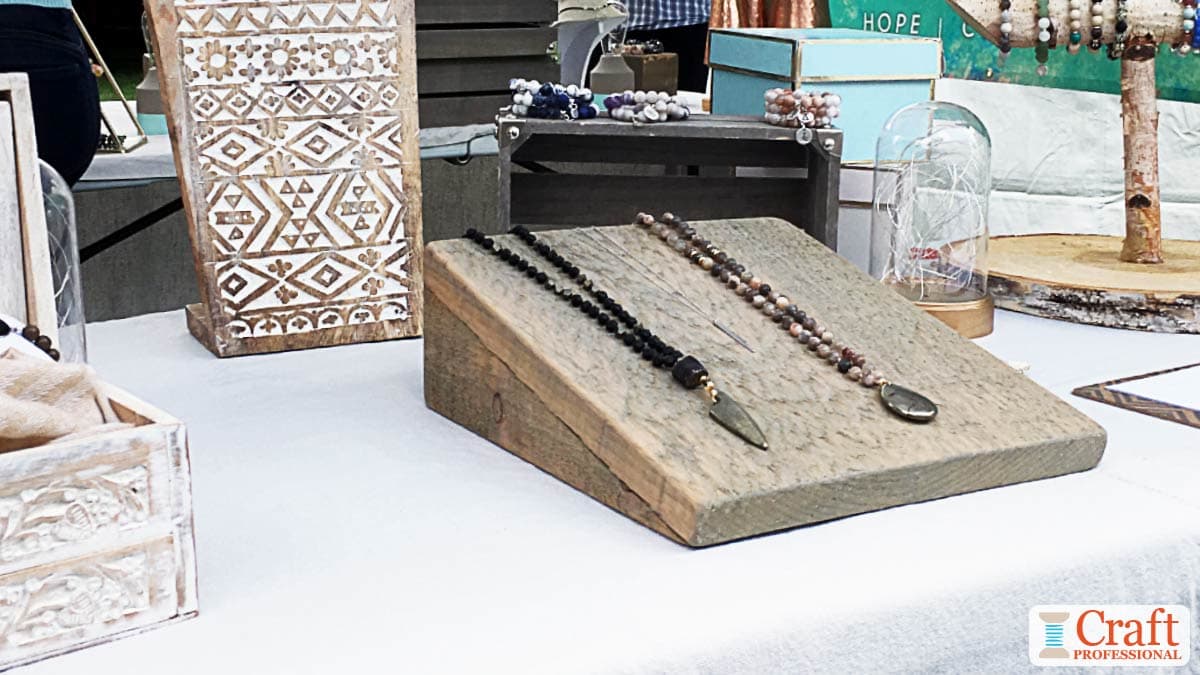 Necklaces Displayed on Branches
Here's a jewelry display with a lot of great features to notice.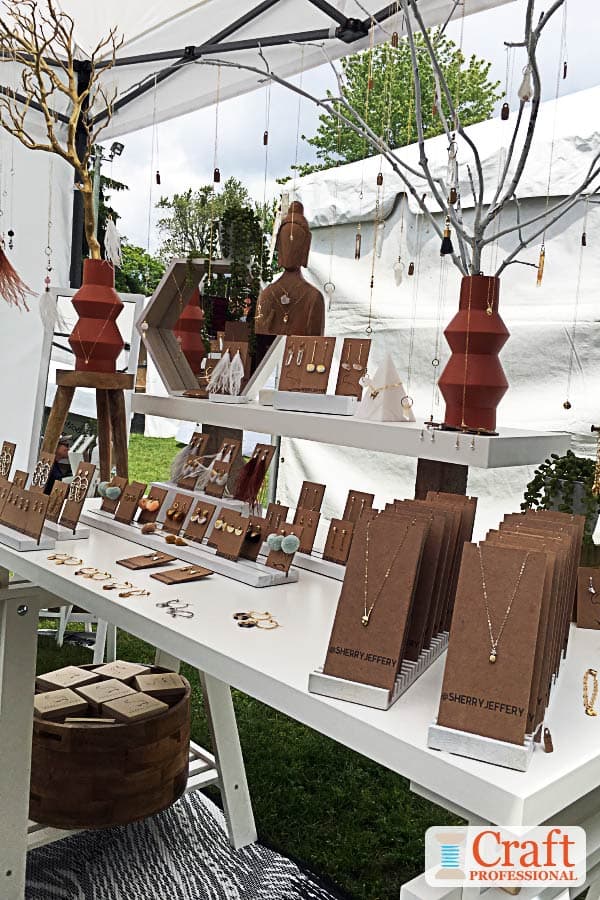 I chose this photo to share because of the pendants hanging from tree branches. You can see one most clearly at the top right of the photo, but they are used in a few places in this jewelry booth.

I see this type of hanging pendant display frequently at craft shows, but I don't believe I've ever posted a photo. Displays featuring hanging pendants never seem to photograph quite as well as I'd like, but in person, they look great.
This type of display invites customers to touch the pendants, and this booth was quite crowded with shoppers coming in for a closer look.
You can leave the branches natural, or paint them a color that matches your brand. Do be sure to use a vase that is large and heavy enough to provide a sturdy base for your display.
Beyond the tree branch pendant display, there's even more to love about this booth.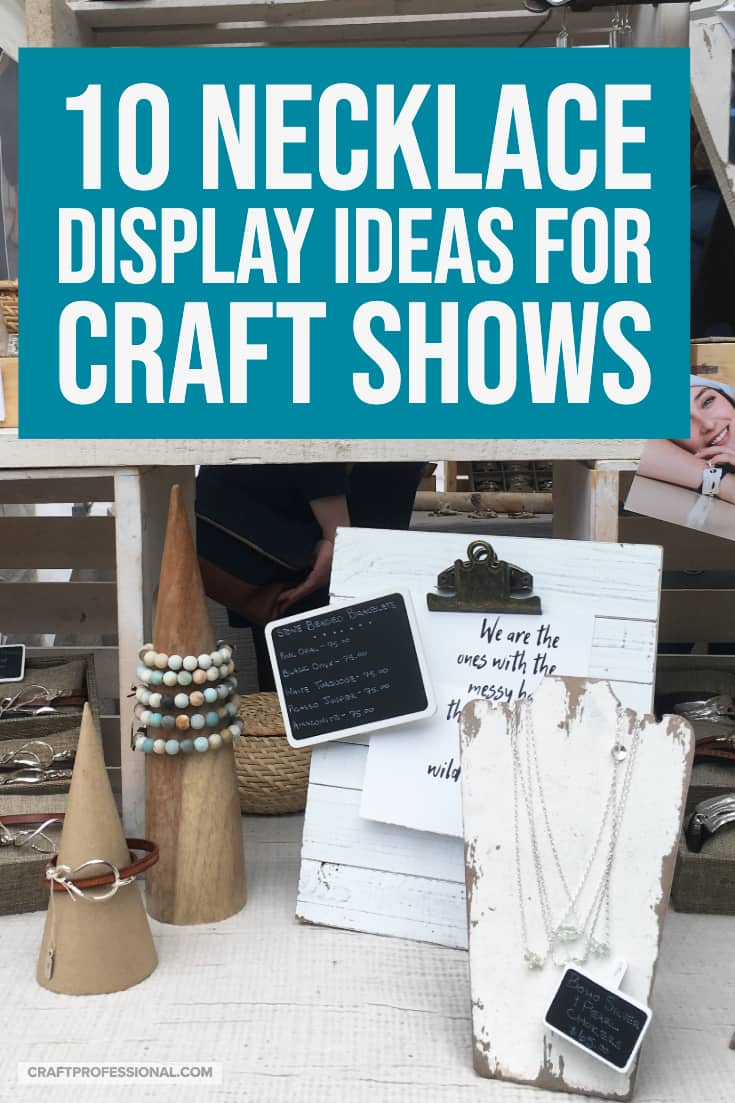 The rectangular necklace display panels visible at the bottom right of the photo are simple and effective - another necklace stand you could make yourself if you (or a friend) are a little bit handy with woodworking.

The tables used in this display (there's a matching table, not shown in the photo, on the opposite side of the booth) work beautifully. I'm not 100% certain, but I believe the table base is most likely made from two white Finnvard trestles available at IKEA. The base can be adjusted up to 36 inches high, allowing you to create an effective eye-level display using good visual merchandising techniques.
A narrow shelf at the back of the table creates more height and allows the back of the table to be used effectively. Imagine if the items displayed on the upper shelf were simply placed at the back of the table. The display would not be as eye-catching, and it would be impossible for customers to comfortably browse those items.

The simple, neutral white and reddish-brown color scheme provides a solid foundation for displaying jewelry without competing with the products.
Neutral Necklace Busts
This collection of neutral necklace display stands and earring stands is made compelling with variety. There's variety in size, shape, height, and texture. The display is made cohesive with the very narrow range of colors that are used.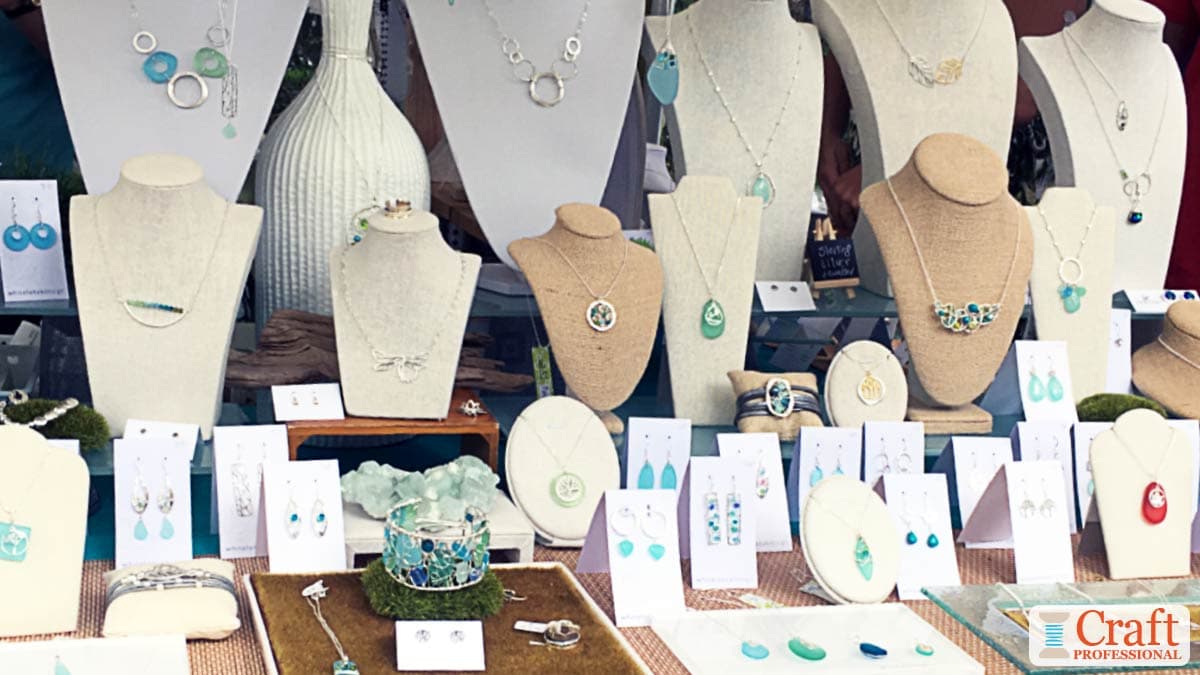 Portable Jewelry Display Case

This next display features an interesting and unusual booth layout.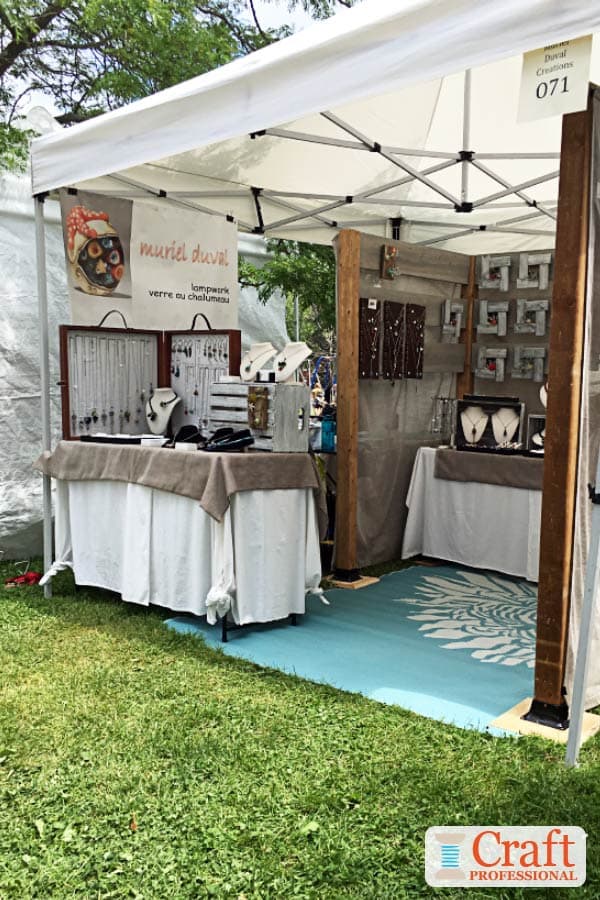 Jewelry is displayed on a table at the back of the 10x10 space, and along the back and right walls, giving the benefits of an L-shaped booth design, and making full use of the space within the tent.

The table across about half of the front of the space makes the setup unique. It is an effective way to draw shoppers into the space.
A small amount of space at the back left is unused, providing the jewelry artist with space to store craft show essentials, and discouraging customers from constantly wandering behind the front table.
Let's take a closer look at that tabletop jewelry display at the front of the booth (pictured below).

The portable jewelry display case shown on the right of the photo provides an efficient way to transport, store, and display necklaces. If items aren't too heavy, jewelry display u-pins could be used to hang individual items. You'll need something a little sturdier if the necklaces you design are heavier.
Imagine how simple it would be, at the end of a show, to close up the case with the jewelry still inside, and carry it out to your vehicle. 

When it's time to set up for a new show, everything will be ready inside. Simply open the case, perhaps rearrange items a little if needed, and stand it up on the countertop display.
What could be easier?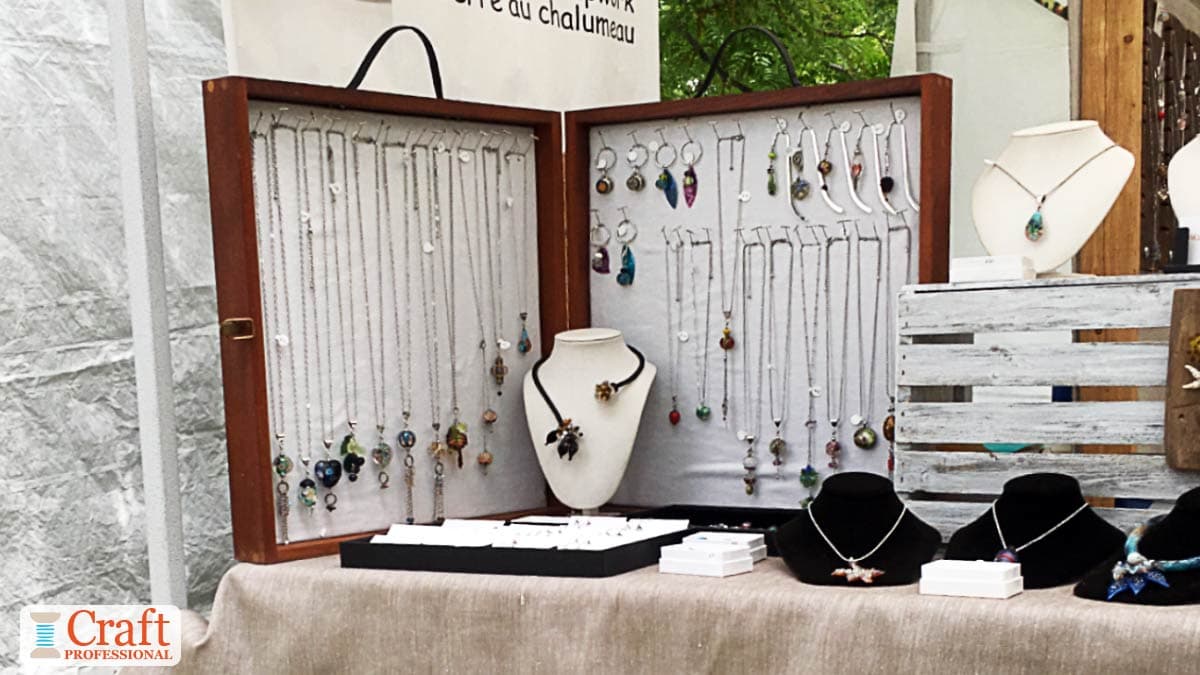 Display Necklaces on a White Vase

Here's a simple necklace display idea using items you probably already have in your home - white vases.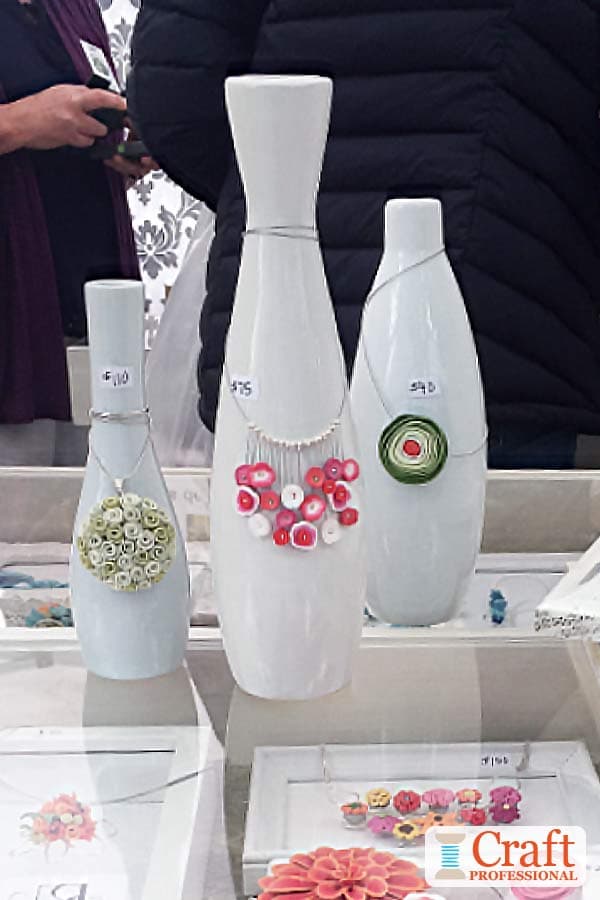 You'll need vases with a shape similar to those in the photo, with a narrower neck and a wider lower half. The wider lower portion prevents the necklaces from sliding off, and gives a backdrop to show the featured pendants.
Odd-numbered groups work well in retail display design, so the collection of three vases here works well.
Another visual merchandising display trick retailers use is to arrange items in a pyramid shape. The owner of this booth has used that arrangement to good advantage.
Simple Wood Necklace Stands

Here's one last jewelry display idea.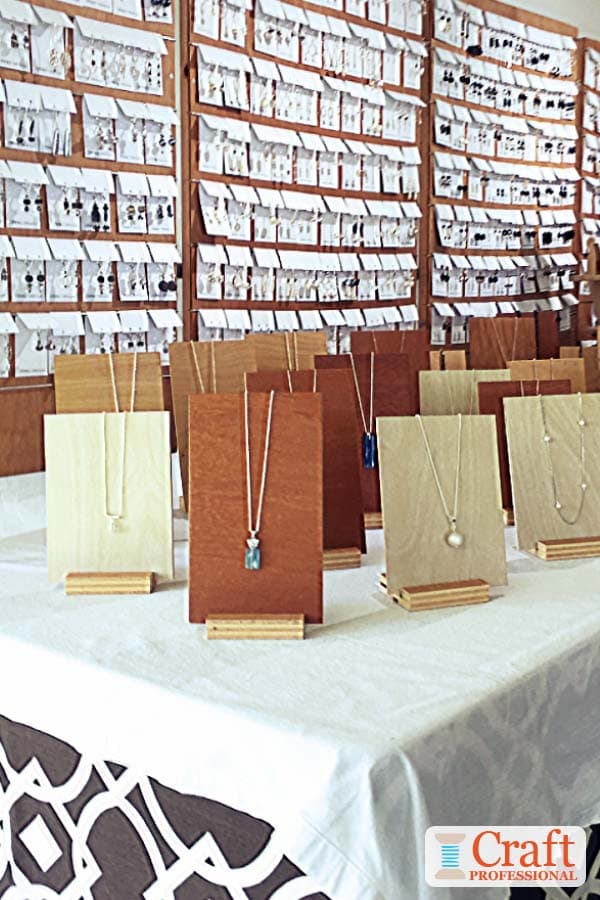 The necklace stands featured on this tabletop display are simple, portable, and effective.
Wood rectangles stand up with the help of grooved bases. It's another display stand you could make (or have made for you) quite easily with some basic woodworking skills.
Stands are stained three different colors to add variety and interest to the display. As well, some stands are cut taller than others to help add movement and interest.