10 Handmade Clothing Display Photos
by Lisa McGrimmon
Make your handmade clothing display spectacular with inspiration from these 10 photos!
Handmade clothing is often large enough, and eye-catching enough to let the product speak for itself.
While the booths pictured below each have different looks, the bones of the displays are quite similar. Under the distinctive clothing styles, you'll see a lot of the same features:
simple display racks
good lighting
and a distinctive featured product or two.
There's no need to get too fancy with your displays when you make handmade clothing.
---
I earn a commission for purchases made through links on this page.
---
These hand painted tie dyed dresses are so intensely colorful, they don't need any help to draw a customer's attention.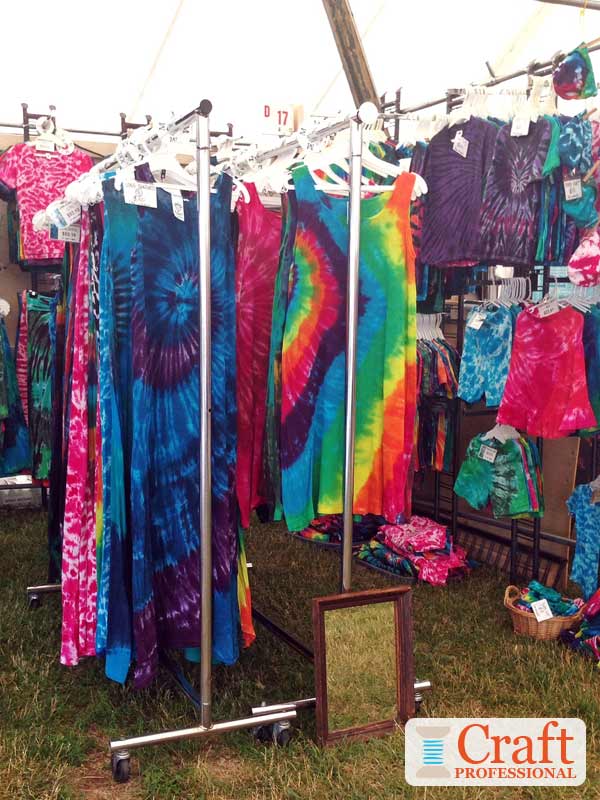 Colorful Hand Painted Tie Dye Dresses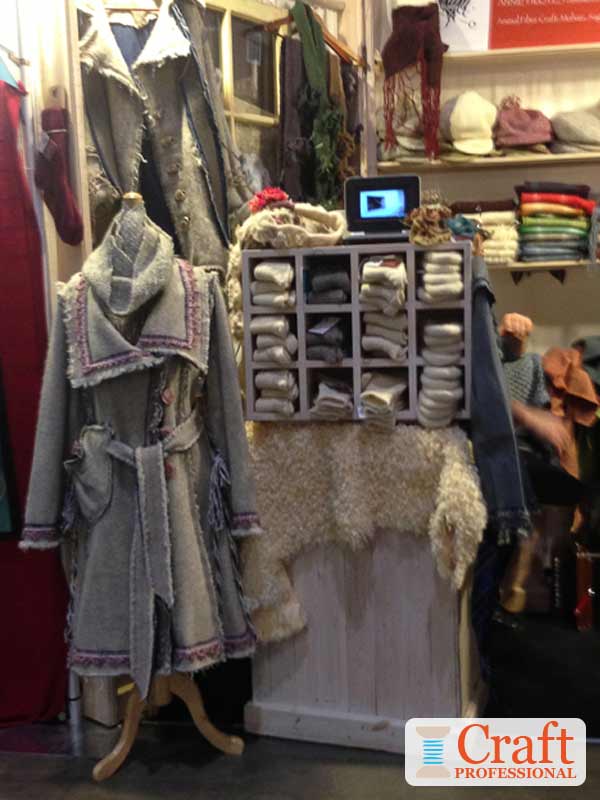 Handmade Coat Takes Center Stage
Here, a beautiful handmade coat becomes the focal point of this clothing display.
Turning your most eye-catching pieces into featured items is an easy way to showcase your style and grab attention.
I love the contrast in textures between the wood and the sheepskin on the pedestal. The colors are fairly neutral, but the contrasting texture adds interest and dimension to the display.
Here's another simple way to let your handmade clothing shine and show off your style. Simply turn out a couple of your most eye-catching items so they hang outside the racks.
This craft professional has showcased a gorgeous silver top as well as a bright pink shirt. They make all the difference in creating interest in her craft show booth. If she had hung those two tops in the rack with the rest of the items, there would be nothing to quickly grab customers' attention.
The all-white backdrop unifies the two booths in the photos below. That, combined with plenty of great lighting creates an effective foundation for displaying each designer's products.
The photo on the left, in particular, shows great lighting in the booth. There's ambient (general) lighting around the top of the booth, and there are also effective spot lights that provide accents throughout the display.

Both designers have stayed away from the traditional metal clothing racks you see in a lot of booths. The white and wood display stands create a higher-end display with the look of furniture. It's easy to imagine the products looking lovely hanging in your own home.
These booths are at a long, indoor show. It's easier and more worthwhile to bring in larger display furniture to a show like this because it can be left set up for several days of sales.
| | |
| --- | --- |
| Fabulous Lighting | All White Backdrop |
Commercial Grade Portable Clothing Racks on Amazon
Here are two more fantastic examples of how a single, stand-out item draws attention. The moment I see the lovely dress on the left, and the fabulously colorful coat on the right, I'm instantly drawn to explore these booths!
| | |
| --- | --- |
| Lovely, Attention-Grabbing Handmade Dress | Handmade Coat in a Riot of Colors |
Are you starting to see a theme in a lot of these photos?
Once again, we have simple metal clothing racks combined with a single, stand-out dress presented on a dress form to give it a special focus.
If you look at a lot of handmade clothing booths, you'll probably notice that featured items are often displayed on dress forms. Mannequins, like you would see in a retail store, don't seem to be used as frequently at craft shows. Dress forms fit perfectly in the handmade niche. They make you think of sewing rooms and highlight the special handmade nature of the clothing.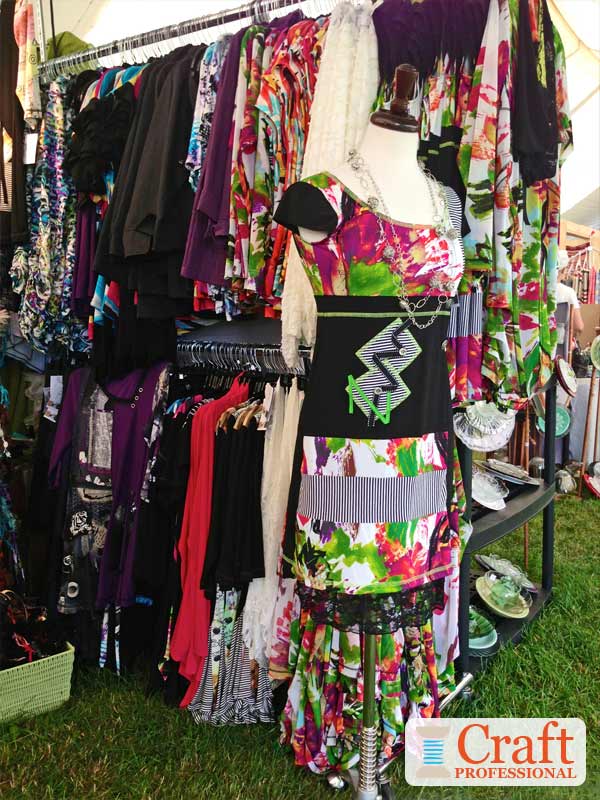 Dress Forms are Great for a Feature Design
Buy Dress Forms for Clothing displays on Amazon
| | |
| --- | --- |
| No Need to Make the Display too Complex | Handmade Clothing with Style |
The white backdrop in the booth above on the left is perfect for this clothing display. There really is no need to get fancy, the lovely sweaters do all the work attracting customers to the booth.
Check out the booth pictured on the right (above). This clothing designer has clearly found her individual style!
Again, we see the common elements in a clothing display - metal clothing racks, a dress form, and a couple of special items featured to highlight the designer's style. Yet each booth that uses the same elements looks completely different because the clothing is center stage.
Related Articles
You Are Here
You are here:
10 Handmade Clothing Display Photos
Home
➤
Display Booth
➤