Selling Crafts - Lots of Ideas About Where to Sell Your Handmade Items
You've decided to start selling your crafts. Horray! Now you need to figure out where to sell them and how to build and connect with a group of interested customers.
Selling in person at craft shows and online at Etsy are the first obvious choices (and those options are good for many people). But there are a lot of other possible venues and strategies you can explore.
As you consider each option, think carefully about whether it is right for you. One thing I learned early in building my own business is that just because an opportunity exists, doesn't mean it always makes sense to pursue that opportunity.
Some venues won't appeal to your target audience, others will draw customers with price expectations that don't match with your work (You'll really struggle trying to sell your $100 necklaces at a small church basement sale where people are looking for $10 items!). When determining how to go about selling your items, it helps to have an understanding of your target customer, the nature of the sales venue, and your long term goals for your business.
Many people dive into any opportunity available, selling their work anywhere they can rent a table. There's absolutely nothing wrong with a little trial and error, but keep in mind, the better you match the sales venue to your products, the better success you will likely have.
What You'll Find on This Page
There are lots of options and ideas for selling crafts and promoting your business on this page. If you're looking for information about a specific type of venue, click one of the links below to jump down to a specific topic.
If you want to consider a lot of different options before you jump in, take your time and read through the full page.
Whatever you do, start slowly. Focus on one or two sales venues at a time so you can devote enough time to mastering each strategy to make it a success.
Craft Shows
Finding Shows to Attend
Craft Show Directory
The first thing you need to do is find shows that you'd like to apply to and attend. You are likely already familiar with a few, but there are probably several good shows within a reasonable distance that you are not familiar with. Here's how to find good, reliable directories that list craft shows in your local area.
Choosing a Show
If you've been to a few shows, even just as a customer, you'll know that the nature of shows are vastly different. Some will be a great fit for your products, others will not. Here's how to assess a show to determine if it is right for you.
General Show Tips
Here are a few general craft shows tips to help you make the most of your next show.
Craft Fair Check List
A check list of items to bring to a show so you don't forget anything important at home!
The Jurying Process
Applying to Juried Art Shows
Here are some tips to help you make the most of your application to a juried art show.
Getting Great Photos for Juried Show Applications
Submitting great photos of your work is absolutely crucial to being accepted to the better shows. If you're not convinced, here's why you need to ensure your photos are excellent.
Photographing Arts, Crafts and Collectibles by Steve Meltzer
If you're not an accomplished photographer, and you want to take your own photos for applications to shows and online sales, you really need to read this book. Read my review to find out why!
Creating Your Booth
Craft Booth Ideas and Photos
There's so much that goes into creating a great booth, I've written and entire section on the topic with links to multiple articles and photos. You'll find all of it here.
Complete Craft Tent Buying Guide
There's also a lot to consider when buying a craft tent, and it can represent a fairly large financial commitment, so you want to make a smart choice. Click the link above to explore a comprehensive guide to choosing the right craft tent for your needs.
Home Parties
I truly love selling at home parties. I think this is a very under-rated opportunity for selling crafts, especially when you're first starting out and want to get your feet wet and get to know how people react to your work while keeping costs low.
Don't overlook this option just because it doesn't seem as glamorous as doing the local craft shows. For the right business, there is money to be made at home parties.
Handmade soaps and body butter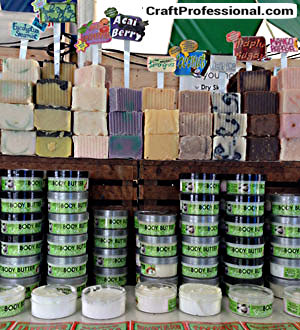 Planning Your First Home Party
Thinking about asking a few friends to host a home party? Here's how to get started.
Types of Home Parties
A home party can take a few different forms. You don't have to just stick to selling your finished products; there are other options that might work for you. Here are a few to consider.
My Home Jewelry Parties
Here are 4 different strategies I have used to host home jewelry parties, some worked better than others. I'll share what worked for me, and what didn't work as well.
Boosting Your Home Party Sales
How to make the most out of each home party opportunity, and make things easy for your host.
Selling Crafts Online
The Basics - Getting Started with Online Sales
Handmade glass jewelry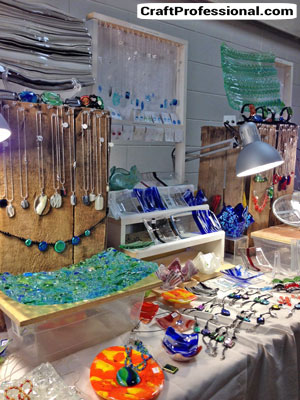 How I Started My Online Business
When I started my online business, it was a bit of a happy accident. Here's the story of how I started my own online business.
Rule Your Craft Business Online!
Are you in charge of your online craft business, or is someone else in control? You might be surprised. Find out how you might be losing control of your online business and what to do about it.
Canva - Meet Your New Favorite Social Media Marketing Tool
Do you need to be able to make social media images better and faster? Yes? Then you need to discover Canva. It's an excellent and free (or low cost) tool for craft business owners who market their crafts online.
Four Ways to Sell Online
An online craft business can take different forms. Here are four different ways you might sell your work online.
Choose a Domain Name
Choosing your domain name is a big decision, and one that can be tricky (although not impossible) to change. Make sure you get it right the first time!
Persuasive Online Copywriting
Here's how to write to motivate your customers to buy!
Photography Can Make or Break Your Online Sales
I can't tell you how many sites I've seen selling beautiful, handmade items that require an enormous amount of skill, that are clearly struggling due to poor photography. On the flip side, I've seen many sites successfully selling handmade items that many people could make without much practice for very high prices because their gorgeous photography makes their items look luxurious and highly desirable. Don't let mediocre photography ruin your online sales!
My Favorite Craft Product Photography Guide
The book, The Crafter's Guide to Taking Great Photos, is my favorite source of information on craft photography. Read my review to see if this book could help you step up the quality of your own craft photos.
How Shipping Fees Affect Your Online Sales
Don't under estimate the impact shipping fees can have on online sales. Here's how your customers think about shipping fees.
Craft Business Resources
There are so many resources for building a website it could make your head spin. And, sadly, a lot of them are not reliable. To help narrow your search for information, here are several reliable and effective resources I have used for building an online business.
Getting More Traffic to Your Site
Email Marketing Basics
This strategy is, unfortunately, often overlooked by craft artists. Email marketing is an extremely powerful tool for increasing sales. Here's why sending out a newsletter is worth your time and how to get started building a mailing list and sending out your own newsletter.
Free and Inexpensive Ways to Bring Customers to Your Site
Here are two free and inexpensive strategies for bringing more traffic to your site, plus good resources you can use to learn, in depth, what you need to know to use those strategies effectively.
Social Media for Craft Businesses
Social Media Marketing Simplified
Managing your business' social media accounts could take up an enormous amount of your time if you aren't careful, and it can take you away from other important income generating facets of your work. Here's a rational, manageable way to create an effective social media marketing strategy for your business.
How to Use Pinterest to Promote Your Craft Business
Are you ready to move on from your personal Pinterest account to create a business account? Here's how to make the most of your time on the site when using it for business.
Pinterest Power
Pinterest sends an enormous amount of traffic to my site, and the book Pinterest Power
is where I got the information I needed to make that happen. Here's my review of the book Pinterest Power - A guide to using Pinterest for business that is particularly well suited for craft business owners because the author and his wife use Pinterest to promote their own successful craft business.
Third Party Sites - Etsy, eBay and Others
Selling on Your Own Site vs. Third Party Sites
Can't decide whether to build your own site or go with a third party site like Etsy? Here are a few things to take into consideration.
Handmade at Amazon
Check out Amazon's marketplace that is strictly for handmade items only.
Etsy's Affiliate Program
Etsy has an affiliate program that could help boost your shop's sales. Here's what you need to know.
Get Your Shop Promoted With Etsy Affiliates
Boost your shot at being featured in popular blogs with these tips for making your Etsy shop attractive to affiliates.
Selling on Etsy
An analysis of Etsy sales statistics from 2008 to 2012 with a special focus on holiday sales on Etsy, and what those numbers mean for your own Etsy shop.
Zibbet Review
Everyone has heard of Etsy, but have you looked at Zibbet? Guest author Barbra La Bosco shares her insights into selling on Zibbet.
More Great Venues for Selling Crafts
Handmade pieces for sale at a museum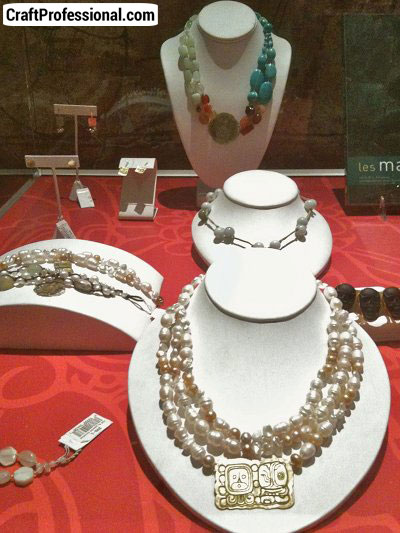 Promote Your Crafts to Tourists
Do you live in a place with a strong tourism industry? Here are several strategies for promoting your crafts to tourists.
Holiday Sales Analysis
Here's an in-depth look at shoppers' behavior and expectations for the 2012 Christmas shopping season and strategies for making the most of your holiday craft sales.
Open Studio Tips
Opening up your studio to your customers is a low cost, excellent way to sell your art. You customers get an opportunity to learn more about your work and see your process, and you get to sell your work in the comfort of your own studio.
Studio Tours
Spring or fall open studio tours can provide good opportunities to meet customers and sell your work at traditionally slower sales times. These tips will help you find a studio tour in your area, work through the application process and make the most of your participation in an art studio tour.
Specialty Shows
Keep in mind, there are industries outside of the craft industry that may be a good fit for your business. A jewelry designer might do well at a wedding show, or a potter's work could fit at a home and design show. Think beyond the craft industry to find other types of shows that could be a good fit for your work.
Flea Markets or Farmers' Markets
These venues may provide a profitable and consistent opportunity for selling crafts. Establishing a presence at a farmers' market each week allows potential customers to see your work on an ongoing basis and can help you to build relationships with those customers over time.
Small Venue Shows
Selling at smaller show venues has its pros and cons. Weigh out your needs and expectations to determine if this type of opportunity is a good fit for your business.
Consignment Selling
My own experience with consignment has been completely positive here's what I've learned about selling crafts on a consignment basis.
Wholesale
Securing wholesale customers can be a lucrative option if you are in a position to handle the volume of work. Wholesale prices are typically 50% of retail prices, but because your wholesale customer is buying a larger volume, you don't have the same sales expenses as you would if you were selling directly to retail customers. As long as you have priced your work appropriately, you can still make a profit at these prices because you won't incur the same time and expense involved in retailing items yourself.
It will be important for you to determine your company's wholesale policies. Requiring a minimum purchase amount and a business number from your wholesale customer will ensure that you are not taken advantage of by someone who should really be a retail customer and is asking for wholesale prices. Some artists who sell wholesale list their terms right on their websites. Try checking websites of competitors who make work that is comparable in price and target market to your own work to get a sense of what wholesale terms are typical in your niche. This information will help you to determine your own wholesale policies.
Have a Tip About Great Places to Sell Crafts?
Do you have a great tip about where to sell crafts or how to make the most of your sales opportunities? Share it here!
What Other Visitors Have Said
Click below to see contributions from other visitors to this page...

You and Your Customers Not rated yet
Following is a collection of craft business tips from readers who share insights into dealing effectively with customers and understanding your target …
Craft Home Party Tips Not rated yet
Below you'll find a selection of craft home party ideas and tips submitted by readers. Read on to discover strategies other readers have used to increase …
You are here:
Home

Selling Crafts
Like This Site? Please Share It.