Craft Business Blog
The Craft Business Blog is a great way to find out what's new on Craft Professional.
Whenever I post new information, or update older posts, you'll be notified about it here, so you can be sure you don't miss a single post.
If you use an RSS feed reader to keep up with your favorite blogs, click on the icon for your preferred feed reader, and subscribe below.
Want To Subscribe to The Blog?
If you don't use a feed reader, and you prefer to be informed of new posts via email, you can sign up for my newsletter to get updates. Just enter your email below.

Here's The LAtest Craft Business News
Aug 20, 2017
Get Found on Instagram Search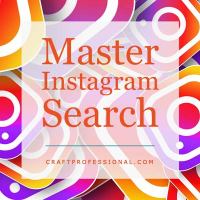 To get found on Instagram search, you need the right hashtags. As soon as you get serious about connecting with customers on Instagram, you'll quickly realize you need a good way to manage lists of relevant, winnable hashtags, and you'll need a way to search for hashtags on the go. Here's the system I use to efficiently manage hashtags for Instagram.

You Are Here
Home
➤ Craft Business Blog