Feb 19, 2017
Boost Your Sales With More Persuasive Online Copywriting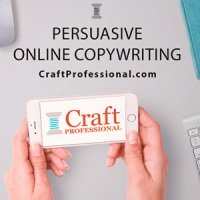 When you sell crafts online, you have your photos, your words, and your reputation to help sell your products. You don't have the benefit of people interacting with your products, so you really need to make the most of photos, words, and reputation.
We looked at photos in the past two blog posts. Today, let's look at your words. Here's how to write more persuasive online copy.

Continue reading "Boost Your Sales With More Persuasive Online Copywriting"