Your Craft Business Guide
Discover How to Sell Your Handmade Treasures at Craft Shows, Online, and More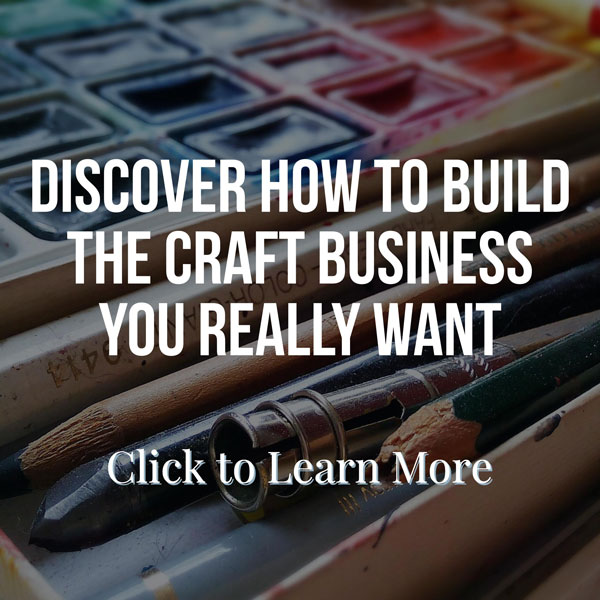 How to create a craft business that's right for YOU.
Do you dream of turning your creative talent into a flourishing craft business?
Do you have an independent spirit, a passion for all things handmade and an eagerness to build a business around something you love?
Whether you create with metal, glass, leather, paint, wood, clay, textiles, paper, organic materials, or mixed media, you probably know and love your craft extremely well.
But creating first-rate handmade treasures is just the beginning of your journey.
When most people decide to start selling crafts, they quickly realize there's a whole other set of skills and knowledge needed to build a rewarding business.
That's what I'm here to help with!
Learn How to Create the Best Craft Business for You
Build the Craft Business that's Best for You
➤ Creating Craft Fair Displays

➤ Choosing the Right Craft Tent

➤ Selling Online

➤ and more...


➤ Applying to Juried Art Shows

➤ Marketing Your Business

➤ Business Management

It's all right here.
Keep reading to find some of the most popular articles, and check out what's new.
Be sure to choose your favorite way to keep in touch. There are lots of options. You can subscribe to the newsletter, follow on social media, or subscribe to the RSS feed.
I'm so happy and honored you've made me a part of your craft selling adventure. Please visit often. I wish you all the joy and success in the world!

Start Here
REad The Newest Craft Business Articles
Feb 19, 17 07:00 AM

When you sell crafts online, you have your photos, your words, and your reputation to help sell your products. You don't have the benefit of people interacting with your products, so you really need…

Feb 19, 17 07:00 AM

Brighten up your booth with these jewelry display lighting ideas. Whether you're creating a jewelry booth or any other kind of craft booth, you'll find inspiration and sources for affordable, portabl…

Feb 17, 17 07:00 AM

It breaks my heart to see bad photos of great products. In online craft sales, it's generally true that a mediocre product photographed well will sell better than a great product with mediocre photos…
Keep in Touch
Join my community of Craft Professionals, and be sure to catch all the latest craft business info and updates.
Choose your favorite way to connect and get the newest information.
Subscribe to the Craft PRofessional Newsletter
The newsletter is a great way to keep in touch. Use the form below to sign up.

Follow The RSS Feed
Follow On Social MEdia