Learn How to Create a Rewarding Craft Business
Have you been dreaming of turning your talent for creating handmade treasures into a flourishing craft business?
Do you have an independent spirit, a passion for all things handmade and a desire to build a business around something you love?
Whether you create with metal, glass, leather, paint, wood, clay, textiles, paper, organic materials, or mixed media, you probably know and love your craft of choice extremely well.
But creating first-rate handmade items is just the beginning of this journey.
When most people decide they want to start selling their crafts, they quickly realize there's a whole other set of skills and knowledge required to build a successful business.
That's what I'm here to help with!
Creating effective displays - Applying to juried art shows - Choosing the right craft tent - Marketing your business - Selling online - Managing your business...
It's all right here.
Let's Get Started!
Here's what's new and exciting at CraftProfessional.com: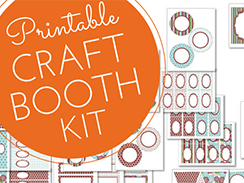 Check out this brand new way to create a coordinated craft booth that you and your customers will love.
Recent Articles
Apr 28, 16 06:00 AM

Are you truly committed to your craft business? Building a business takes a whole lot of commitment. I work on my business every chance I get. It's a good thing I love what I do. Self employment gives…

Apr 27, 16 07:00 AM

Trying to come up with just the right name for your business? Your really want to get it right the first time. Changing company names mid-stream is time consuming, can be pricey and can cause you to…

Apr 26, 16 07:00 AM

Buying a portable canopy is necessary if you're doing outdoor shows, but it can be a big investment, especially if you're just starting out. You want to make the right decision, but the options can f…
Popular Articles
Here are links to some of the most popular topics on this site. Click on any link that interests you to go to a series of in-depth articles on that topic. You can also follow any of the links in the navigation in the left column, or search this site (the search box is at the bottom of the left column) if you're looking for something very specific.
If you are designing a new craft booth from scratch or just sprucing up your existing display, check out these photos and articles for inspiration.
If you need to invest in a craft tent, you'll find plenty of guidance and resources here to help you choose the right canopy for your needs.
I've read some excellent books and magazines that have helped build my business. Here are reviews of some of my favorites.
Need some ideas about exactly where to sell your crafts? You'll find them here.
Have all of those "lovely" business management tasks got you feeling overwelmed? Here are some tips for handling the business side of things.
If your business is completely new, and you need to know how to get started, here are some ideas for you.
Keep in Touch
I update this site frequently, adding new articles and photos, and updating older articles so they remain current. If you don't want to miss any updates, there are several ways you can follow this site to be informed whenever something new is posted:
1. Subscribe to the Newsletter
In my opinion, the newsletter is the best way to keep in touch. Whenever something new is posted, you'll get a message delivered straight to your inbox. Simply use the form below to sign up.
2. Follow the RSS Feed
If you use an RSS feed reader to follow your favorite sites (I personally like Feedly), you can follow this site's RSS feed, and you'll know immediately when something new has been posted. Just right-click on the button at the end of this paragraph (control click for Mac users), copy the link, and paste it into your favorite feed reader.
3. Follow on Facebook
You can also be part of the growing and friendly group of craft artists on Facebook. Follow this site on Facebook to share your experiences, find out about all of the lastest happenings here, and get interesting bits of craft business news that are helpful but too time sensitive to post on the site or not detailed enough for a full article.
I'm so happy and honored you've made me a part of your craft selling adventure. Please visit often. I wish you all the joy and success in the world!
Like This Site? Please Share It.