4 Home Party Ideas
If you buy something through links on Craft Professional, I may earn a referral fee. To learn more see my
disclosure
.
---
Here are 4 home party ideas to help you plan a successful craft sales party.
If you let yourself get creative, you'll see there are many different, fun and profitable ways to run a home party. So before you plan your first home party, take some time to think about the type of party that suit your style and your business the best.
Selling Your Crafts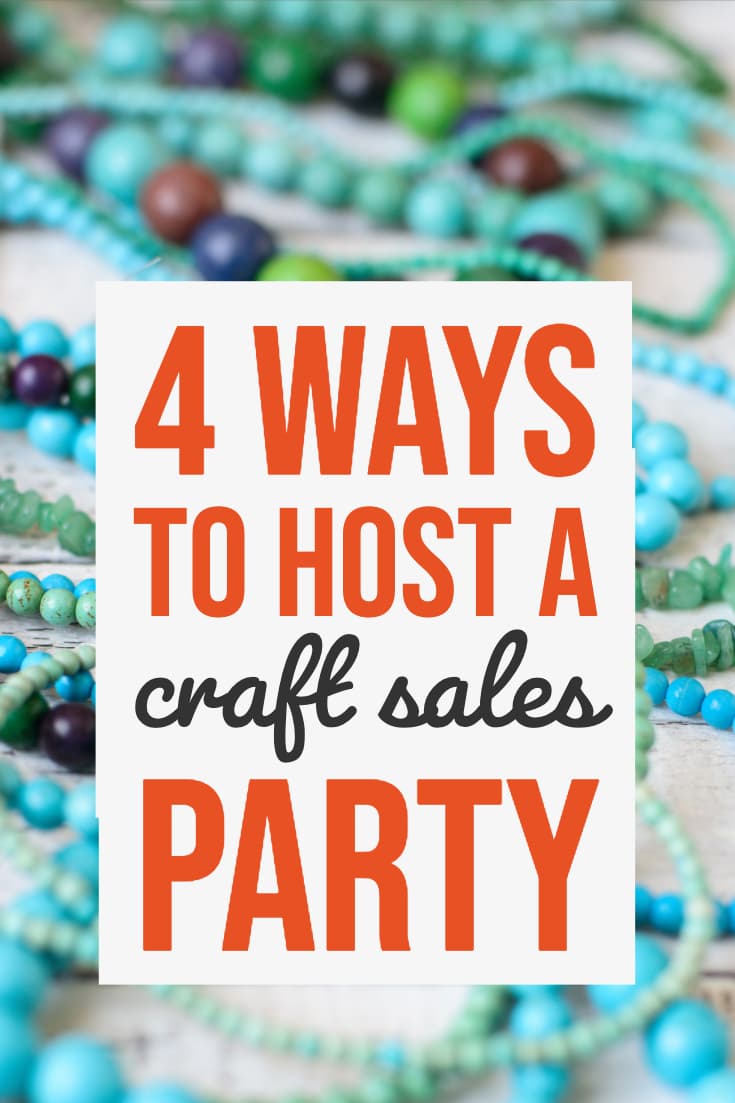 Selling your finished crafts is probably the first thing you think of when you consider a home party. You simply display and/or show and talk about items your items for guests at your hostess' home.

You may choose a more formal party where guests arrive and leave at a set time, and you provide scheduled activities. You may show guests each item and talk about the benefits and also provide fun games and activities. This type of party works well with items that need some explanation in order for guests to see the full benefit of the product.
You may also choose a more informal, open house party. This party is less structured. People come and go as they like, and you simply display your items around the room for people to view and purchase as they socialize. This type of party works well with items that don't require explanation, and you can invite more guests because people will come and go.

Making Customized Pieces
At this type of party, you'll design, and possibly make on the spot, customized items for each guest. People enjoy seeing artists in action and will likely be very interested in seeing your process.

This type of party works well when you work with materials that are easily portable and items that can be made fairly quickly. For example, if you make soaps and cosmetics, you could bring the base for an item that doesn't require a long curing time (moisturizer, liquid soaps, solid perfumes) and some of the fragrances you work with. Allow people to choose their own fragrances and you can make their own customized perfume on the spot.
Demonstrating Your Products
This home party idea goes beyond the standard party. Instead of just talking about the benefits of your products, demonstrate them to the guests at your party by allowing them to try your items. For someone who makes soaps and cosmetics, a spa party would lend itself well to this type or party. If you make handmade clothing or accessories, educate guests at your party about how to choose clothing or accessories to accentuate their best qualities and demonstrate that with your items.

Teaching Your Craft
At this party, you'll teach guests some aspect of your craft, and they'll come away with a finished product. If there's an aspect of your craft that can be learned fairly quickly and easily, this party can be a fun option for you. If you make cosmetics, you may allow guests to make melt and pour soap and include their own scents or colors. Jewelry also lends itself well to this type of home party, and felting (wet or needle) a small project could also work.

To get a sense of what a beginner may be able to do, look at a few kids' books related to your craft. Often kids' books will keep the projects simple and give tips on how to work with materials in a way that is simple and safe. You can take the techniques from the kids' books and change the project, if necessary (i.e. use more sophisticated colors, fragrances, etc.), to make it more appropriate for adults.
I experimented with a few different craft party ideas before choosing a couple that worked best for me. Personally, I have found open houses to be the most profitable, and I enjoy working the hostess to set the right party atmosphere. Teaching parties, for me, are a bit less profitable and more work, but they can be a lot of fun, and, in my experience, people tend to show a lot of interest in hosting this type of party.
You'll need to fit the home party style you choose with your own particular type of craft as well as your personal strengths. Some home party ideas work better than others depending on the type of items you make, and some will draw on different skills (teaching skills for a teaching party, for example, or salesmanship for a straight sales party). Experiment with a few different types of home party ideas in order to find the structure that works best for you and your products.
Related Articles