Home Jewelry Party
If you buy something through links on Craft Professional, I may earn a referral fee. To learn more see my
disclosure
.
---
4 types of home jewelry parties you can host to grow your craft business. Plus, pros and cons of each style of party, so you can decide which one is right for your business.
If you sell handmade jewelry, you might want to boost your income with home jewelry parties.
Your parties can takes several different form including: teaching parties in which guests create their own jewelry designs, teaching parties in which guests create jewelry pre-designed by you, custom jewelry parties in which you create custom jewelry on the spot to guests specifications, or straight sales parties of your completed handmade jewelry.
Each option has its pros and cons and plays to different strengths. Let's have a look at these four types of home jewelry parties.
---
Party 1 - Guests design and Make Their Own Jewelry
For this home jewelry party each guest will pay a set amount to attend the party. You provide jewelry making supplies and tools and instruct guests in the basic jewelry making techniques they need to know to make their own jewelry.

Keep in Mind
You Need to Price it Right
You need to charge enough to cover the cost of your supplies, your time and allow for a profit, but not so much that people will feel the price is too high.
Check your local bead store and see if they offer this type of party and how much they charge; this will give you a starting point to make your own decisions about pricing for your own home jewelry party.
Balance Quality with Costs
Guests will appreciate quality components, but be sure to balance providing quality with keeping your costs low.
When I ran this type of home jewelry party, I provided guests with Swarovski crystal beads because they are easy to work with. I bought them at a reasonable price, and people view them as a quality item.
I left my stash of better gemstones at home because allowing guests to use these items would drive my costs up too high. Also they can be trickier to work with if you're inexperienced with jewelry making, and I wanted to keep things simple.
Be Ready With Design Suggestions
Some guests may get stuck and need a little help in choosing their beads. Be ready to suggest color combinations for guests.
I created a very simple guide to basic color theory (with Swarovski beads as examples) and also photographed a few of my favorite Swarovski color combinations to give guests a bit of inspiration. I had these pages printed and laminated and left copies around the table for anyone who needed inspiration.
Practice First
This is an easy type of home jewelry party to run, but if this will be your first time teaching, consider doing a practice evening. Just invite a few friends or family members over and show them how to make a simple item before your first official home jewelry party.
Your practice run will give you a good feel for the kind of questions people will have and help boost your confidence. It can also be a good way to let people know about your home jewelry parties and get some bookings.
Don't Get Too Fancy
Limit the techniques you teach to very simple bead stringing and basic wire wrapping. Most of your guests will likely have limited experience with jewelry making, so learning simple beading and/or wire wrapping will be fun.
Unless you're working with guests who have some jewelry making experience, anything too complex has too much potential to become confusing when people are working on different projects.
Bring Your Own Jewelry
You can bring your own jewelry to sell at this type of party, which can really boost your profits.
Do be a bit careful with combining selling your own items with teaching jewelry making techniques. You don't want to minimize the value of your own jewelry if guests feel it's very easy to make their own jewelry. Consider bringing items that were made using more complex techniques than those that you're teaching.
Pros
You're guaranteed that each guest will spend a minimum amount of money at the party.
This is a fun home jewelry party; guests can let their creativity run free.
It takes very little time to prepare for this type of party.
You can increase your profits by selling other items such as your own jewelry or jewelry supplies.
Cons
You'll need to limit the number of guests to the number of people you feel you can comfortably teach at one time, and that can limit your profits.
Some people are not comfortable with the level of creative free-reign given in this party. They prefer clear, step by step instructions to create a pre-planned project. You'll need to be ready to provide extra assistance and encouragement to anyone who appears to be struggling with the creative process.
---
Party 2 - Guests Make Their Own Jewelry From Designs You HAve Created
This type of home jewelry party is very similar to the first example, but instead of creating their own designs, guests make jewelry from pre-designed kits (with all findings, beads and instructions included) created by you. The cost of the kits can vary based on the materials required.

Keep In Mind
Again, you'll need to charge enough to cover the cost of the supplies required for each project plus profit. Because the projects are pre-designed, you'll be able to provide a range of projects at different prices.
Create a few different projects for guests to choose from. Friends or co-workers will want to make different projects because they won't want to show up at the same place wearing the same necklace or earrings.
Stick to projects that require fairly simple techniques.
Keep things simple for yourself by creating projects that use similar techniques. It's very easy to create different looks simply by altering the components used but keeping the techniques the same. That will make it easier for you to create the instructions and to assist the guests at the party.
Provide your hostess with promotional material that includes photos of each finished project and the cost of each project. Ask guests to pre-order their kit before the date of the party. That way you'll know what you'll need to bring for each guest.
Package your kits nicely to add to the perceived value of your items. Bring some extra kits so people who'd like to make another piece of jewelry for themselves or give a kit as a gift can do so.
Provide an order sheet so guests can order additional kits if you don't have enough on hand. Keep the party open so your hostess can receive additional incentives for any items that sell within a few days after the party.
Consider bringing your own jewelry to sell (note the comments above regarding bringing your own jewelry).
PRos
You're guaranteed that each guest will spend a minimum amount at the party
Guests can see the end product before they commit to attending; this can add to the interest in your party and allow you to charge a little more for your kits.
This type of party can be easier to teach because each guest will have step by step instructions to follow and fewer choices to make.
People who aren't as comfortable with the creative process will appreciate having a pre-planned project to work on
Guests will pre-order their kits, so you'll know exactly how much of each component you'll need.
Pre-designed projects limit the findings and beads guests will use, so it's easy to know what items you'll need to keep in stock.
If you make your instructions very clear, package your kits in a way that's appealing, and limit the tools required to a basic pair of pliers, you'll be able to increase sales by selling additional kits.
You can sell your kits and/or instructions in other venues.
You can typically book more people into this type of party (compared with the first type of party) because it will be easier to teach - everyone will have instructions with their kits, and they won't need help choosing beads etc. because the item has already been designed.
Cons
This type of party requires the most planning of all four types of parties. It will take time to design the projects and create the instructions for each project. You'll also need to invest some time in creating promotional materials that showcase each design so guests will be able to choose the project they'd like to make before the party. You'll want to be sure that you're committed to doing several home jewelry parties like this before you invest the time it will take to pull all of your materials together.
---
Party 3 - You Make Custom Jewelry For Guests
At this type of home jewelry party you bring your findings, beads, etc. and allow guests to choose their own components for a custom piece of jewelry that you will create for them.

KEep in Mind
You can provide attractive containers for each guest to select the beads they would like for their jewelry. If you can pick up some inexpensive bead boards, they would be ideal to allow guests to lay out their designs for you.
Be prepared to help guests design their jewelry. Some will be naturals and jump right in, others may need a little help getting started.
Create a simple, clear pricing method to ensure you cover the costs of your components and make a profit. Consider charging a base price for a necklace (or earrings, or bracelet) to cover the cost plus profit for the basic findings required to make that item and then set out specific prices for each type of bead that your customer adds to the piece of jewelry. Just don't let the pricing get to complex. You don't want to confuse your guests (or yourself)!
Ideally, you'll make the items on the spot at the party. It adds to the fun of the party, and guests will get the immediate gratification of taking their treasures home that night. If a guest requests something that is more complex or time consuming to make, you may need finish it after the party.
Many people love personalized jewelry, consider providing components such as alphabet beads or Swarovski birthstone colors (mark the birthstone colors so guests will know which month they represent) to allow guests to request truly personalized jewelry.
Pros
You will be providing a unique experience and an opportunity to make your customers feel pampered by creating custom made jewelry on the spot.
You may increase your profits by selling your own jewelry at this type of home jewelry party.
This type of party does not require a lot of time to organize.
You may get additional orders for custom made jewelry as guests realize that you can provide this service.
Guests will be easily drawn into the excitement of this type of party, so it is likely that everyone will make a purchase.
Cons
If you are unable to finish an item at the party and have to take it back to your home studio to finish, be sure to communicate very clearly with the guest (make notes and take photos of the beads in the order your guest would like) to ensure you are clear about her design request.
---
Party 4 - Sell your Own Handmade Jewelry
This is a simple, straightforward home jewelry party. You'll simply display and sell your own jewelry at your hostess' home.

Keep in Mind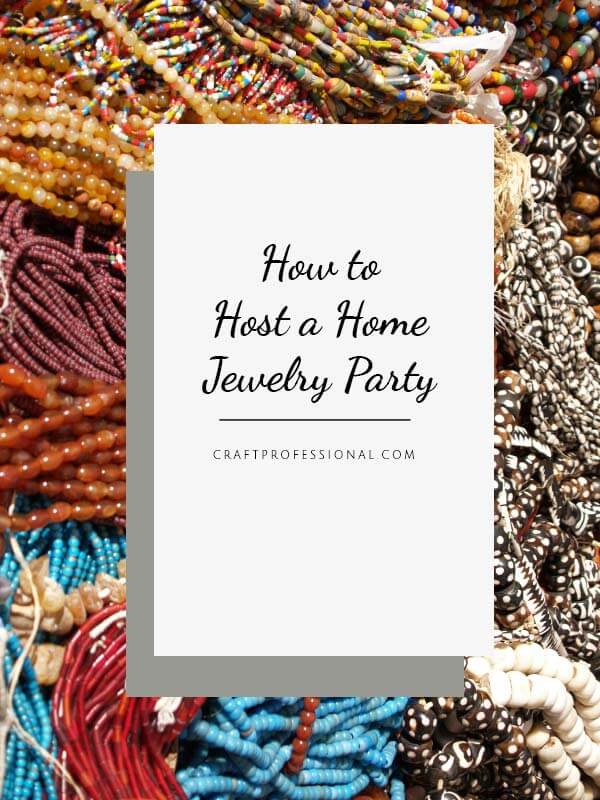 You may structure this home jewelry party as a formal party with a set start and end time, or you may have an open house, allowing people to come and go throughout the day. Open houses allow you to invite more guests.
Help your hostess create a warm, inviting atmosphere; this will translate into increased sales.
Price all of your items clearly.
Consider taking orders for custom pieces.
Bring your basic tools and supplies. A guest may think a necklace would be perfect if it was just a bit longer. If you have everything you need to add an extender on to the necklace, you'll make a sale that you may have otherwise missed, and the guest will feel particularly happy that you were able to meet her needs.
Pros
This is probably the simplest type of home jewelry party to run; there's no need to teach jewelry making techniques, make jewelry on the spot or create projects.
Since you won't be teaching techniques or making jewelry on the spot, you'll be able to invite more guests to this type of home jewelry party than the other types.
I have personally found this type of party was the most profitable. You may, however, have a different experience depending on the decisions you make regarding pricing.
Your costs will be quite low, so there is a very good potential for profit with this type of party.
Cons
There's less guarantee that everyone will buy (as opposed to an instructional party where everyone pays for the supplies and your expertise) However, this is rarely a big concern; it's been my experience that most people buy at least one item when attending a jewelry home party.