Where to Sell Your Crafts
If you buy something through links on Craft Professional, I may earn a referral fee. To learn more see my
disclosure
.
---
When you're considering where to sell your crafts, try to think outside of the "craft show box" and look to other markets that is a good fit for your work.

Remember, although you are selling crafts, your business does not belong only within the craft industry. Depending on what types of products you make, you could also fit into clothing, footwear, accessories, housewares, food and beverage, health and personal care, leisure or stationery industries, travel, parties, weddings... The list is endless; you just need to think about where your products fit beyond the handmade niche.
Selling crafts at specialty shows can be a good option. By thinking through the variety of niches that your crafts fit into, you may realize you could be selling at specialty venues beyond traditional art and craft shows. You may even find yourself at a specialty show with targeted customers and very limited direct competition.

Here are a few examples and ideas about where to sell your crafts to get you started.
Brainstorm specialty show opportunities based on the type of product that you make
If you make household goods, consider whether your work would be a good fit for a local home show. 
If you make jewelry, you may want to try exhibiting at a bridal show. 
If you make clothing or accessories, look to the fashion industry for business opportunities. 
If you make specialty sauces and dips, check for a gourmet food expo in your area. 
If you make luxury soaps, bath or aromatherapy products, consider selling at a health and beauty expo.
Brainstorm potential specialty shows and ideas about where to sell your crafts based on your target customer
Instead of thinking, "Where do people go who sell products that are similar to mine?" try thinking, "Where do my target customers shop?" That line of thinking may bring about some unique and profitable ideas about where to sell your crafts.
Many larger cities host women's expos, baby and toddler shows and comic expos to name just a few. If your target customers are women, or new parents, or comic fans, a specialty show in that niche could be a great opportunity for you.
Brainstorm where to sell your crafts by location
The range of specialty shows that are out there is pretty amazing. You may be missing out on a show that's a great fit for your business, simply because you haven't made the connection in your mind yet between the customers at that show and your business. Try researching the range of specialty shows in a fairly large city close to your home, to get a sense of what opportunities are out there.
To find out what shows are in your area, use a search engine and search for trade shows plus the city name. Another way to find shows is to check out the websites of major convention centers in your area to see what shows they are hosting. You could also make a visit to your local business resource center. Business resource centers often have publications with huge lists of trade shows. Your research may uncover a niche that fits with your home craft business that you hadn't previously considered.
A few considerations to keep in mind
Just as you would do a little research before you committed to a craft show, do your best to do some research before you commit to a different type of show. Attending the show as a customer before you apply as a vendor can help you to make smart decisions about targeting shows and save you a lot of wasted effort on shows that are not a good fit.

If you are able to attend a specialty show before you apply as a vendor you can discover:
Whether sales are conducted differently in that niche than they are in the industry or niche to which you are accustomed
For example, at a bridal show, many brides browse, collect business cards and see what wedding service providers are in their community. They might not necessarily make purchases on the spot.
You may not immediately make many sales at a bridal show. However, if you come prepared with plenty of promotional materials and examples of your work that fit with the bridal theme, and you encourage brides to join your mailing list, you could get calls to make jewelry, decorations, or favors for several weddings.
Whether the specialty show truly targets your own specific customer
There's a fashion event in my area that is quite popular. A few years ago, I attended as a customer get a feel for the type and style of products sold there. What I discovered is that this specialty show appears to be a good venue for selling low cost, trendy and funky clothing to a twenty-something market. The customers were young, edgy and seemed to flock to the clothing vendors. The jewelry artists, however, looked pretty forlorn, and doubly so if their jewelry was more traditional and appealed to an over twenty market.
This venue would present a fantastic opportunity for some craft artists, and would be a heartbreaking waste of time and money for others. It would be excellent for anyone who makes funky, inexpensive fashion items that appeal to a young crowd. If your products appealed to that niche, you'd probably be quite happy and successful there. If it isn't your niche, you'd probably spend a long and unprofitable weekend at that show.
The point of this story is, doing a little research before you commit to a show can save you some time, money, and heartbreak. Learning as much as you can before applying as a vendor will help to ensure that you're targeting shows that focus on your target market.
Whether handmade products will be a good fit for that market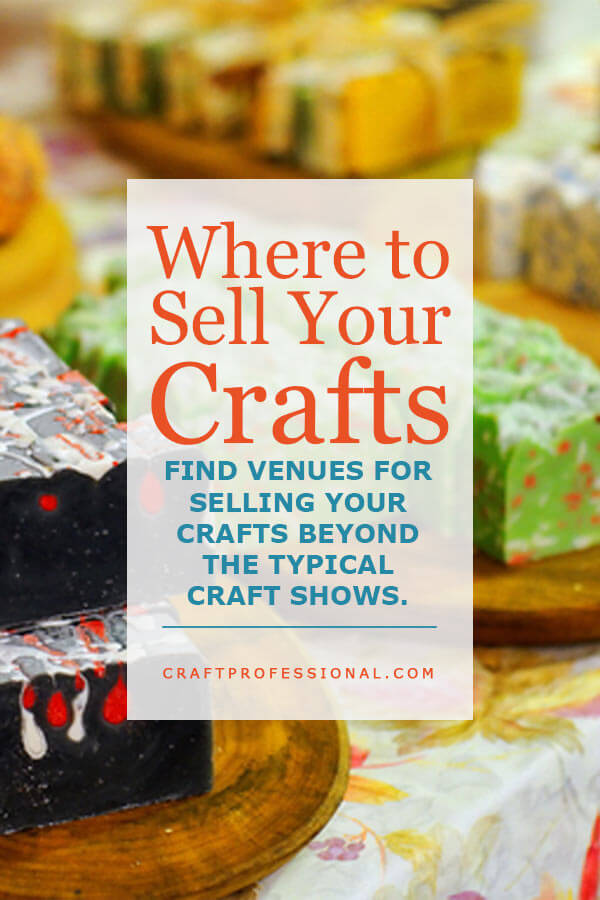 Venturing outside of the craft show circuit means that your products will be competing with products that are not handmade. That could mean your competition may have lower prices and a larger capacity for high volume production.

Check out your direct competition at a specialty show before you commit to selling there to ensure that your handmade products will fit and be marketable within the mix of products at the show. If you're not able to attend a show before applying as a vendor, check the show's website for a list of previous vendors. That way you can get a sense of who sells at the show and how your handmade product compares with the competition.
Keep in mind that you don't just belong to the craft industry. You don't just sell crafts; you sell housewares, jewelry, handbags, gourmet food, stationery, luxury soaps, etc., and you can find a way to fit in those industries when you're considering where to sell your crafts. Your work will typically fit in at least one other industry beyond the craft industry. If you apply a bit of creativity, research and strategic decision making, specialty shows within that industry may be the place where you find a profitable niche.