Vendor Booth Ideas
THIS WEEK ON THE CRAFT BUSINESS CHALLENGE: 
Vendor booth ideas to help you design your display for craft shows. Plenty of original photos showcasing handmade clothing displays, food booths, and portable displays using pedestals.
by Lisa McGrimmon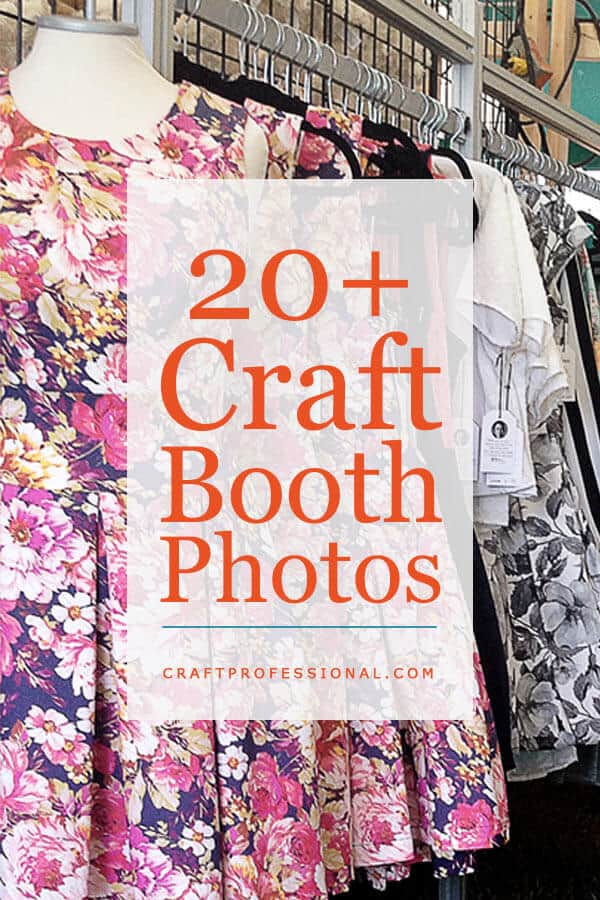 As we near the busy holiday craft show season, your booth is probably mostly complete, but, if you want to add a little extra pizzazz, there's still time to do a few last minute spruce ups.
For those who have a few more finishing touches to add to their display, I have more than 20 pictures featuring vendor booth ideas, including 9 brand new food display photos.
It's actually astonishing to me that I've managed to pull together 9 photos of food booths. Somehow I never manage to get food booth photos - It might have something to do with the distraction provided by delicious samples.
For those who don't sell food, don't skip these photos. There's something to learn from these booths no matter what you sell.
You'll see a display that cleverly tells a story and sells an idea of a lifestyle as well as selling the products. You'll also see a smart and elegant way to use packaging to enhance your display.
I hope you find plenty of inspiration in these booths and they help you get your own display ready for upcoming Christmas craft shows.
NEW THIS WEEK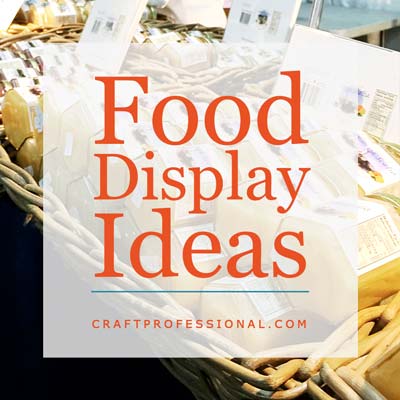 I took a break from tasting delicious free samples long enough to collect these 9 photos of fantastic food displays.

TIMELY TIPS FROM PAST ARTICLES
Focus: Vendor Booth Ideas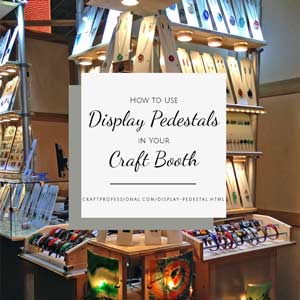 Craft Booths Featuring Pedestals
The portable pedestal, in my opinion, is an under-rated display option. Pedestals aren't used as frequently as other types of display furniture, but they are a highly flexible alternative that allow you to arrange your booth in any number of ways. 
If you're wondering how to use display pedestals in your booth, here are several photos to get your ideas flowing.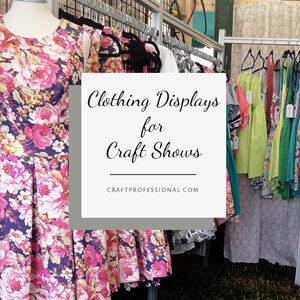 Clothing Displays for Craft Shows
If you're a clothing designer, I have plenty of inspiration for you to get ready for craft shows.
Printable Signs for Your Craft Booth
Encourage your customers to splurge a bit!
I have plenty of printable craft booth signs in my Etsy shop to inspire your customers to treat themselves and support your small business.
THANK YOU FOR JOINING IN THE WEEKLY CRAFT BUSINESS CHALLENGE
I'm thrilled that thousands of craft artists have signed up for the Craft Professional email alerts. If you've reached this page by surfing around the site, and you'd like to get the weekly email updates, simply add your best email address in the form below.
You Are Here
You are here:
Home
➤
Weekly Craft Business Challenge
➤ October: Vendor Booth Ideas