Start a Home Craft Business Right
This week on the Weekly Craft Business Challenge:
Avoid common early business mistakes whther you're getting started selling at craft shows or online.
If you are brand new to selling your crafts online or at shows, this week's set of articles is for you. These three articles help you avoid common pitfalls that can cause new craft business owners to stumble.
For those who want to get started selling at shows, there's a look at the pros and cons of selling at small, community based craft shows. Small shows can be attractive to new craft professionals, but there are downsides to committing to these shows as well. Find out if they are right for your business.
Plus, be sure to discover the huge mistake some people make when buying a craft tent. Find out why a compromise you might make to save a bit of money could end up costing you more than you bargained for.
For those who want to launch their own website, there are loads of website building tools out there but most won't help you build a business, and some waste a lot of your time and money. I have lots of good web business building resources that do more than help you build a site. They help you build an actual business online without wasting your precious time or money.
Getting Started At Craft ShowS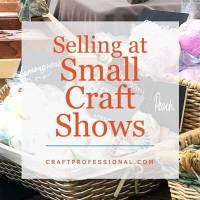 Should You Do Small Craft Shows?
If you're getting started with craft shows, you may be looking at doing some small, community-based shows. There are some real draws to doing these smaller shows when your business is new. However, there are also some drawbacks to smaller shows.
Here are some of the pros and cons of participating in small craft shows so you can decide if this type of show is right for your business.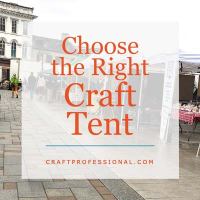 Are you tempted to buy the cute, inexpensive little blue tent that you've seen on sale? Here's why that inexpensive colored tent might end up costing you more than you bargained for, and why a white craft tent is right for most people most of the time.
Online Craft Business REsources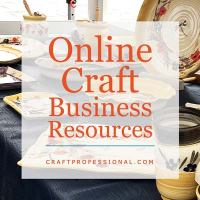 Resources for Starting Your Online Business
When you start researching what you need to build an online business, your head will quickly be swimming with all of the options out there. Unfortunately, a lot of companies will help you put up a website, but they'll do nothing to teach you how to bring traffic to that site.
Keep in mind, you're not just trying to build a website, you're trying to build a business. Any old company can help you get a website up and running, but few companies actually help you build a business online. Happily, I've found some resources that do more than website building, they are business builders. Here are several of the resources I have used to get this website in the top .5% of all active sites online.
THANK YOU FOR JOINING IN THE WEEKLY CRAFT BUSINESS CHALLENGE
I'm thrilled that thousands of craft artists have signed up for the Craft Professional email alerts. If you've reached this page by surfing around the site, and you'd like to get the weekly email updates, simply add your best email address in the form below.
You Are Here
You are here:
Home
➤
Weekly Craft Business Challenge
➤ June: Start a Home Craft Business