Handmade Accessories Display Ideas and Pictures
Here are some accessories display photos and tips for those who make accessories other than jewelry.
You'll find several hat and purse booth photos, as well as a few booths that don't quite fit a specific category.

Purse Display Racks
Here's a great purse booth which is a combination of hanging display and shelves. Notice the two big trunks underneath the shelves. They would provide excellent storage for extra inventory plus any supplies that might be needed for the show but should be tucked away out of customers' view.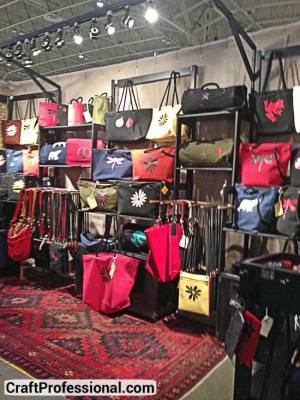 Here's that same booth but at an indoor craft show this time.  I like these two photos because you can see how a booth can be transformed for outdoor and indoor shows.
Notice the big trunks are still at the bottom of the shelves, and the fabric hung at the back to hide neighboring booths and define the space is used in both the outdoor and indoor versions of the booths. A lot of the same shelves are used, with just a few changes. A rug has been added to cover up the not-so-lovely carpeting in the hall, plus, there's a lot more lighting used in the indoor booth because it doesn't have the benefit of the bright sunlight.
Here's a simple, portable purse display rack.  The crafter has made full use of the space by displaying purses not only on all of the hooks, but also on the slightly elevated base of this stand.
This next booth has to win the prize for most compact and portable accessories display.
Look closely at those wooden racks.  I bet they screw apart and can be broken down into a few long, thin planks.  Perfect for easy transportation and storage!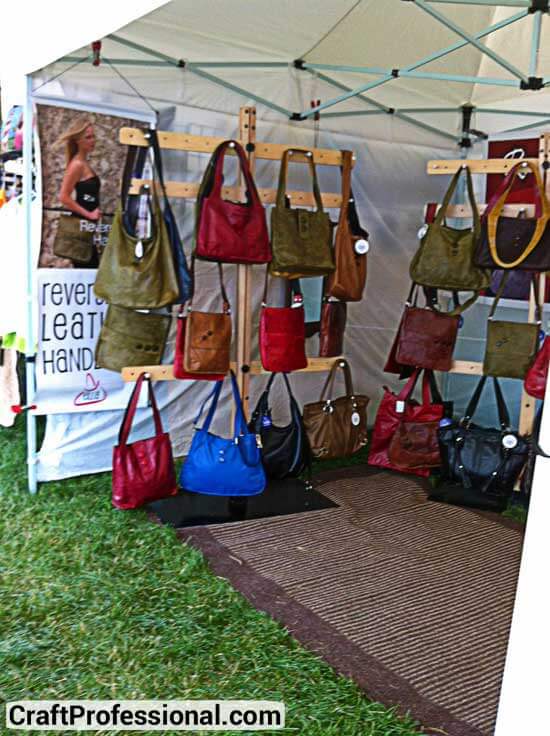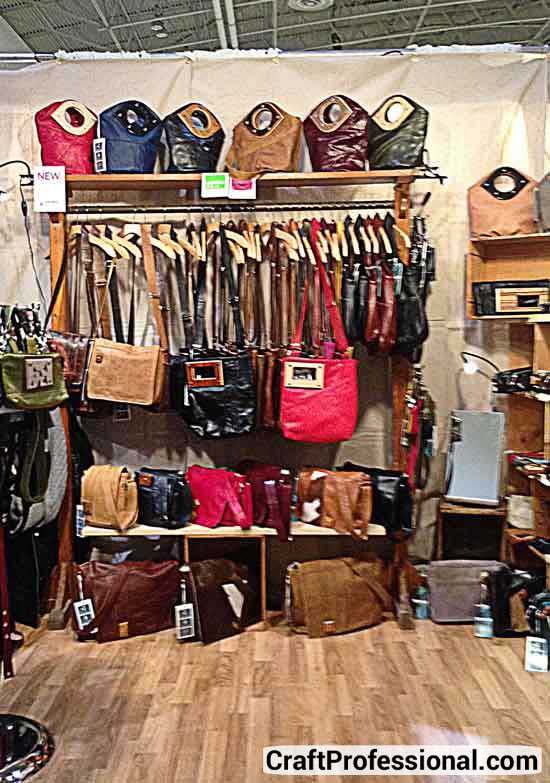 Finally, here are several purses hanging on clothes hangers on a clothes bar. Several of the purses have been turned outward to make them more visible to passing shoppers.

Find Purse Displays on Amazon
Hat Displays
I love these colorful felted hats and scarves.  The booth uses a simple hat rack to highlight some of this crafter's most eye-catching pieces, plus there's a table with risers to provide more display space further back into the booth, and if you peek under the table covering, you'll see a nice big bucket probably full of extra inventory or craft show survival supplies.

Some more handmade hats on a simple hat rack.  Also, if you look closely, you'll see several small purses displayed on a gridwall at the back of the booth.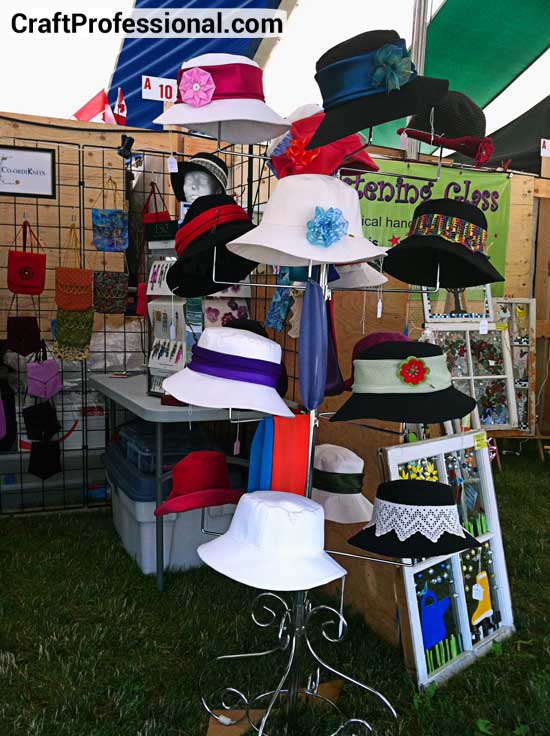 This next hat display booth makes great use of space.  The gridwalls provide a lot of display area without taking up too much floor space, so customers have plenty of room to browse and try on hats.

Here's another booth that uses a hat stand to feature a few key items, but notice the shelves at the back.  Simply turning boxes on their sides to create a diamond-shaped grid adds a lot of interest and movement to this accessories display. 
Notice the mirror turned on its side creates a diamond shape that echoes the shelves, and the neutral rug defines the space.

Where to Buy Hat Display Stands
General Accessory Display Booths
This next photo shows a clothing booth, but I've included it on the accessories page because of the handmade aprons that are displayed here.
There is plenty of great lighting, and the white display furniture and natural flooring create an effective backdrop for the products.  Notice how all of the products form a whole, cohesive look when displayed together.
Very effective!
One last booth.  This one shows aprons, which are displayed much like you might display dresses using a combination of dressmaker's forms, clothing racks and a clothesline.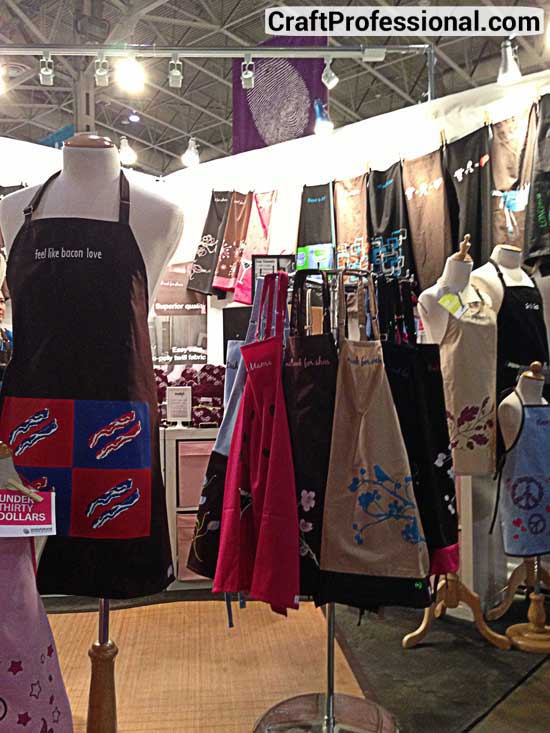 Related Articles
You Are Here
You are here:
Home
➤
Display Booth
➤
Handmade Accessories Display