Digital Photo Editing Software & Apps
If you buy something through links on Craft Professional, I may earn a referral fee. To learn more see my
disclosure
.
---
This week on the Craft Business Challenge:
My favorite digital photo editing software and apps to get your product shots ready for craft show applications, online sales, and social media posts.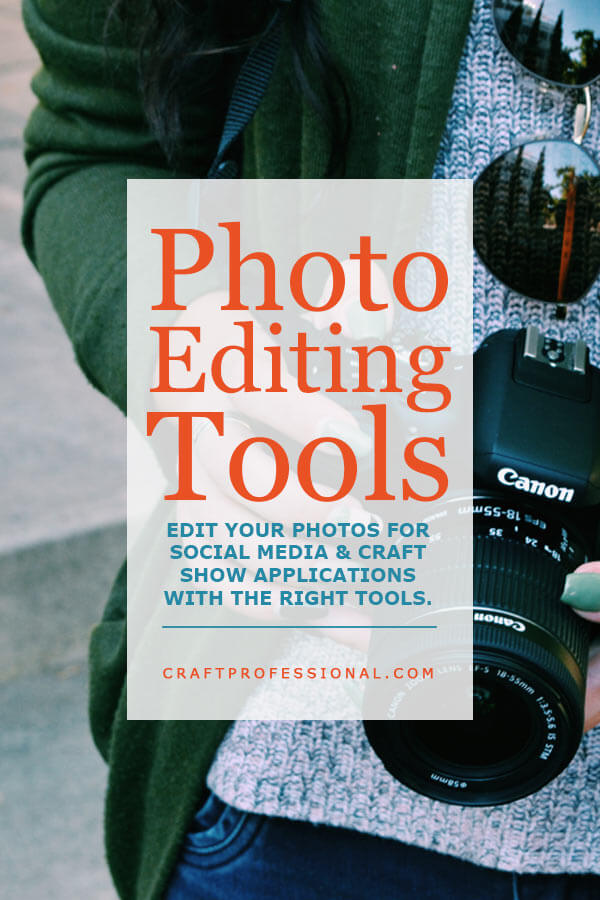 This week is all about digital photo editing software and apps.
You may have some great product shots for your craft show applications or online shop (if you don't check out last week's challenge that's all about DIY product photography). But those photos probably need some editing. 
Your work isn't finished yet.
With a little photo editing, you can fine tune your images so they look their best. Plus, you'll need to crop and resize each image to best suit its intended use.

If you're preparing photos for juried art show applications, the organizers will likely have specified file sizes and image dimensions they want you to send.
If you're posting product shots on your website or Etsy shop, you'll also need to use specific dimensions.
And if you're posting to social media, it seems every social platform has its own set of best practices for image sizes. You also might want to add some clever text or graphics to the photos you use for social posts.
Phew!
The photo editing never ends in my house. I probably edit at least one or two photos every day, and often more.
I've experimented with a lot of desktop image editing tools and mobile apps, both free and paid. They all have their pros and cons, and some are better for certain uses than others.
It took a lot of trial and error to find the right tools for the job. This week I'm sharing with you my favorite photo editing software and apps for various jobs. I hope it will save you some time, and you'll be able to find the right digital photo editing software for your needs quickly.
What's New This Week?
7 New Art Booth Display Photos: Before we dive into image editing software, I have 7 brand new art booth photos to share. These displays are full of ideas and inspiration for creating your own portable art display.
Timely Tips
FOCUS: Digital PHoto Editing Software

I have a lot of photo editing articles to share this week (5 in total).
I know you're busy, and you might not have the time to read them all, so I've organized the articles into sections below to help you find the exact type of information you need quickly.
If You're Editing PHotos for Craft Show Applications
Pixlr Photo Editor: Pixlr is a free, online photo editing tool that is recommended by some craft show organizers.
If you need to resize and edit product photos for craft show applications, Pixlr is easy to learn and should meet your needs.
If You Want to edit Images for Social media on your computer
Canva for Image Editing: Canva offers some smart, easy to use options for editing images. 
It's not the best choice for editing photos for craft show applications, but it's worth considering for preparing your social media posts. In fact, a lot of bloggers use Canva to create eye-catching images for social media.
Here's what you can do with Canva.
PicMonkey Photo Editor: There were big changes to PicMonkey back in late 2017. Most notably, it's not free anymore.
However, it is quite affordable, it includes a lot of very useful features, and it's easy to learn.
Here's what you can do with PicMonkey, plus tips for deciding if it's the right digital software for your needs.
If You Want To Edit Images on Your Phone or Tablet
Guide to Photo Editing Apps: If you want to do your image editing on your smart phone or tablet, there are plenty of apps to help get the job done. The biggest challenge is sifting through all of your choices to find the apps that best meet your needs.
These are the image editing apps I have on my phone. They will all, in different ways, help you make your images look great.
If You're Not Sure Which Image Editing Tool is Right For The Job
7 Popular Photo Editing Tools. Which is Right for You?: Here's a look at the pros and cons of seven popular photo editing tools. I've used them all at different times for different tasks. This guide will help you decide if you're not sure which tool is right for your needs.
THANK YOU FOR JOINING IN THE CRAFT BUSINESS CHALLENGE
I'm thrilled that thousands of craft artists have signed up for the Craft Professional email alerts. If you've reached this page by surfing around the site, and you'd like to get the weekly email updates, simply add your best email address in the form below.