Pixlr Photo Editor
Not sure how to edit your photos for juried craft show applications? Pixlr is a simple, free solution.
by Lisa McGrimmon
Pixlr photo editor is simple to use, free, web-based photo editing software that's an excellent tool for anyone who needs to edit photos for juried art show applications. Its simplicity makes it a particularly good choice for people who are new to using photo editing software. If you're not sure how to get your images in tip-top shape, Pixlr may be just what you need.
---
I earn a commission for purchases made through links on this page.
---
Why Use Pixlr Photo Editor?
There are loads of free image editing software programs online, so why use Pixlr?
Pixlr is a particularly good choice for people who need to edit images for juried art shows. It includes the kinds of basic image editing functions, like brightening and resizing photos, that you would need to prepare images for craft show applications without a lot of extras.
Other image editing software may be better for tasks like adding text, graphics, or filters, but that's not what you want when editing photos for craft show applications. You want to make your products look their best in photos while keeping images as true as possible, so you don't need filters and graphics.
Pixlr's simplicity may be a negative to someone with more advanced photo editing skills who wants to get fancy with their editing. However, someone who is new to photo editing will enjoy Pixlr's simplicity. It has all of the features you need to get your images ready for juried art show applications without a lot of extras that would confuse a beginner.
Choose the Right Pixlr Tool for the Job
Pixlr currently offers four web-based apps you can use on your Mac or PC computer: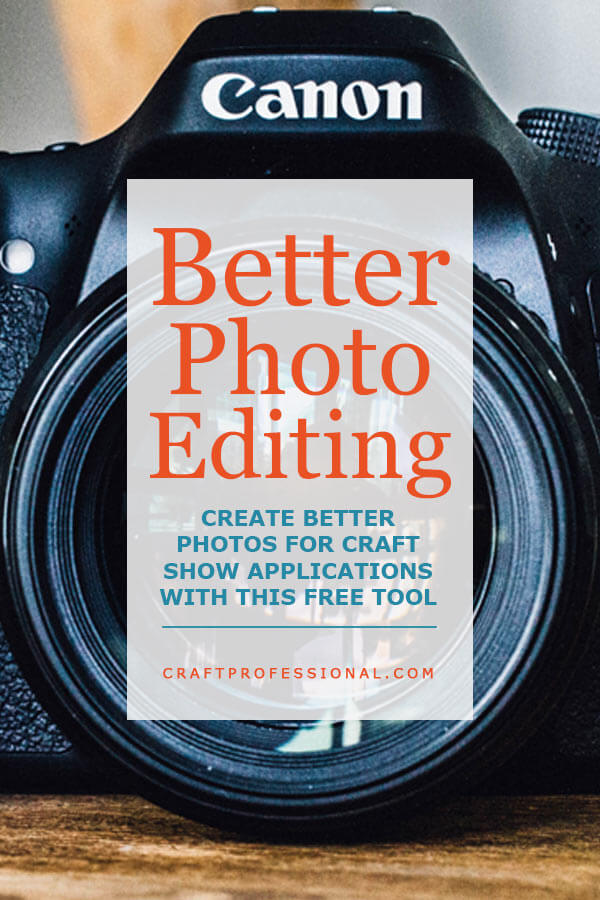 Pixlr Editor - Allows you to crop, resize, and rotate images, adjust brightness and color, save your edited photos to your computer, plus more features. This is the app to use to edit photos for juried shows. 

Pixlr Express - Focuses more on adding filters and graphics to images. It definitely could be useful, particularly for editing social media images, but Pixlr Editor is a better option for editing craft show application photos.
Pixlr Omatic - A fun tool for adding retro-style filters to images. You might like this app for creating social media images, but it's definitely not for editing product shots.
Pixlr Today - A web browser extension for those who use Google Chrome to surf the web. Not what you want for editing photos.
Pixlr also has free apps for iPhone and android, but the mobile apps appear to be more focused on adding graphics (not what you want for craft show application photos). Play around with the mobile apps for your website or social media images, but stick with the computer-based software when you want to edit photos for craft show applications.
Handy Pixlr Links
Here's how to find what you need on the Pixlr website.
This link takes you directly to the free, web-based image editor where you can edit your photos.
Here's the Pixlr home page. Pixlr has more than just image editing. If you want to check out the site in general, start here.
If you have a question about how to use Pixlr, this page is the place to look for answers.
---
My Favorite Craft PHotography Books
While photo editing can touch up your images, you'll get the best results when you start with the best photos you can take. The two books below are my favorite resources for learning craft product photography.
---
How to Use Pixlr
The Pixlr photo editor felt pretty straightforward to use. I just clicked around the tools and was able to edit an image quickly. However, I'm pretty handy with photo editing software, so it might take a beginner a little more time to work out.
The only real downside I can see with using the Pixlr photo editor is there doesn't appear to be as much in-depth help as I've found with other online image editing tools. It is fairly simple to use, though, and as long as you save a copy of the image you're editing, so you don't lose the original, you can't really hurt anything by clicking around and seeing what each button does.
Here's a sample edit of a photo I took at an outdoor craft show to show you how the Pixlr photo editor works:
Once you have your photos downloaded to your computer, go to Pixlr Editor. Click on open image from computer, and find the image file you want to edit.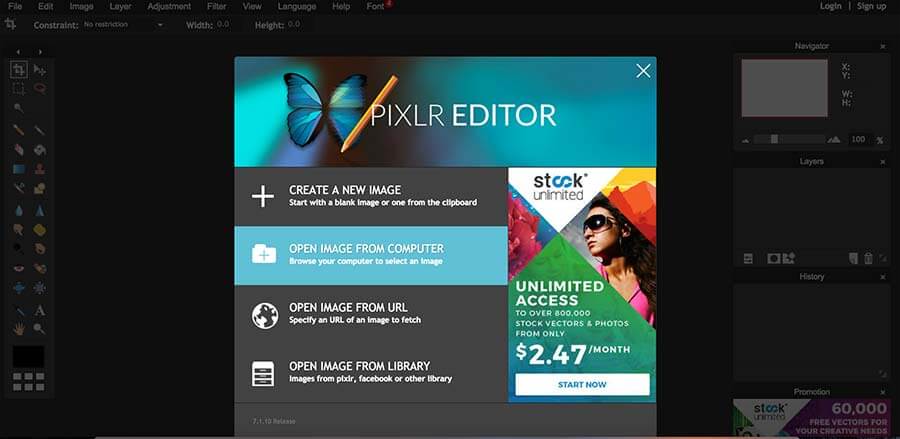 Your image will open in Pixlr.
Oops. My image is sideways. If you need to rotate your photo, click "image" then click the rotation you need.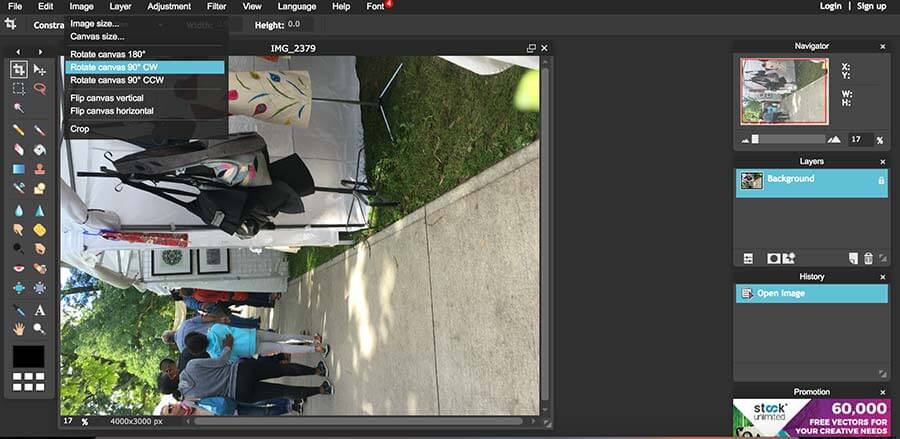 Now that the photo is right side up, it's time to edit.
Click "adjustment" to see options for fixing your image. You can play around with these features to find the adjustments you like. I often use brightness and contrast to brighten up an image. You can also adjust the color if you need to.
Do be careful using these adjustments. Don't take them too far, or your image won't look realistic. Your goal is to make your products look their best and also keep the image as true to life as possible.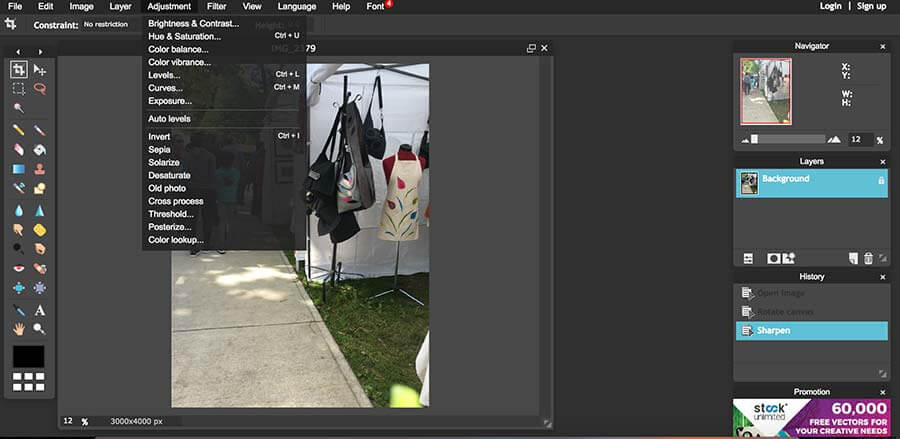 Made a mistake? Don't worry; just use the undo button. You'll find undo under edit, and it may become your favorite button. If you made a change you don't like, just click undo. If you made several changes you don't like, just click undo several times to undo the last several changes you made.
The undo button gives you the freedom to experiment with the Pixlr photo editor because you can always undo anything you don't like.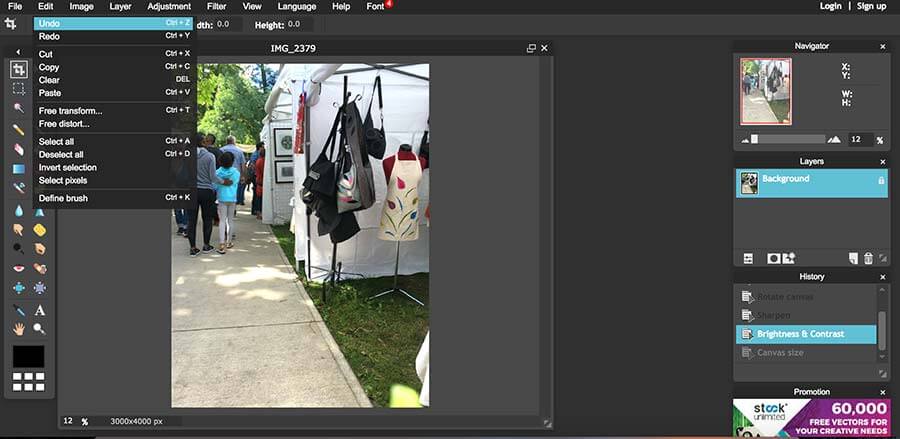 Juried art show organizers typically specify the size of the image they want you to submit. Pixlr photo editor makes it easy to crop and resize your images. In the example here, I want to crop the image to get rid of the people on the left, so I clicked image and then canvas size.
If you don't need to crop...
If I was happy with the composition and didn't want to crop out anything, I'd click image and then image size. This function allows you to change the size of your image without cropping out any part of the image.
For example, if your image was 3000px by 4000 px (px = pixels), and the show organizers wanted you to send an image that was 1500px by 2000px, you would use image size to make that change, not canvas size.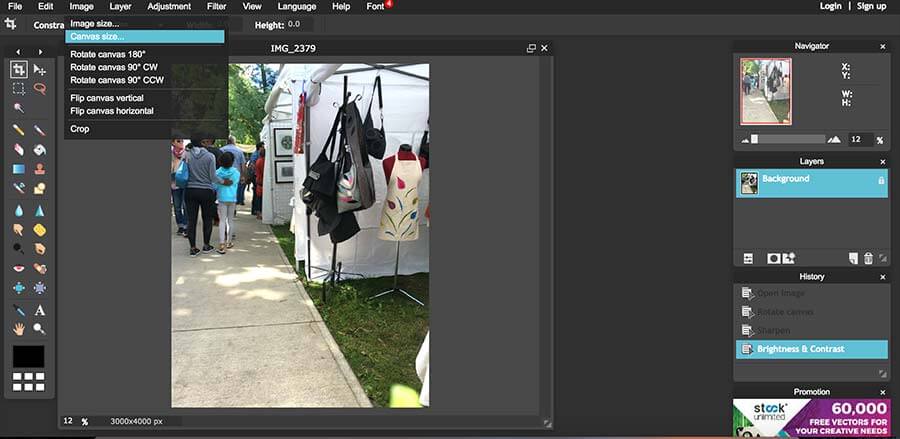 Back to cropping my photo.
Notice the grid of nine squares in the photo below. Each square corresponds with a spot on your image. For example, the top right square represents the top right of your photo.
I wanted to keep the upper right part of the photo and crop out the rest, so I clicked on the top right square to indicate that's the part of the image I want to keep.
Next, I clicked on the width and height to adjust the slider bar. You may have to experiment a bit to figure out exactly how much you want to crop out. Remember, you can always use the undo button to go back a step in your work if you don't like what you've done.
Be sure to keep photo size ratios (commonly called aspect ratios) in mind when cropping. For example, if you need a photo that is 1000px by 1500px, you have to keep that ratio; you can't crop it to 1000px by 2000px. You could crop the photo to be 2000px by 3000px because that is the same ratio.
If I've just completely lost you on aspect ratio, don't worry about it if you're just playing around with Pixlr. However, you do have to get the aspect ratio right if you're editing photos for craft show applications. Digital Photography School has a good article about aspect ratio if you'd like a more detailed explanation.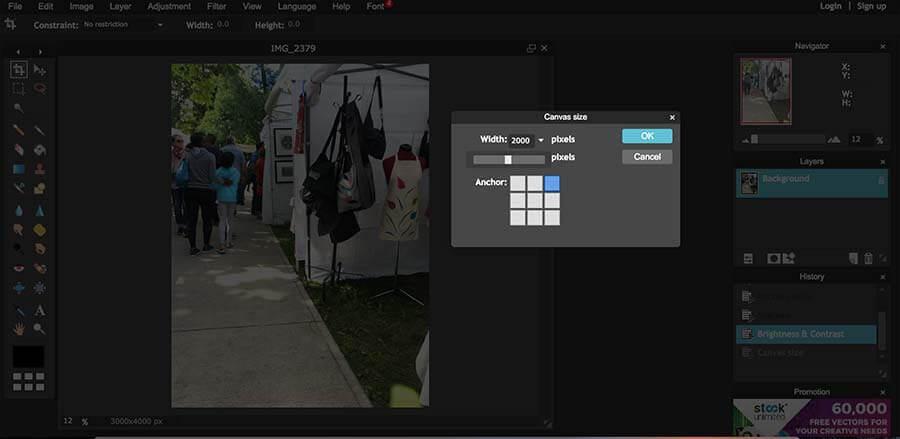 I have my photo the way I want it, now it's time to save. Click file, and then click save.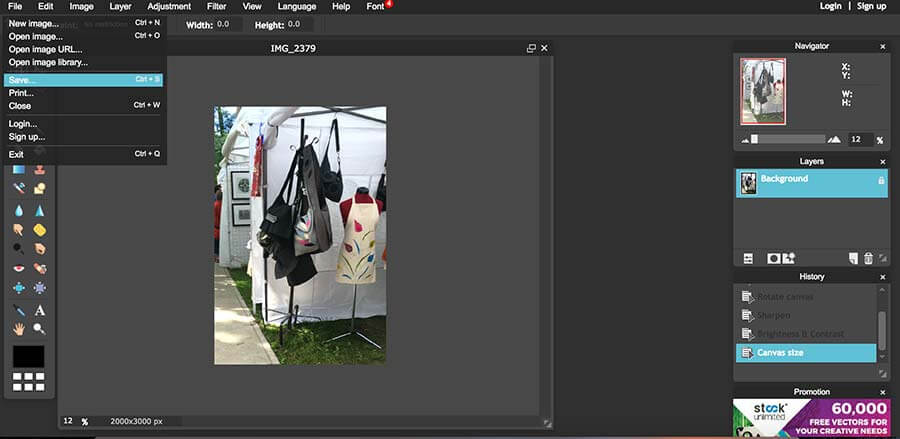 A dialog box will pop up giving you the option to rename your image. If you don't change the name of your image, you will lose the original. I like to keep my originals and rename edited photos. It takes up more storage space on my computer, but I do come back to the originals from time to time if I don't like the way I've edited something.
Notice the size of the photo is 797kb (kb = kilobytes).  That's pretty large. Craft show organizers will typically specify how large your image files should be. If yours is too big, just move the quality slider to the left. You'll lose some quality when you make the image smaller, so don't move it more than you have to in order to get the file down to the required size.
Click ok, and you're done.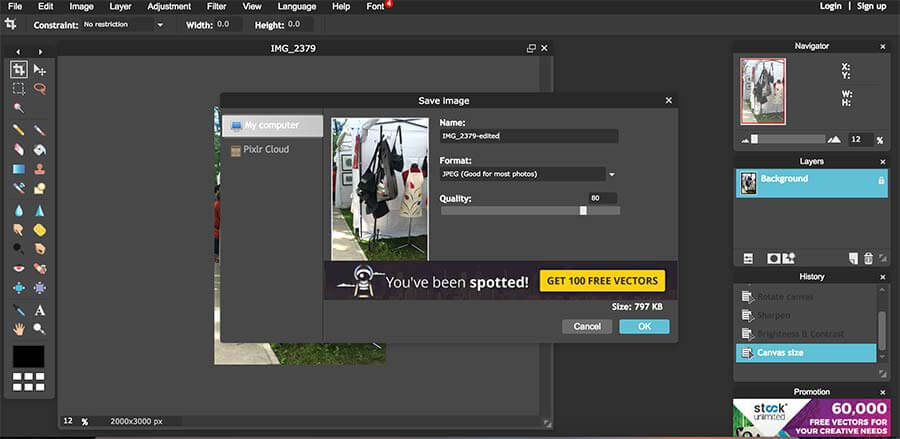 You're ready to go out an edit photos for craft show applications! 
Keep in mind, to get the best editing results, you need to start with the best quality images possible. Check out the resources below to help you improve your product photography skills.
You Are Here
Home
➤
Sell Crafts in Person
➤ Pixlr Photo Editor