6 Photo Editing Apps to Create Gorgeous Social Media Images
If you buy something through links on Craft Professional, I may earn a referral fee. To learn more see my
disclosure
.
---
Free & inexpensive photo editing apps to help you quickly create beautiful images for social media and grow your craft business online.

With a few photo editing apps on your smart phone or tablet, you can quickly and easily prepare gorgeous photos for social media.
Posts with images generally get more engagement on social sites, so creating great photos fast is a necessary skill for anyone who promotes and sells crafts online.
The good news is, there are several photo editing apps that are effective, inexpensive, and easy to learn.
Popular Photo Editing Apps 
Although I still do the majority of my photo editing on my laptop with Adobe Photoshop, more and more, I like to be able to edit on the fly with my phone as well.
Editing photos on my phone is particularly helpful for sharing on visual platforms like Instagram.
When you start to research photo editing apps, the first thing you'll discover is there are loads of options. The challenge is to discover the ones that are good without wasting a bunch of money on the ones that aren't so great.
To avoid buying the wrong apps, I researched recommendations from photographers who have gorgeous social media accounts.
Here's what I discovered and what I use to edit photos on my smart phone. 
Snapseed
The photo editing apps I have on my phone.
Primary Use: Overall Photo Editing
Available For: iPhone, Android
Snapseed is a fantastic photo editing app from Google with lots of features. If you only want to use a single app for editing images on your phone or tablet, I'd choose Snapseed.
Because it has so many features, it does take a little longer to learn how to make full use of this app, but it's time well spent.
With Snapseed you can:
edit brightness, contrast, highlights, and shadows
rotate, crop, and adjust perspective
sharpen
adjust tint
apply changes to selected areas on your photos
add a vignette effect
add stylized text
expand the image
apply filters
This app rocks! If you don't want to bounce around between several mobile photo editing apps, just get Snapseed.
Cost: For all this functionality, Snapseed is free!
TouchRetouch
Primary Use: Editing imperfections out of photos
Available For: iPhone, Android

If there's something ugly in your photo and you want it to disappear, TouchRetouch is the app you need. It works surprisingly well; it's like a little bit of magic. 
Snapseed also has a similar feature, but TouchRetouch works much better. With TouchRetouch, you can precisely choose exactly what you want to remove. The same feature on Snapseed is not as precise.
I don't use this app every day, but when I need it, it works wonders, and I'm very happy to have it. 
Do be sure to read the instructions when you start using this photo editing app. It's not hard to use, but it might not be immediately obvious if you simply click around on the app without reading instructions first.
Cost: $1.99 US

AntiCrop
Primary Use: Expanding Photos
Available For: iPhone - Not available on android - Android users can check out the expand image feature on SnapSeed.
Have you ever rotated a photo that was slightly askew, only to discover that rotating the image caused you to lose an important part of the image? AntiCrop can solve this problem.
If you need to rotate and crop a photo, but doing so causes you to lose part of the photo, AntiCrop will fill in the missing part of the image. It doesn't work for every type of photo, but it does a good job when it is replacing simple, predictable backgrounds.
Cost: $0.99 US
SKRWT
Primary Use: Perspective Correction
Available For: iPhone, Android
When the lines on your photo don't look quite right, that's when you may need to use a perspective correction app like SKRWT.
For example:
If you take a photo, and you're positioned just off to the side of the main image, or your camera was too high or too low, perspective correction can make your image look right.
SnapSeed does have a perspective correction feature, but if I need to adjust the perspective on my images, I prefer SKRWT.
I find adjusting the perspective of a photo can be a finicky job, so you need a good tool to do it well. SKRWT only does perspective correction, so it offers more detailed options to make these adjustments.
SKRWT also has a few fun options that allow you to create the look of a fisheye lens or a wide angle lens.
Cost: $1.99 US
Priime
Primary Use: Adding Filters to Images
Available For: iPhone - Not available on android - Android users can check out the filters on SnapSeed or AfterLight.
Priime has a nice range of image editing features, plus some great filters you can apply to your photos.
Creating a consistent look for your images helps you build a business brand and create a more appealing, professional look on visual social sites like Instagram. Using a photo filter is one way to create a consistent look across all of your photos.
If you're tired of Instagram filters, or you want to post to other social sites as well, Priime filters can help you create a consistent look.
Cost: The app is free, but some of the filters cost $1. The filters are developed by pro photographers, and the income goes to the photographers, so if you do buy a premium filter, you're supporting an independent creative business owner.

Afterlight
Primary Use: Overall Photo Editing
Available For: iPhone, Android
Afterlight also has lots of good image editing options similar to SnapSeed. I personally prefer SnapSeed because it has a few more features, like adding text, but you might find Afterlight more intuitive to use.
If you try SnapSeed and don't love it, give AfterLight a try.
Cost: $0.99 US

ProCamera
Primary Use: Taking Photos
Available For: iPhone
ProCamera camera is not a photo editing app, but it is an app I use in my mobile photography workflow, so I wanted to include it in this list.
In order to get great results while editing your photos, you need to start with the best original images possible. ProCamera can help with that.
ProCamera has a long list of features that are an improvement over the standard photo app on a smart phone. The ones I like best are the full screen trigger and the anti-shake mode.
Anti-shake helps you to take sharper photos. When it is activated, the app senses movement and won't take a photo until your camera is still. 
Full screen trigger mode lets you take a photo by touching anywhere on your phone's screen.
When I'm busy trying to set up a great photo on the go with my phone, I love that I can just touch my phone's screen. It's so much easier than clicking a small button. This feature can also reduce shake, so you get sharper images.
I'm sure there are more fabulous features on ProCamera, but these two alone have vastly improved my mobile photos.
This app is available for iPhone users. Unfortunately, I don't know of a comparable app for android users (for better or for worse, I have been fully immersed in the Apple universe).
If anyone knows of a great photography app for android I'd love to hear your suggestions in the comments below.
Cost: $4.99 US - This app is a little pricier as apps go, but it's still affordable. I use it all the time, and for me, it was well-worth the price.
My Favorite Photo Editing Apps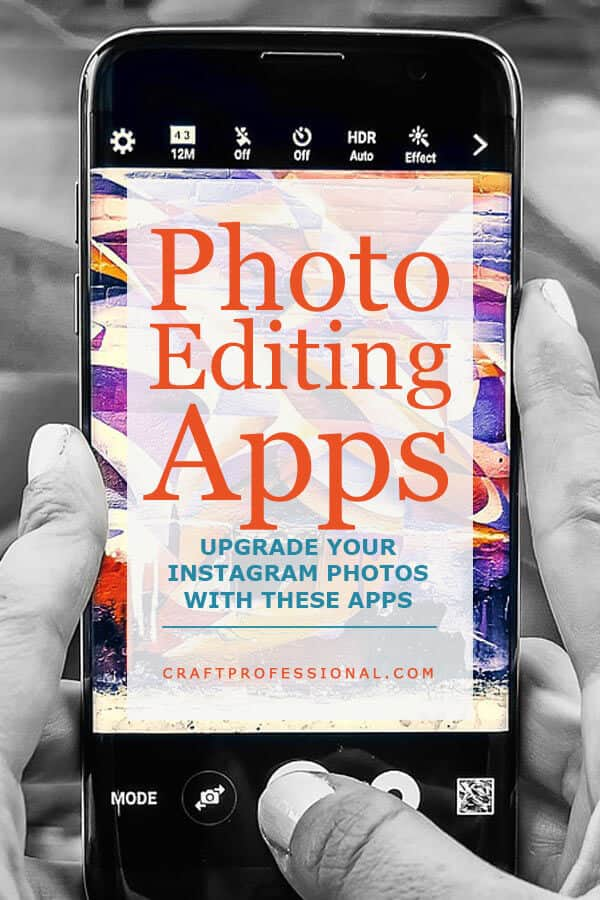 All of these apps are effective, affordable, and worth checking out on the App Store for iPhone users or on Google Play for android users. However, I definitely use some more than others.
Here's how I use photo editing apps to manage images on my phone.
I use ProCamera whenever I'm taking photos on my phone. The anti-shake feature combined with full screen trigger mode helps me to take much sharper images when I'm on the go and not in a more controlled environment.
SnapSeed is my go-to image editing app. It really contains almost everything I need to prepare images.
Occasionally, I find I need to expand a photo or adjust the perspective, and that's when I'll open up AntiCrop or SKRWT. If I need to remove a small imperfection from a photo, I'll use TouchRetouch to do the job.
I don't use the other apps, but that's just my personal preference. Priime and AfterLight are popular apps. They haven't found their way into my own workflow, but they might be perfect for your needs.
As a solopreneur, your time is your most precious and limited resource, so any tool that helps you build efficiency into your workflow is most welcome.
If you can post better images on your business social media accounts faster, you'll have developed a skill that will help you build your online craft business. These apps can help you do just that.

Moving Forward
Sometimes you need more functionality and control when editing photos. Mobile photo editing apps are fabulous for preparing social media posts, for example, but they don't do everything you need when editing photos for craft show applications. For that job, you'll need to look at using software for your computer.
If you need more functionality, or if you just prefer to work on your computer, check out my top photo editing software recommendations to use on your computer.