Is The PicMonkey Photo Editor Right for You?
If you buy something through links on Craft Professional, I may earn a referral fee. To learn more see my
disclosure
.
---
The PicMonkey photo editor is a fun, easy to use photo editor that you might find helpful if you edit a lot of images, particularly to promote your business online.

The PicMonkey photo editor used to be free with some paid premium elements, but now you need to pay to use it.
You can go on the PicMonkey website and try out all of the elements of the software before you buy to get a feel for everything it does and decide if it meets your needs. The one thing you can't do for free anymore is you can't save or export any images you create with PicMonkey without a membership, and that's a necessary feature if you're going to use your images anywhere.
PicMonkey photo editor offers Basic, Pro, and Team memberships at different price points. So you'll need to consider your image editing needs and decide if it's right for you.
Do You Need the PicMonkey Photo Editor?

Who is PicMonkey For?
PicMonkey is a great tool for someone who wants to have a lot of options for editing photos, adding text, graphics, filters, and textured overlays to images but doesn't want to spend a lot of time learning more complex image editing software.
With the PicMonkey image editor, you won't have the same degree of control or options as you would have with software like Photoshop, but you'll be able to learn to use PicMonkey and create fun images extremely quickly.
If you are making images for social media, your blog, or other promotional materials, and you want a whole lot of functionality, and options, but you don't want to spend a lot of time learning how to use image editing software, you might love PicMonkey.
Who is PicMonkey Not For?
If you only want to do light image editing of product shots (adjusting color and lighting a bit, cropping and changing file sizes), and you don't want to use text overlays and fancy effects, you don't need PicMonkey.
If you're editing images for juried art show applications:
If you're editing images of your products to submit them with juried craft show applications, PicMonkey is not what you need. For that job, Pixlr will do everything you need for free.
The same is true if you just want simple edits to product shots for your website or online shop, and you don't need fancy effects, graphics or text on your images.
If you want to get serious about digital art:
If you are seriously interested in graphic design and want to invest some time learning how to use more advanced image editing software, then you'd be better off checking out at least Adobe Photoshop Elements, and possibly Photoshop Creative Cloud.
If you need a cheaper option:
If PicMonkey's subscription fee is not in your budget, don't worry. There are other image editing tools out there that are free or low cost.
I've featured articles about digital photo editing software for craft artists in the weekly Craft Business Challenge.

You can learn about other image editing options here.
What Can You Do With PicMonkey?

Start by uploading your own image to PicMonkey, then you can have some fun.

With the PicMonkey photo editor you can:

crop, adjust color and exposure, rotate, sharpen, and resize
add all kinds of effects including filters and textured overlay effects
touch up images - remove blemishes, wrinkles, shine, add color to skin, and highlights to hair
add text using PicMonkey's font or any font that's on your computer (a great feature if you use specific fonts in your company's branding)
add cute cartoonish pictures, and add frames
PicMonkey also has a mobile app, so you can work on your phone or tablet, too.
Fun With PicMonkey
Here are a few things I did with a favorite photo of my boy using PicMonkey.
Since I don't have a PicMonkey subscription, these images are all screenshots from my computer. (I use Adobe Creative Cloud because I do a lot of image editing)
I started out with one of my favorite photos loaded into PicMonkey.
Notice all of the basic edits available on the left:
I can crop, rotate, adjust the exposure, adjust colors, sharpen the image, and resize the photo. Most of these features include sliders, so I can adjust them to my own specifications. There's also an auto adjust button, so I can let the software adjust it optimally.
After auto adjusting the exposure and the colors, we have the image below.
I like the richer colors.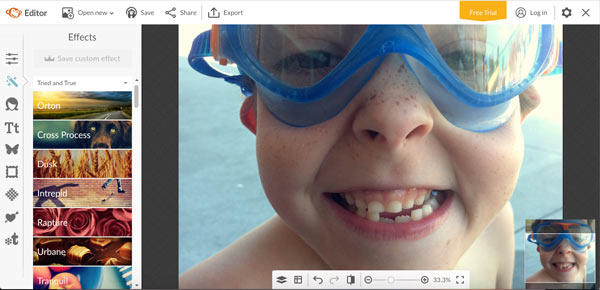 If you love filters, there are plenty to play with on PicMonkey.
I'd warn you to be very careful with using these filters in product shots because you want your colors to be as true as possible. But for fun social media posts or photos for your blog, you might enjoy using them.
I kept the filters at their full strength, so you could really see the difference. You can use the sliders to tone down the effect and make it a little more subtle.
Here's another fun filter effect. I like the look of this one.
PicMonkey photo editor has some good tools to touch up images. In the photo below, I used the blemish fix tool to erase all the freckles on my boy's nose.
Notice the little arrows at the bottom of the picture? Those are undo and redo buttons - very handy if you make a mistake.
I love my boy's freckles, so I used the undo button to undo the blemish fix and put his freckles back on his nose.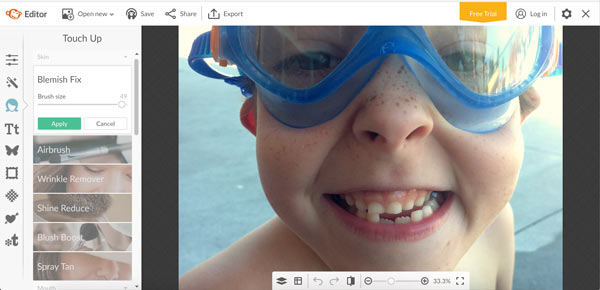 There are a few more tools you can use on PicMonkey including cute cartoon images you can add to your photo, and textural overlays. That's the bubble effect in the photo below.
Moving Forward
PicMonkey photo editor is a useful tool for:
editing photos
creating effects and filters
adding text overlays to images
It's probably not the tool you need if you're taking product shots and doing basic edits, particularly for craft show applications. Pixlr is a better option to that task.

If you want to be able to edit and touch up your photos and add fun graphic elements, and you don't want to spend a lot of time learning more complex software, PicMonkey may be exactly the tool you need.
There are a lot more features that the ones I've show here. If you think you might like PicMonkey, head over to the website, upload a photo, and start experimenting to see if it's right for you.