Slat Wall Display Photos & Lessons from Retail Displays
If you buy something through links on Craft Professional, I may earn a referral fee. To learn more see my
disclosure
.
---
This week on the Craft Business Challenge: 
Slat wall display photos show you how to use these portable panels to effectively display your handmade products at craft shows. Also, merchandising lessons from retail shops, brand new jewelry booth photos, and how to create a booth that appeals to your target customer.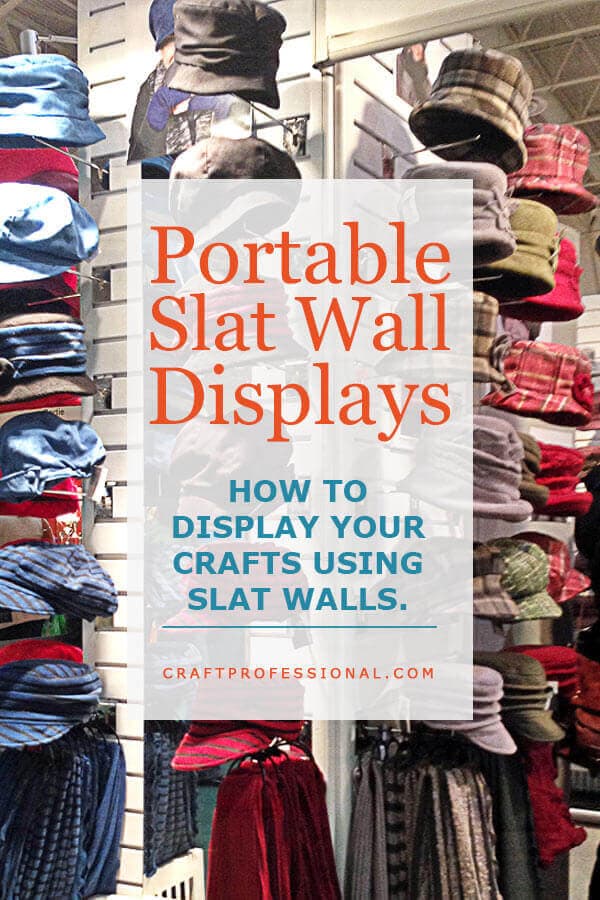 This week we'll look at using slat walls in portable displays. Slat walls, when combined with hooks and other accessories, can be used to display a huge variety of types of crafts. Unlike tables, they don't take up a lot of space, and they can help you make effective use of the full height of your booth space.
We'll look at a retail shop full of fabulous handmade pewter jewelry and houseware items. This shop has plenty to teach about the use of color in your branding and in your displays.
Also this week, learn how to create a booth that attracts your target customer. You don't necessarily need everyone to come into your booth, but you do want to clearly attract your target customer. This week, I have 3 tips to help you design a booth that appeals to your ideal customer.
Finally, the newest article this week features 9 brand new jewelry display photos with clever ideas for displaying necklaces and pendants.
What's New This Week?
How to Display Necklaces at a Craft Show: 9 brand new craft booth photos with great ideas for displaying necklaces at a craft show.
TIMELY TIPS
FOCUS: Slat walls Displays, Lessons from Retail Shops, and Designing a Craft Booth that Attracts Your Target Customer
Slat Wall Display Ideas: 7 craft booth photos show you a variety of way to use slat walls to display your crafts.
Craft Display Lessons From Retail Shops: Handmade jewelry and housewares displayed in a beautiful retail shop teach essential lessons you can apply to your craft booth design.
Customer Focused Art Show Displays: Is your display attracting the right customer? Here's how to create a display that appeals to your target customer.
Printable Signs for Your Craft Booth
Encourage your customers to splurge a bit!
I have plenty of printable craft booth signs in my Etsy shop to inspire your customers to treat themselves and support your small business.
THANK YOU FOR JOINING IN THE CRAFT BUSINESS CHALLENGE
I'm thrilled that thousands of craft artists have signed up for the Craft Professional email alerts. If you've reached this page by surfing around the site, and you'd like to get the weekly email updates, simply add your best email address in the form below.