Smart Pinterest Hashtags
If you buy something through links on Craft Professional, I may earn a referral fee. To learn more see my
disclosure
.
---
There was a time when Pinterest hashtags weren't particularly useful for helping your content get discovered on the platform. Now Pinterest is actively encouraging the use of hashtags. If you surf around the site, or the app, you'll see them prominently shown in bold blue links on many pin descriptions.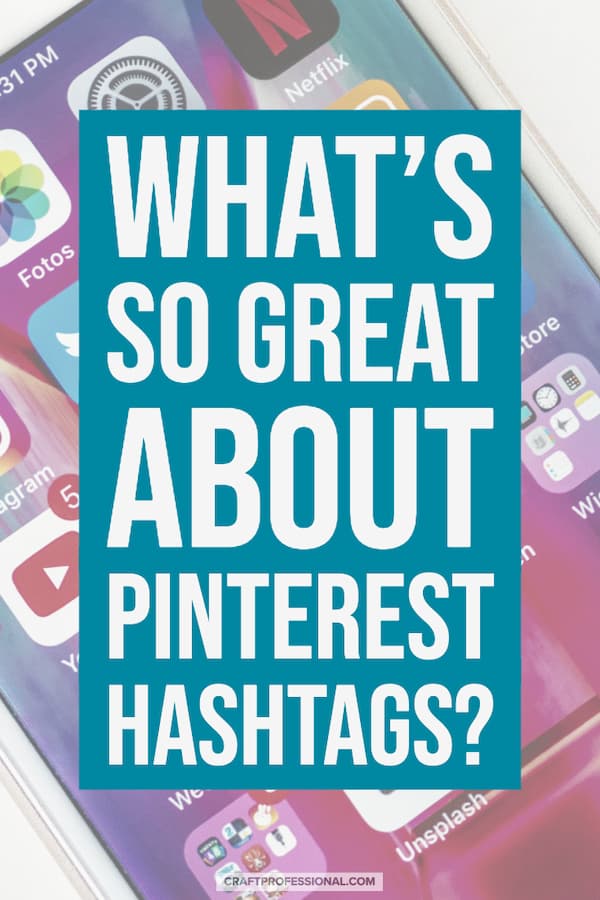 I've started using hashtags in most of my pins, and since then, I've seen an increase in my Pinterest stats. Repins of all of my pins, domain pins (pins of pages on my own website) and new followers are all up over their weekly averages. 
Those numbers are encouraging. Without deeper study, I couldn't say for sure that this improved performance is a direct result of using Pinterest hashtags. Many factors go into building your presence on Pinterest. However, initial results look promising, adding a few hashtags doesn't take too much extra time, and Pinterest sends heaps of visitors to my website. In my estimation, it's worthwhile to spend a little extra time researching and adding a few targeted hashtags to pins.
---
I earn a commission for purchases made through links on this page.
To learn more, please see my disclosure.
---
What Are Pinterest Hashtags?

If you've spent any time on Twitter or Instagram, you'll know a hashtag is a word or phrase with a # in front, such as #handmadesoap, #wirejewelry, #crochetbasket, or #etsyfinds. They are often used when searching on social media sites like Twitter and Instagram. They aren't as popular on Facebook, but you'll see them there from time to time.
Until recently, hashtags weren't particularly important on Pinterest, but that is changing. You can find the official scoop on Pinterest hashtags here.
If you're promoting your business on social media, strategic and smart use of hashtags can help you grow your presence and be found more readily.

What's So Great About Pinterest Hashtags?

A standard Pinterest search (using no hashtag) brings back results according to a complex algorithm. That means, the results you see are what Pinterest believes are the best pins for you based on a lot of factors. A hashtag search, on the other hand, brings back search results in chronological order. That means, if you search using a hashtag, you'll see the most recently posted related pins first.
Why are hashtags exciting news to people who are trying to grow a presence on Pinterest? It's helpful because it means your pins can get found in two ways, first, based on Pinterest's algorithm, and second, based on how recent your pins are. If you don't have an established Pinterest account that already sends positive signals to the algorithm helping your pins get found, you still have a chance of being found based on how recently you've pinned something with a hashtag in the description.
I won't pretend to be a social media algorithm expert. However, I do believe that chronologically ordered feeds (feeds that show the most recent posts first) make it easier for a new person to establish a presence on social media platforms. Algorithmically-based feeds (feeds that use a complex set of criteria to determine which posts you see) make it tougher to establish a new presence, in my opinion.
If you're new to using Pinterest for business, you should take advantage of the chronologically-based hashtag search to get the boost you need to get established. If you have a well-established Pinterest presence, it only takes a few seconds to add hashtags to a pin. Why not give your pins a little bit of extra traction?
How Do Pinners Search Using Hashtags?

Pinners can search by hashtags either by typing # in the search bar, followed by the word or phrase they want to search. As with regular Pinterest search, when you type a hashtag into Pinterest's search bar, you'll get suggestions. These suggestions will influence the search terms people use.
For example, if you look at the image below, you'll see I've entered #crochet into Pinterest's search bar. Pinterest provides suggestions for several popular hashtags that begin with #crochet. If I see one that's a good fit for my search intent, I'll click on that hashtag. So, if the suggestion #crochetpattern makes me realize that yes, I am specifically looking for crochet patterns, I'll click on that hashtag to better focus my results.

Begin typing # followed by any broad keyword, and the Pinterest search bar will recommend related hashtag searches.
Alternatively, Pinterest users might click on a hashtag they see on a pin description. Any hashtag you add to a pin description creates a clickable link that leads to more pins containing the same hashtag. If one of the hashtags in a description piques a person's interest, they can click on it to get more results containing the same hashtag. 

The first image below shows some pins I've shared with hashtags in their description. The hashtags are bolded in blue, and they are quite noticeable. If I click on one of those Pinterest hashtags, it will take me to the pins most recently shared on all of Pinterest containing that hashtag. You can see those results in the next image.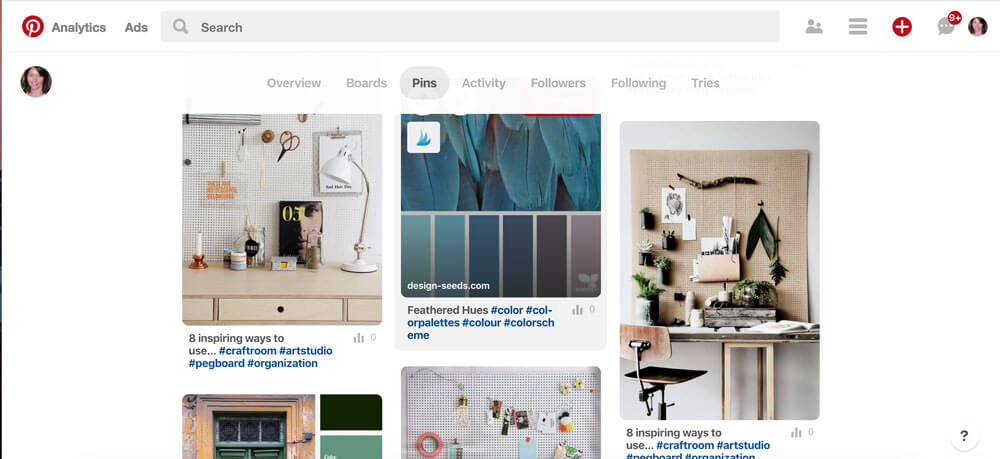 Pins with hashtags in their descriptions. They are bolded and in blue - Very noticeable on the page.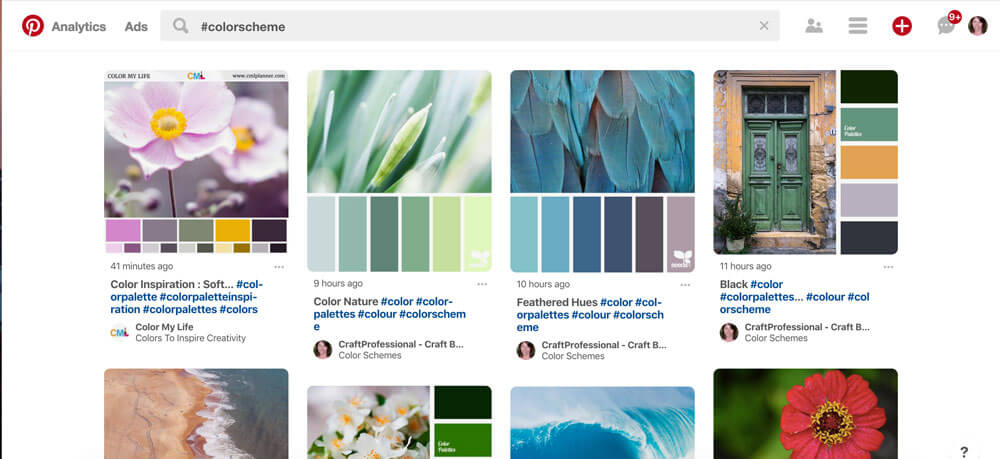 If I click on the hashtag #colorscheme, I get all of the pins with that hashtag in the description sorted in chronological order (most recently pinned first).
The one downside to adding hashtags to your pin descriptions is that the links created by your hashtags might cause someone to click away from your pin to other related pins. However, Pinterest hashtags appear to have enough power to bring attention to your pins that adding them is worth this small downside.

How to Add Hashtags to Your Pins

As you're pinning your own images and other people's content, simply add a few relevant hashtags to your pin descriptions. I like to add mine to the end of the descriptions. Pinterest says you should use no more than 20 hashtags, but, generally, you'll see most people using 3-4 hashtags per pin.

How to Add Hashtags to Your Website Images

You can also add hashtags to the pin description on images on your own website. In the article, Make Your Craft Website Pinterest Friendly, I showed how to set up images on your website so you can control the pin description you want to show when someone pins from your website.
While you're adding a great pin description on your images, you can also add a few good hashtags to the description. That way, when someone pins an image from your site, it will automatically contain the hashtags you want to target. Those hashtags will increase that pin's opportunities for being found on Pinterest.
Your website builder might have a handy button that allows you to add a pin description and hashtags without getting into any HTML code yourself. If it doesn't have that feature, you can see the code you need to use here.
You might want to go back and add some hashtags to pin descriptions on pages you've already built for your website so future pins of that image will automatically include this hashtag. This task could be a big, time consuming job, so you'll need to prioritize. Perhaps try adding hashtags to images on the most important pages you most want to promote (your biggest money makers, for example).
Don't Get Too Stressed About Coding and Adding Hashtags to Your Website Images

If all of this coding is brand new and overwhelming to you, don't even worry about it. If you apply the other strategies in this article, you'll still be able to take good advantage of hashtag searches on Pinterest.

When to Share Pins with Hashtags

Hashtag search on Pinterest is chronological. That means, if you want to make the most of this search, you'll need to ensure you're scheduling your pins at the most opportune times, you're not dumping a lot of pins to your account all at once, and, ideally, you're mixing up the hashtags you're using at different times.
I've always used pin scheduling software to ensure I'm pinning at the best times. It's natural to sit and schedule a lot of pins all at once, but it's better if you spread them out. If you tried to pin throughout the day without a pin scheduler, you'd constantly be interrupting other work and breaking your focus, which isn't a good way to do your best work. 
I use Tailwind to schedule my pins because it is an official Pinterest partner, which means using Tailwind to schedule your pins is sanctioned by Pinterest. You're not going to lose your Pinterest account because you used Tailwind. If you use another service that's not an official Pinterest partner, you could risk violating Pinterest's terms of service and losing your account.
The other pin scheduler that's an official Pinterest partner is Buffer. I looked at it when deciding which scheduler to go with. It has some good features, but Buffer only lets you schedule out a maximum of 100 pins, and that limit was a deal breaker for me because I often schedule many more pins at a time.
If you'd like to try Tailwind, they offer a free of 100 pins with no credit card required for the trial.
The Pinterest for Business Series
Read on to learn more about how to grow your presence on Pinterest and make good use of this excellent opportunity to promote your online craft business.