Pinterest Business Series
If you buy something through links on Craft Professional, I may earn a referral fee. To learn more see my
disclosure
.
---
The Pinterest business series of articles takes you from deciding if Pinterest is right for your business, optimizing your account for business, creating boards and saving pins your customers want to see, through to researching effective keywords and hashtags to get found.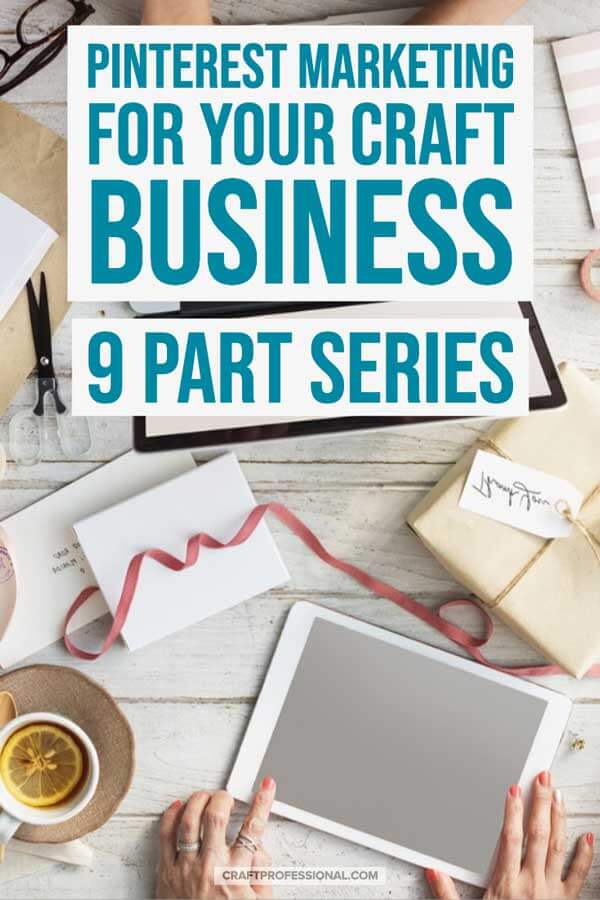 Promoting your business on Pinterest is a smart, effective way to grow traffic to your website or online shop. I've been growing my business on Pinterest for years, and the platform sends my site almost as many visitors as I get from Google search. 
The thing I love about Pinterest is, pins created years ago can continue to send visitors to your site. Unlike posts on other social platforms, Pinterest pins have a lasting shelf life and can be effective for a very long time. I never regret the time I spend promoting my business on Pinterest because I know those efforts can benefit my business for ages.
Because I'm so convinced that Pinterest provides an excellent opportunity for people to market an online craft business, I've created a nine-part series of Pinterest business articles outlining the basics and more advanced strategies you can use to start promoting your own online business on Pinterest.

Pinterest Terminology

Before we dive into the Pinterest Business series, let's take a look at some language you'll come across as you begin to explore Pinterest.

Pinning / Saving
Both of these words mean the same thing in the world of Pinterest. If someone says they are pinning something, or saving something to Pinterest, it simply means they are saving an image (and usually also a related link) to their Pinterest account.
People who use Pinterest for personal use generally pin things they like and often want to keep track of for a future project or purchase. 
People who use Pinterest for business generally pin their own content to get it out on the Pinterest platform so others will see it and hopefully engage with it. 
Pin is the original term used, but Pinterest has moved towards using the word "save" instead to make the language more understandable to more people. However, people have been "pinning' for quite a while, so you'll still here the word "pin" as well.
The thing you create when you save something to Pinterest is called a pin.
Repin
When you find someone else's pin on Pinterest, and you save it to your own Pinterest account, that's called repinning. It's a good thing when people repin your pins because that gets your content seen by more people on the Pinterest platform. It's no coincidence the my website's pins that have most repins are also the pins that bring me the most traffic from Pinterest.
Pinner
A pinner is someone who uses the Pinterest platform.
Follower
A follower is someone who follows you on Pinterest.
Pin Description
A pin description is the text description that goes with any image you save on Pinterest. Pin descriptions are important because, if they include relevant keywords, they will help your pin get seen by more pinners.
Hashtag
Just like on other social platforms, a hashtag is a # followed immediately by a keyword or keyword phrase such as #crafts, #craftideas, #handmadejewelry, or #diyweddings. On Pinterest, you can add relevant hashtags to your pin description, and it will help your pin get found on Pinterest more frequently.
Guided Search
Guided search is Pinterest's search feature. It's called guided because Pinterest's search tools suggests ways to refine your search. If you type a broad keyword into the search bar, Pinterest will suggest other keywords that will help to narrow down your search so you can find exactly what you're looking for.
Official Pinterest Partner
At some point, you may want to use a third party service to help you build your business on Pinterest. For example, you may want to use a service to schedule your pins, so you can better manage your work time. There are plenty of services out there, but official Pinterest partners offer services that are sanctioned by Pinterest. That means you're not going to put your Pinterest account at risk by using those services. You can find a full list of official partners here. 
Scheduled Pin
A scheduled pin is a pin that you plan ahead of time. For example, Pinterest says it is best to pin consistently. That is, it's better to pin 15 pins every day for 7 days than it is to pin 105 pins all at once. However, you might prefer to do a lot of pinning all at once, so you can make better use of your work time. 
Scheduled pins allow you to set up a lot of pins all at once, but they will be scheduled to go live on Pinterest over the course of several days. There are two pin schedulers that are official partners, Tailwind and Buffer as well as some schedulers that are not official partners.
Board
Boards are used to organize and categorize your pins. You'll set up a board for each topic you pin about. Boards will help you organize your pins, and putting pins into relevant boards with good keywords in the title and description will help those pins to be found more often when people search Pinterest for that topic.
Smart Feed
The smart feed is the is the display of pins you'll see when you visit Pinterest (assuming you have an accountant and are logged in). The selection of pins you're shown is based on a complex algorithm that takes into account several factors. The smart feed is where you might go if you're just scrolling through Pinterest for fun and not searching for something specific.
There are other features you'll find on Pinterest, but they are generally items a more advanced pinner would use. The features described above are the ones I use regularly even after years of using Pinterest, and understanding these terms will give you a solid foundations for diving into using Pinterest to promote your business online.
The Pinterest Business Series

Please note that Pinterest can be used on your computer desktop, and also as an app on a mobile device. Whenever I've provided examples and screenshots of a feature on  Pinterest, I've used the desktop version of the platform. I'd suggest getting comfortable with the features on the desktop version, and then you can add the app to your mobile device and explore.