Rain-Proof Your Outdoor Canopy Tent
This week on the Craft Business Challenge:
Survive rainy outdoor craft shows with these tips, and an astronaut teaches us how to strive for audacious dream goals.
If your outdoor canopy tent isn't fully waterproof, a rainy craft show will be miserable. Unfortunately, some canopies are less water-tight than others, and you probably won't discover if yours is leaky until you're in the middle of a rained out show.
If you plan ahead, though, and prepare, there are several ways you can minimize the risk of being stuck in a leaky craft tent. This week, find out how to survive a rainy outdoor craft show.
Plus...
Building a craft business can feel like chasing a huge, dream goal. It can be risky.
This summer, I learned from an astronaut how to chase a big, dream goal without risking too much, and how to ensure you're happy, even if you don't fully achieve your goal.
Stay Dry At a Rainy Craft Show
Let's be honest, rainy outdoor craft shows are no fun for a lot of reasons. If you plan ahead and prepare your tent, you can at least stay dry through a wet show. Here's how to prep for a craft show when rain is in the forecast.
Chasing an Audacious Dream?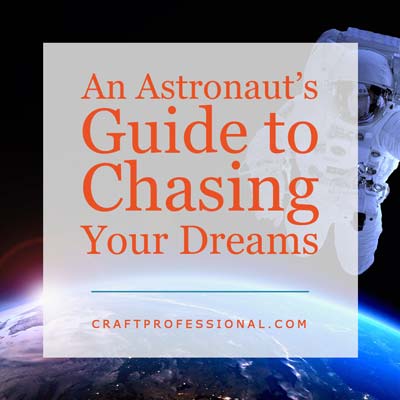 Chase a Big Goal Without Risking Too Much
Dream goals can be risky, and often we push aside our audacious goals because the risk of chasing them seems too great. What if there was a way to chase a big goal without risking too much? Here's what an astronaut taught me about how to chase a dream goal and be happy, even if you don't fully achieve it.
THANK YOU FOR JOINING IN THE WEEKLY CRAFT BUSINESS CHALLENGE
I'm thrilled that thousands of craft artists have signed up for the Craft Professional email alerts. If you've reached this page by surfing around the site, and you'd like to get the weekly email updates, simply add your best email address in the form below.
You Are Here
You are here:
Home
➤
Weekly Craft Business Challenge
➤ November: Rain-Proof Your Outdoor Canopy Tent