Prepare Your Outdoor Canopy Tent for Rainy & Windy Craft Shows
If you buy something through links on Craft Professional, I may earn a referral fee. To learn more see my
disclosure
.
---
This week on the Craft Business Challenge: 
Survive rainy outdoor craft shows with smart strategies craft show vendors use to stay dry. Secure your outdoor canopy tent with tent weights. And learn how to display paintings at art fairs.
Survive Rainy Craft Shows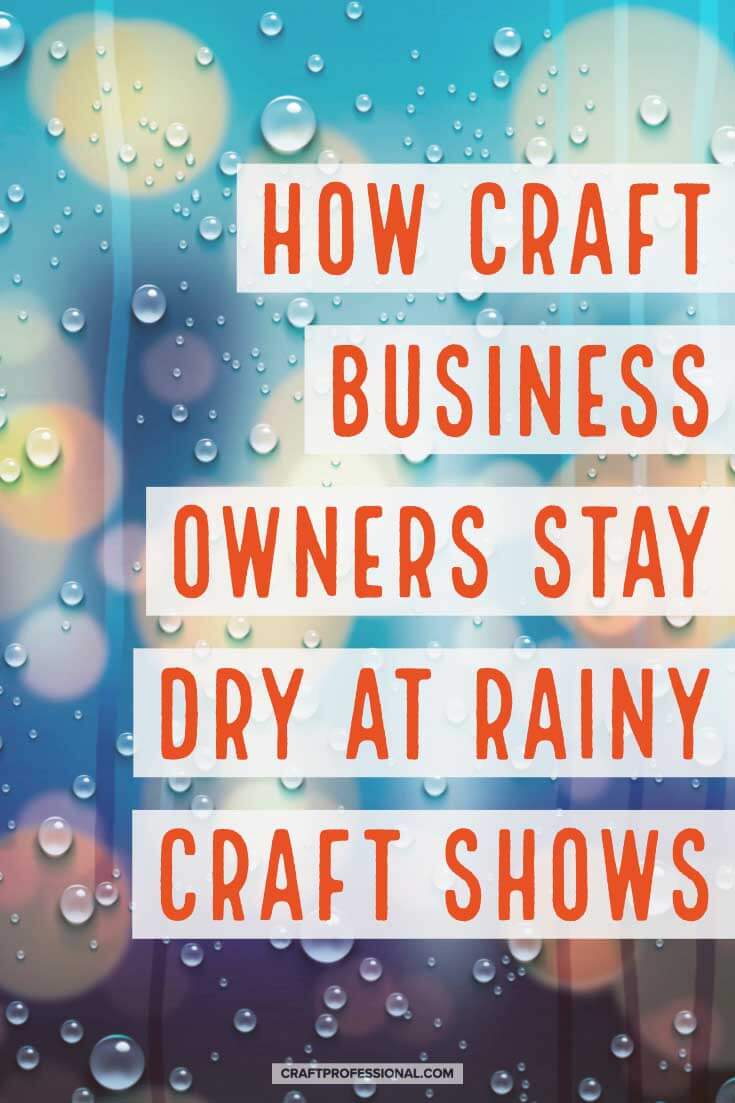 If your outdoor canopy tent isn't fully waterproof, a rainy craft show will be miserable. Unfortunately, some canopies are less water-tight than others, and you probably won't discover if yours happens to be leaky until you're in the middle of a rained out show.
If you plan ahead and prepare, there are several ways you can minimize the risk of being stuck in a leaky craft tent. This week features strategies craft show vendors used to stay dry during a rainy outdoor craft show.
Secure Your Canopy with Tent Weights
You might be surprised how easily your outdoor canopy tent can be blown around in just a little bit of wind. You don't have to be in the middle of a blustery day. A small breeze can send an unweighted craft tent flying.
Wisely, many outdoor craft show organizers require vendors to secure their canopies with tent weights. Some even specify the type and amount of weight you need to use.
Luckily, there are plenty of solutions, both store-bought and handmade, for weighting your pop-up tent. This week, we look at how to properly secure your outdoor canopy tent with weights. 
Whats NEW THIS WEEK?
How to Display Paintings
How to Display Paintings at an Art Show
Whether you need to display large original art canvases, smaller prints, cards, or other types of wall art, there are best practices that will help you create an effective display. Here's how to show your work at its best at art and craft shows.
TIMELY TIPS
Focus: Survive Rainy & Windy Craft Shows
Let's be honest. Rainy outdoor craft shows are no fun for a lot of reasons. If you plan ahead and prepare your tent, you can at least stay dry through a wet show. Here's how to prep for a craft show when rain is in the forecast.
Secure Your Canopy with Tent Weights
The last thing you need at an outdoor craft show is a tent blowing down the street threatening to do some serious damage. Avoid craft show disaster with a securely weighted canopy.
PRINTABLE SIGNS FOR YOUR CRAFT BOOTH
Encourage your customers to splurge a bit!
I have plenty of printable craft booth signs in my Etsy shop to inspire your customers to treat themselves and support your small business.
THANK YOU FOR JOINING IN THE CRAFT BUSINESS CHALLENGE
I'm thrilled that thousands of craft artists have signed up for the Craft Professional email alerts. If you've reached this page by surfing around the site, and you'd like to get the weekly email updates, simply add your best email address in the form below.