Rain-Proof Your Outdoor Canopy Tent
by Lisa McGrimmon
This week on the Craft Business Challenge:
Survive rainy outdoor craft shows, check out 8 children's clothing displays, avoid breaking the rules at craft shows, and learn how to be a better crafts teacher.
If your outdoor canopy tent isn't fully waterproof, a rainy craft show will be miserable. Unfortunately, some canopies are less water-tight than others, and you probably won't discover if yours is leaky until you're in the middle of a rained out show.
If you plan ahead, though, and prepare, there are several ways you can minimize the risk of being stuck in a leaky craft tent. This week features tips to help you survive a rainy outdoor craft show.
I have 8 photos of beautiful children's clothing booth displays highlighting some clever and very affordable ways to make a booth look bright and special.
Also this week, don't be a rule breaker! Sometimes it's wise to break the rules, but not at craft shows! My printable craft booth rules checklist will help ensure your booth meets the standards common to many craft shows. While some shows have a few unique rules, there are several rules that are common to many shows. This checklist helps you to track the rules of each show you're attending and ensure your display is in line with their rules.
Plus...
New on the site this week, the European Union has enacted a new law to help protect your privacy online. In accordance with that new law, I've updated my privacy policy, which you can see below.
Also, we continue the series on teaching your craft with tips to help you become a better crafts teacher.
Privacy Policy Update
If your email inbox is anything like mine, you've received a flurry of emails over the past couple of weeks from businesses letting you know about changes to their privacy policies. You've received those emails because of a new law called the GDPR (General Data Protection Regulation).
The GDPR is a European Union based privacy and data protection law that aims to give individuals more control over their personal data online.
I respect your privacy and embrace these changes and have made a number of updates to CraftProfessional's privacy policy to comply with the transparency regulations requirements under GPR. If you'd like to review the new privacy policy, you'll find it here.
Also, in keeping with respect for your privacy, please be aware that if at any time you would like to unsubscribe from receiving future emails, I include unsubscribe instructions at the bottom of each email I send.

NEW THIS WEEK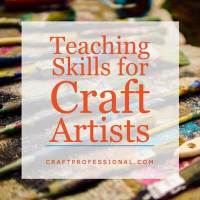 If you want to teach your craft, you'll need to develop your teaching skills. Here's how to start to build those skills and become a fabulous crafts instructor.
TIMELY TIPS FROM PAST ARTICLES
Focus: Survive a Rainy Craft Show
Let's be honest. Rainy outdoor craft shows are no fun for a lot of reasons. If you plan ahead and prepare your tent, you can at least stay dry through a wet show. Here's how to prep for a craft show when rain is in the forecast.
6 Children's Clothing Display Photos
Here are 6 beautiful children's clothing display booths for your inspiration. Even if you don't sell children's clothing, if you'd love to create a bright, whimsical booth, check out these photos. You just might find a few ideas you could translate into your own display.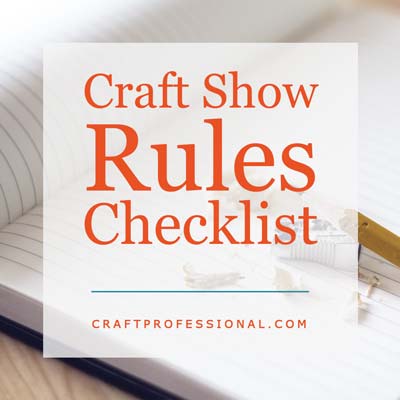 Here's where to get your printable list of common craft show rules to help ensure your booth is in line with your show organizers' requirements.
PRINTABLE SIGNS FOR YOUR CRAFT BOOTH
Encourage your customers to splurge a bit!
I have plenty of printable craft booth signs in my Etsy shop to inspire your customers to treat themselves and support your small business.
THANK YOU FOR JOINING IN THE WEEKLY CRAFT BUSINESS CHALLENGE
I'm thrilled that thousands of craft artists have signed up for the Craft Professional email alerts. If you've reached this page by surfing around the site, and you'd like to get the weekly email updates, simply add your best email address in the form below.
You Are Here
You are here:
Home
➤
Weekly Craft Business Challenge
➤ June: Rain-Proof Your Outdoor Canopy Tent