Get Ready for Craft Show Season
by Lisa McGrimmon
This week on the Weekly Craft Business Challenge:
Preparing for craft shows with loads of craft booth lighting ideas, a craft show packing list, and shade options for irregular-sized outdoor booths. 
In early April, craft artists are emerging from months that are typically fairly quiet. If you sell at craft shows, you've probably discovered which ones you've been accepted to for the upcoming year (or you'll find out soon). You're likely creating stock and thinking about what displays you need for your booth. You're preparing for the busy months ahead and making sure you have everything in place for a successful sales season.
With that in mind, this week we'll take a look at preparing for art shows by ensuring your booth is well lit with plenty of portable lighting options. You can also check out my craft show packing list to ensure you have everything you need when you're at a show.
Finally, if you've committed to do some outdoor shows that provide an irregularly shaped booth space, shading your booth will be an issue you'll need to deal with.  If a standard 10x10 canopy won't fit in your space, I have shade options for you to consider.
NEW THIS WEEK
7 Booth Photos Featuring Great Portable Lighting
Lighting is an easy thing to overlook. Your lights aren't front and center in the display design, and they don't form the structural foundation of your display, so it's easy to forget about lighting, or be tempted to skip it on purpose to save on the cost of building your booth.
The problem with skipping the lights is that, particularly at indoor shows, it's hard to show your products at their best without good lighting. These 7 booth photos show you what a huge impact good lighting has on a display, and provide you with ideas and resources for lighting up your own booth.
TIMELY TIPS FROM PAST ARTICLES
FOCUS: GET READY FOR CRAFT SHOW SEASON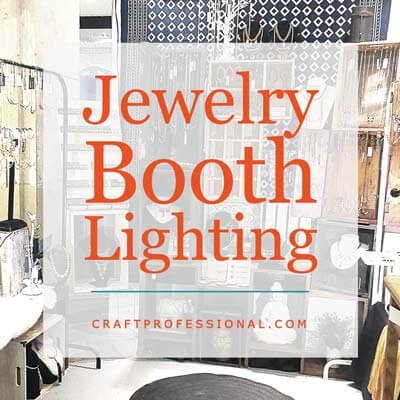 If you're convinced you need great lighting to complete you booth, and you want more portable lighting ideas, you'll find them here. These photos all feature jewelry booth lighting, but the lighting solutions shown will work for all kinds of craft displays.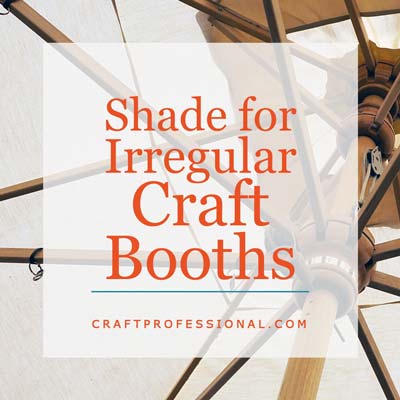 Shade for Irregular-Sized Craft Booths
Irregular booths can be full of challenges, particularly if they are at outdoor shows.
If you're doing some outdoor shows that provide a booth space that won't fit your standard 10 x 10 canopy, you won't want to be standing unprotected in the hot sun all day, so you'll need to do some thinking about how to provide shade. Here are some options to help you get out of the sun when you can't use your regular craft tent.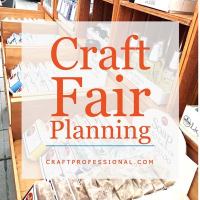 Check out this craft show packing list to help ensure you have everything you need to be ready for your next show.
PRINTABLE SIGNS FOR YOUR CRAFT BOOTH
Encourage your customers to splurge a bit!
I have plenty of printable craft booth signs in my Etsy shop to inspire your customers to treat themselves and support your small business.

THANK YOU FOR JOINING IN THE WEEKLY CRAFT BUSINESS CHALLENGE
I'm thrilled that thousands of craft artists have signed up for the Craft Professional email alerts. If you've reached this page by surfing around the site, and you'd like to get the weekly email updates, simply add your best email address in the form below.
You Are Here
You are here:
Home
➤
Weekly Craft Business Challenge
➤ April: Get Ready for Craft Show Season