Craft Booth Design Using Portable Tables
Planning out your craft booth design for the coming show season? 

If you're thinking about incorporating some portable tables into your booth, look no further. I have 15 photos of great booths that effectively use tables.
Read on for lots of craft show display ideas!
These tables covered in black fabric show a fantastic craft booth design. The tables aren't too wide, so they don't take up too much space. They are tidy and simply fade into the background. The great booth lighting finishes off the space beautifully.
Here's a DIY table that is extremely portable. It looks like the green bases attach to the white table top and probably detach when it's time to tear down the booth. Simple, effective, and easy to store as well.

I love the table covering on this booth.  The netting creates a fun nautical effect that is echoed in the blues and greens of the tableware. Fun, but also effective booth design because it doesn't take away from the interest of the products.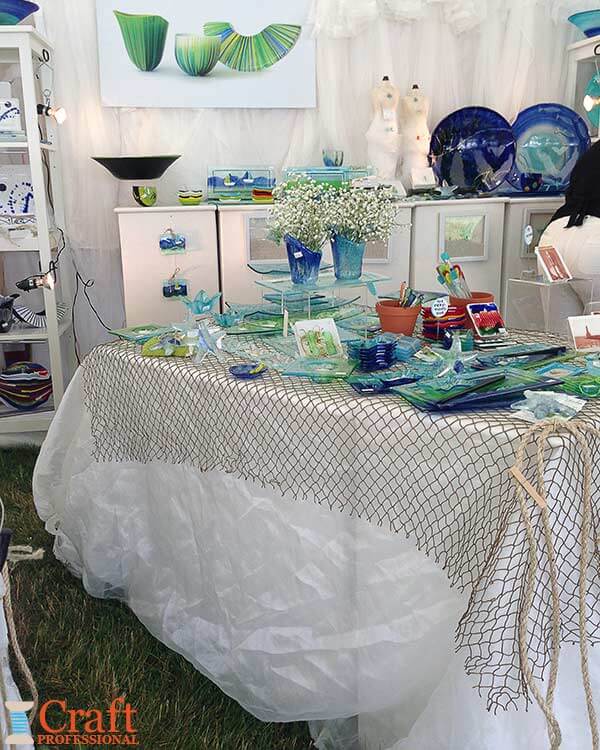 Here's a pretty jewelry booth with an elegant colored table covering. The table is at a great height for browsing, and the display makes good use of risers to vary the height and make full use of the width of the tables.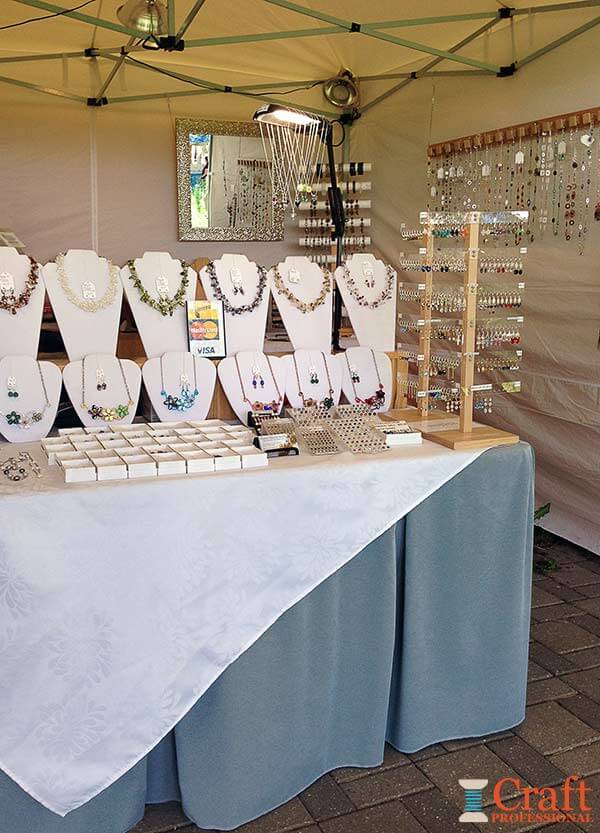 I like that this hat display keeps things simple.  Don't over-think your booth.  Your products should take center stage, not your display pieces!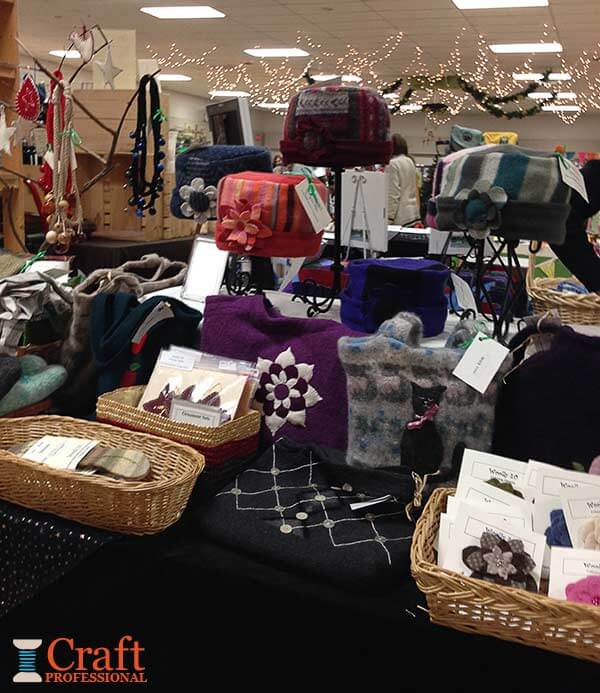 Dramatic lighting, rich table coverings, good use of risers, and varied heights make this booth design a real success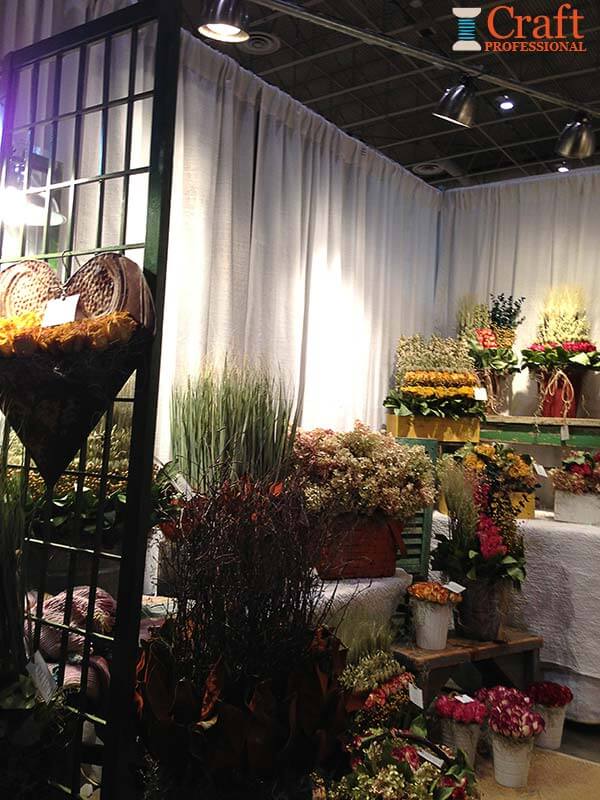 A great all white jewelry booth here. I love the hinged frames with wire for hanging jewelry!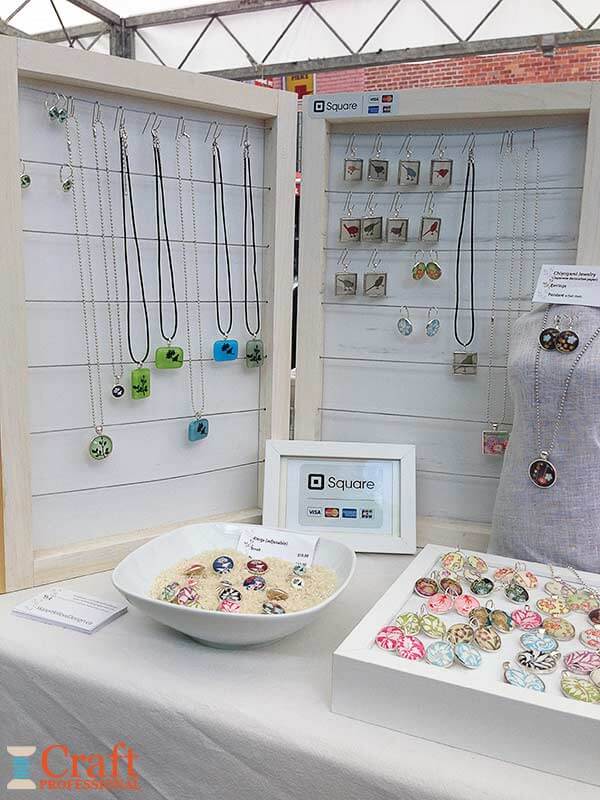 Simple matching baskets make this bath bomb display work. The tables, covered in black fabric, do their job and fade into the background.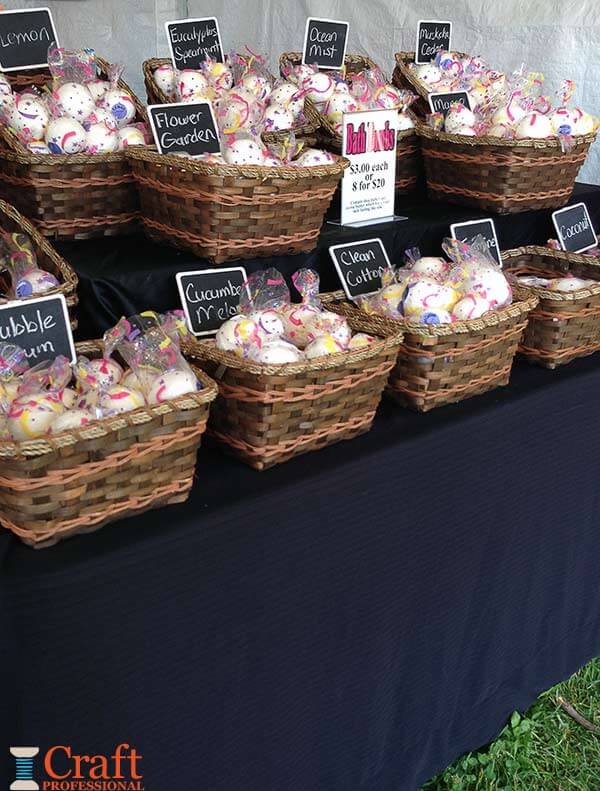 Handmade lavender products - The purple and white booth colors match perfectly with the packaging and communicate the soothing vibe of lavender.  The table covering is great.  It looks custom made for the tables. The white top keeps the display area clean and simple, and the pleated sides look pretty but also tidy.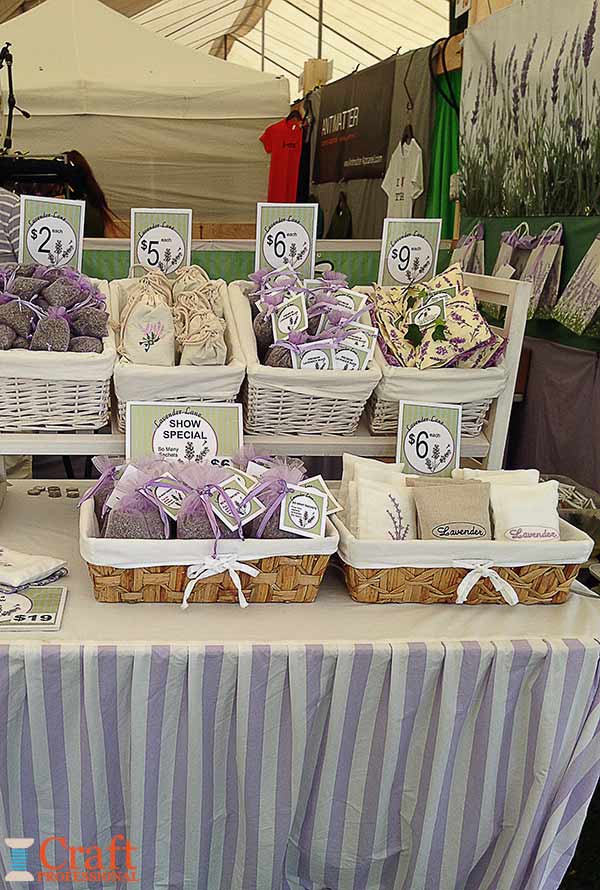 This booth design works because it is so simple.  Here's more proof that you shouldn't over-think or over-do your booth. With simple display tables and crafts, paired with good lighting, the products speak for themselves.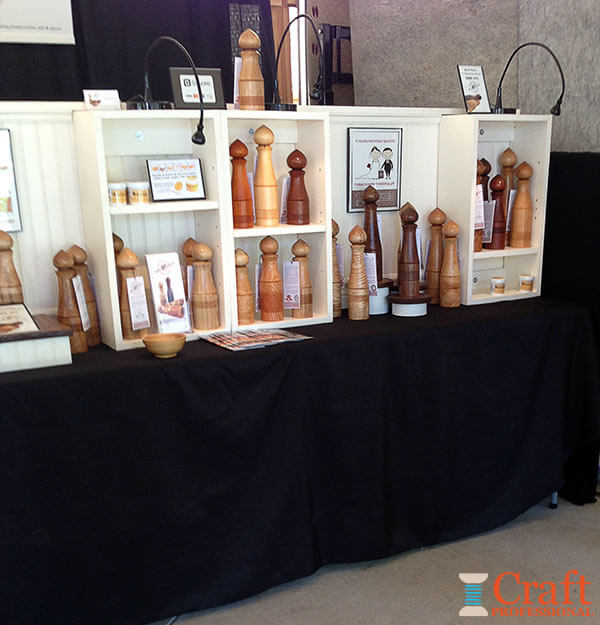 Bright pillows and bunting adorn this pretty craft display. The shelves add height. Here's another example of a simple booth that lets the product shine through.

What a great jewelry booth! The table covering is dramatic and eye-catching. It definitely grabs your attention and draws you in, but once you enter the booth, it's the jewelry that takes your focus.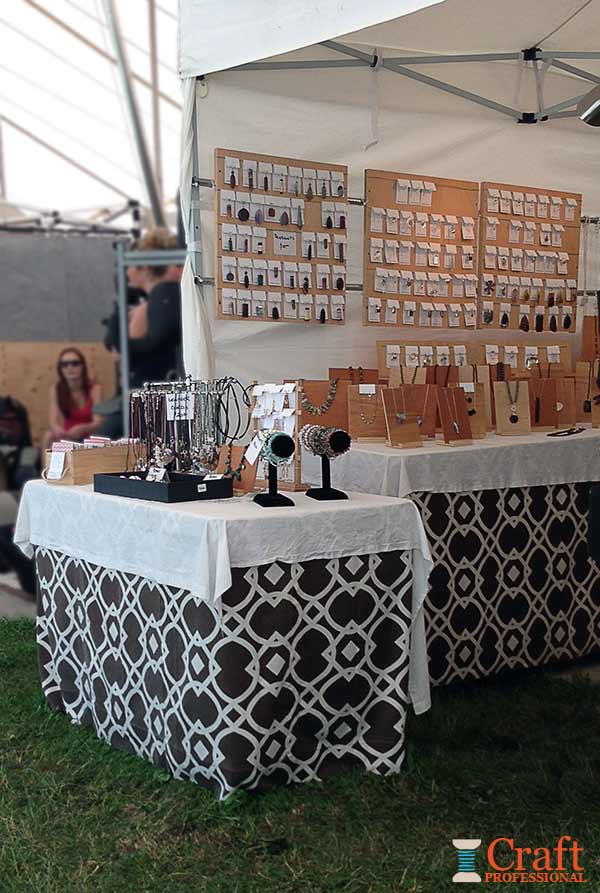 Here's a pretty pink and white craft booth that makes good use of peg boards.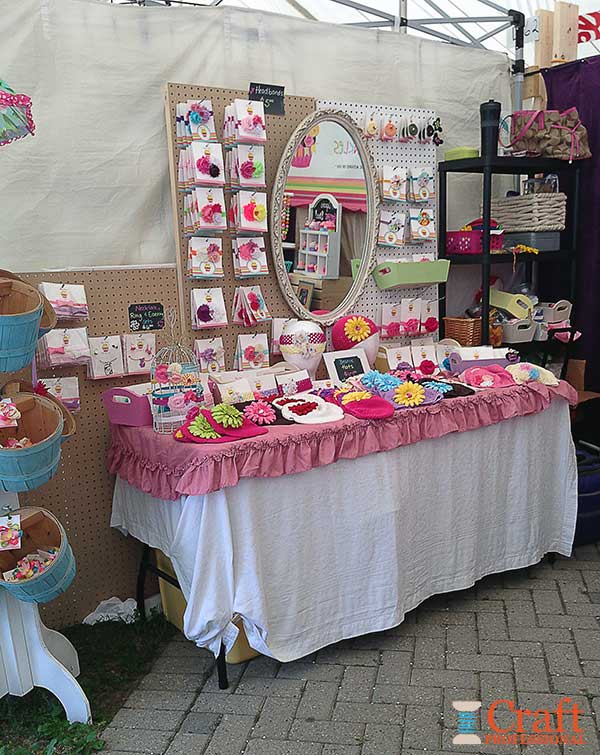 Lots of lighting makes this booth work.  The silky table coverings blend well with the jewelry style.

Color blocking of contrasting colors makes this booth at a farmer's market really pop!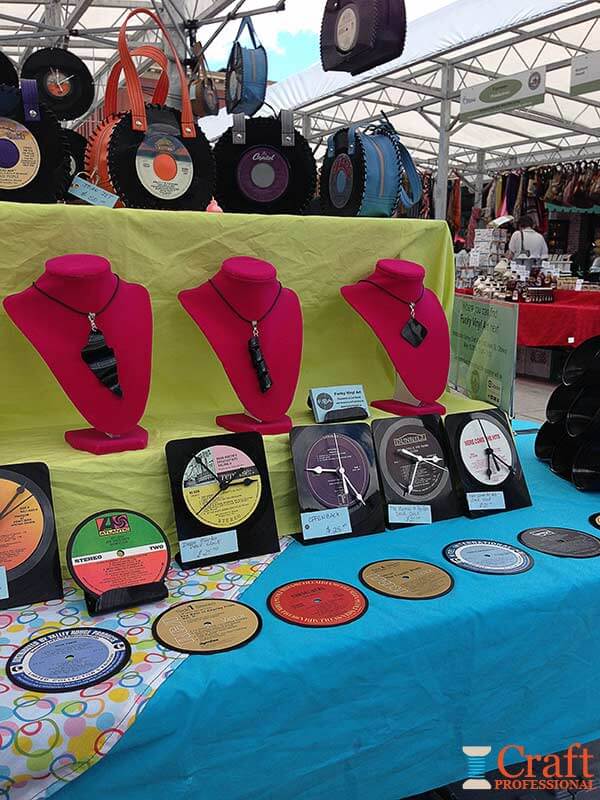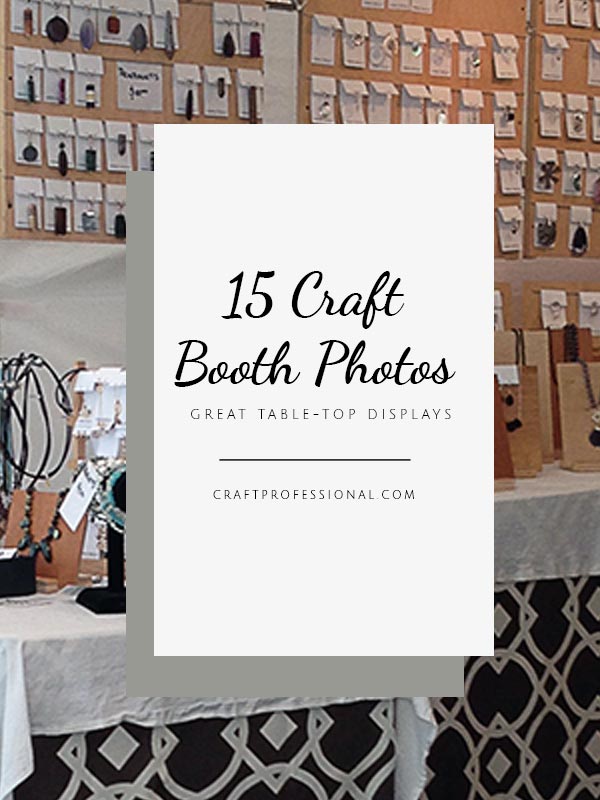 Related Articles
You Are Here
You are here:
Home
➤
Display Booth
➤
Craft Booth Design Using Portable Tables