DIY Jewelry Booth Displays
This week on the Weekly Craft Business Challenge:
8 new jewelry booth photos including some simple, inexpensive stands you can make yourself. plus, new research shows old beliefs about creative talent could be holding you back from achieving your goals.
This week is exciting.
First, we have beautiful, and very achievable DIY jewelry booth displays, and then we'll look at new research on talent that could be a total game changer in your creative skill development.
You'll see 8 photos of lovely DIY jewelry booth displays that you can quite easily make yourself. Be sure to check out these displays even if you're not a jewelry maker. Several of the ideas would transfer over to other types of product displays. You just have to use a bit of imagination.
Next, thrilling new thinking about how we learn. If you ever yearned to develop a new skill but dismissed it because you thought you weren't talented enough, it's time to think again! The smartest researchers now tell us that we are far more capable of learning new skills than we ever believed. 
What new skill could take your business or your craft to the next level? Read on to find out how to make that dream a reality.
DIY JEwelry Booth Displays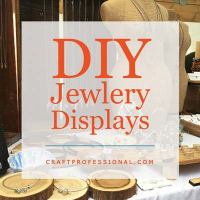 DIY Portable Jewelry Display Ideas
Check out these clever and affordable jewelry display stands you can make yourself. You may even have the supplies around your house already.
Build Skills You Didn't think WEre Possible
Your Beliefs About Talent Are Holding You Back
What if it were possible to learn all of those skills you'd love to learn but haven't because you thought you were too old or didn't have natural talent? The latest research on learning shows we can learn almost anything we're willing to work at. Here's how you can develop skills you never thought possible. 
THANK YOU FOR JOINING IN THE WEEKLY CRAFT BUSINESS CHALLENGE
I'm thrilled that thousands of craft artists have signed up for the Craft Professional email alerts. If you've reached this page by surfing around the site, and you'd like to get the weekly email updates, simply add your best email address in the form below.
You Are Here
You are here:
Home
➤
Weekly Craft Business Challenge
➤ October: DIY Jewelry Booth Displays