Are Craft Tents Worth the Money?

If you buy something through links on Craft Professional, I may earn a referral fee. To learn more see my
disclosure
.
---
Craft tents are often one of the bigger investments you have when you start doing shows. You may be wondering whether you really need to buy one. Read on to find out.

Craft tents range in price anywhere from about $100 to $1000 and up. Understandably, if you're just getting started, you are probably trying to keep expenses low, and you may wonder if a portable canopy is worth the investment. 
Here's how to decide when it's time to invest in a tent and what to do if you know it's time to buy one.
First Things First
I assume, if you're reading this page, you plan to sell your crafts at shows. If your business plan does not involve selling at shows (maybe your focus is selling craft online), you won't need a tent!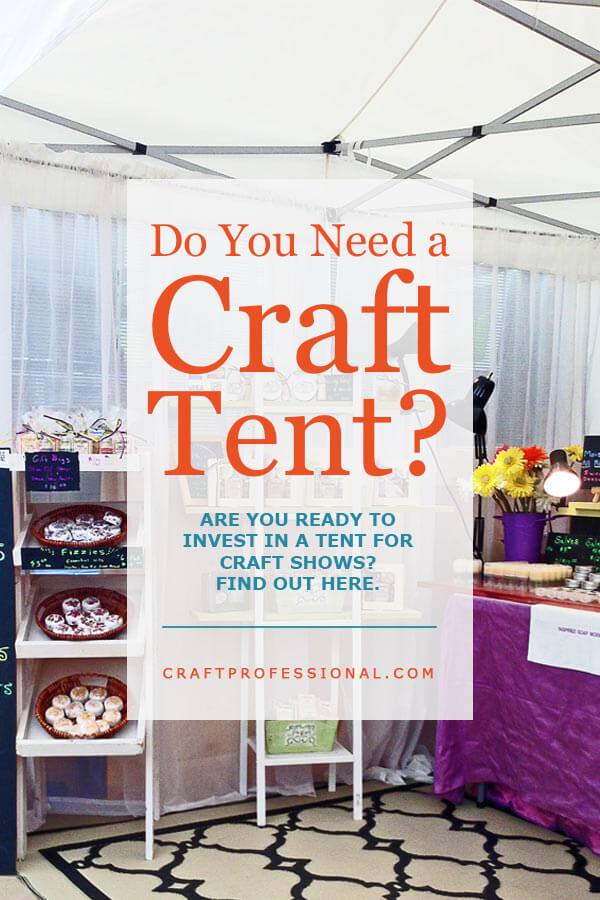 When you start applying to outdoor shows, inevitably, you'll ask yourself whether it's worth investing in a good quality outdoor canopy. It is wise to be careful about business expenses, but when it comes to buying tents, your craft tent, in my opinion, is not the place to drastically cut corners.

You may be considering waiting until you are making more money, or until you are accepted into some of the better shows, which are perfectly reasonable thoughts. I went through the same thought process before I bought my own canopy.
However, this line of thinking can be a mistake and may limit the growth of your company if selling at juried art shows is a sizeable part of your business strategy.
Many of the better (i.e. most profitable) outdoor craft shows require you to have a canopy and some specify that it must be white. When you apply to those shows, they typically ask you to send a photo of your booth setup. If you send in a photo of your booth that is not set up under a professional looking white tent, it can raise questions about whether you are actually prepared to do that show and meet their standards and expectations.

---
I earn a commission for purchases made through links on this page.
To learn more, please see my disclosure.
---
It may sound harsh. You may wonder why show organizers would care if you've sent in a booth photo without a tent when your products are outstanding, but maintaining standards is an important part of the role of good show organizers, and that includes maintaining the look of the booths at the show.

If you're serious about getting accepted to great juried art shows that are hard to get into, particularly if you're applying in a competitive category like jewelry or painting, then you must ensure that there are absolutely no weaknesses in your application.
Jurors for good shows, who are sorting through hundreds of fabulous applications, have to make tough choices. A perceived problem with your booth setup can be a big enough weakness to take you out of consideration, particularly for the most competitive shows.
Benefits of Owning a Good Tent
Besides being necessary for many of the better outdoor shows, here's what a good tent will do for you:
Protect You, Your Products, and Your Customers From the Weather
If your booth is set up on concrete in blazing heat, or thunder clouds start rolling by, you'll be happy that you and your products are secure under your canopy.
Provide Some Protection From Theft
I always preferred to pack up my items at the end of the day. However, some professional craft artists leave their work overnight in their tents. Craft tents with side walls give you this option and provide a bit of protection from theft. Do be very aware, however, that you are taking a risk if you leave product overnight in a tent.
I have left larger parts of my display, like my tables, overnight at multi-day shows, and the canopy and side walls provided good protection from the elements. I couldn't have done this without a tent. Believe me, my tables are heavy. No one wants to move them any more than necessary!
Create a More Professional Look for Customers
Craft booths (particularly at outdoor shows) typically look more professional when their items are displayed under an outdoor canopy. Although you can set up a great display without one, there's something about a craft tent that gives your booth a more cohesive and professional look.
Create a More Professional Look for Jurists
With your white craft tent in the picture, the booth photos you submit to juried shows (again, particularly for outdoor shows) will help demonstrate that you are prepared to meet show standards with your craft booth.
So, if you are committed to selling your items at outdoor shows, and particularly the more competitive shows, then a craft tent is worth the investment. If you plan to do several shows, the benefits you'll get from your canopy will make the purchase worthwhile.
Where to Go From Here
If you know you need to buy a craft tent, but you're not sure what features to look for, my craft tent buying guide page will help. It outlines the major features to consider and includes a printable chart you can download to compare different brands.
If you are ready to start looking at tents, check out the most popular brands used by craft artists.
Related Articles