EZ Up Shelter Guide
If you buy something through links on Craft Professional, I may earn a referral fee. To learn more see my
disclosure
.
---
The EZ Up shelter is an extremely popular craft tent brand. Commercial models are mid-priced, easy to assemble, and sturdy enough to get you through many craft shows.

There are several different models of EZ up tents available at various price points. Please note, I have not included every model of EZ Up tent that is available. I have focused on the ones that are recommended by EZ Up for use at community events.
I've also included a couple extra models that are geared toward recreational use, but they are the right size and color for craft shows, and they are a bit less expensive, so you might want to consider them if you need to keep costs at a minimum.

---
I earn a commission for purchases made through links on this page.
To learn more, please see my disclosure.
---
E-Z Up ES100S

This model is designed with craft artists in mind. At first glance, appears to be slightly more expensive than the Vantage (below). However, the ES100s EZ Up shelter does come with sidewalls (the Vantage does not include sidewalls).
Sidewalls can really make a different in bad weather, and they can give you more options in designing your display.
So if you want sidewalls, the ES100s is an excellent, and economical choice.
Vantage
The Vantage model is built to withstand repeated use and is a reasonably priced option for craft shows. Do note, though, that the price does not include sidewalls. If you buy this model and want side walls, you'll need to buy them separately.

Eclipse Instant Shelter
This E-Z Up Canopy model is designed for commercial use. It's on the higher price range for craft tents. The model I've linked to features a steel frame. For an additional cost, it is also available with an aluminium frame - Keep in mind, aluminum frames are lighter, but steel frames are generally sturdier.

Also, note that this model does not include sidewalls, so you'll need to buy those separately.
Pyramid
The Pyramid in another lower-priced shelter by EZ Up. In the past, it was not included in their tent models recommended for craft shows, but it has been moved to their tents for community events category.
It does have a suitable size, color, and leg style for craft shows. If you are looking for a lower-priced model, this might be the right tent for you.
Need Sidewalls?
If you've chosen a tent model that doesn't come with sidewalls, you'll want to consider buying those as well.  They can make a big difference in protecting yourself and your products from the elements at craft shows. Sidewalls can also improve the look of your display by blocking the view to whatever is behind your booth and providing a clean, white backdrop for your products.
E-Z UP Sidewalls cost approximately $100 for a pack of four. Be sure to keep that cost in mind when you're determining the most economical tent model. Of all the shelters featured, only the ES100S comes with sidewalls. If you know you want sidewalls, you'll need to add another $100 to the cost of your tent purchase for any other model.

What Do People Say About The EZ Up Shelter?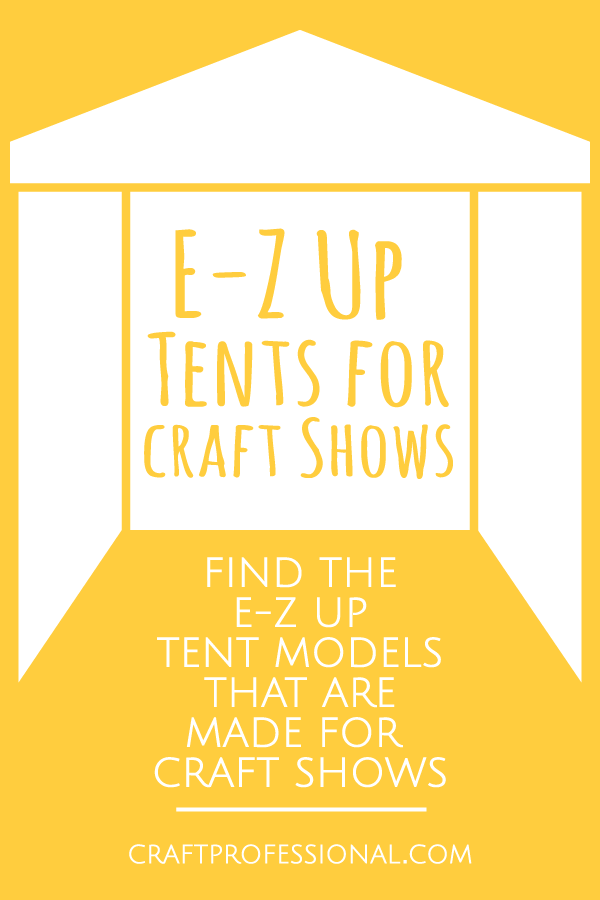 EZ Up canopy owners largely report that they are quite happy with their craft tents, and the tents hold up well as long as you have realistic expectations for the less expensive models and take good care of your canopy.
You can buy replacement parts for your EZ Up canopy tent, so if your tent's legs, top, etc. need to be replaced, you won't have to run out and buy a brand new tent, you can simply replace the appropriate part.
The Ez Up tent can be put up by a single person.
EZ UP Canopy Tents and Wind
Strong winds at craft shows can be a concern with all kinds of craft tents. Over and over, craft artists say that it is extremely important to protect your EZ Up shelter from the wind. That can include:
Stabilizer bars, which are poles that span horizontally across the legs of the tent to join the legs and add stability to the tent
Canopy Weights, which can take many different forms from store bought to hand made options. The article Tent Weights outlines several options for weighting your craft tent.
EZ Up Shelters and Rain
Some craft artists say that certain models of the EZ Up shelter are not as waterproof as they would like, while others have reported absolutely no problems with leaking. There are a few simple solutions to protect your portable canopy in the rain if you have concerns.