10 x 10 Canopy Buying Guide & Printable Craft Tent Comparison Chart
If you buy something through links on Craft Professional, I may earn a referral fee. To learn more see my
disclosure
.
---
Eliminate the confusion of buying a 10 x 10 canopy for craft shows or farmers markets. Here's what to look for in a craft tent, plus a printable craft tent guide and comparison chart to help you choose the right canopy for your business.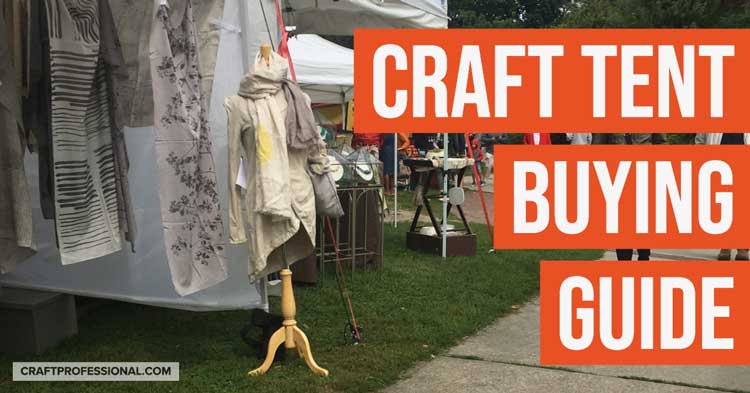 Have you decided you need a craft tent, but all of your research has left you completely confused?
That's how I felt when I started researching craft tents for the first time: thoroughly confused and completely overwhelmed.
On the surface, it seems like a simple enough task. Buy a 10 x 10 canopy that's suitable for craft fairs.
Really. How hard could that be?
But once you start researching portable canopies, you'll discover there's a lot to think about. You'll quickly discover there are:
several popular brands
different models within each brand
different features within each model
and wildly different price points
If you're not a big impulse shopper, and you like to plan and research before making a purchase, trying to choose the right tent for your needs can get a little overwhelming.
---
I earn a commission for purchases made through links on this page.
To learn more, please see my disclosure.
---
Learn From My (Many) Hours of Craft Tent Research
The low point in my own tent buying research came when the organizer of one of the first shows I was going to attend told me to run out and spend $3000 on a craft tent.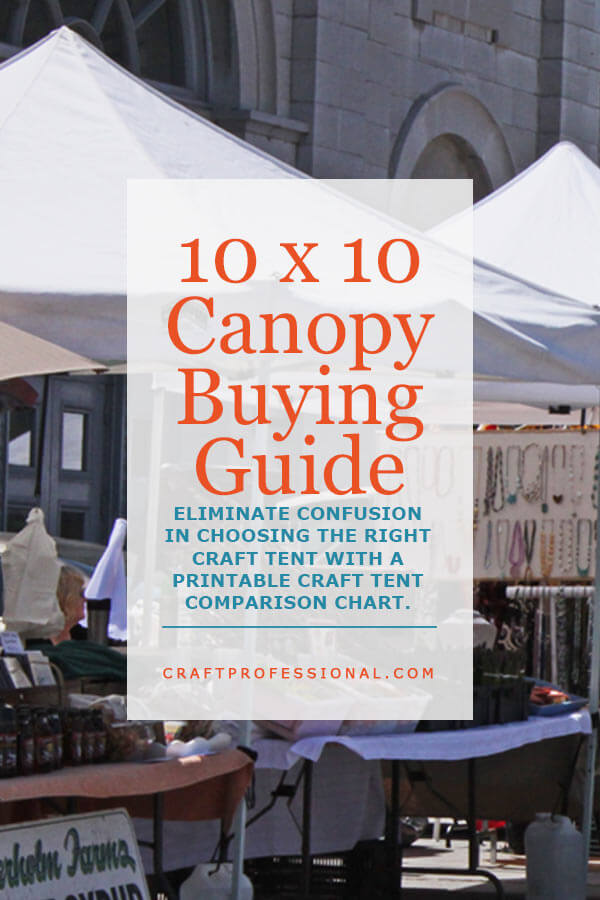 That's right!
Three thousand dollars.
I didn't accidentally type an extra zero back there.
I almost fell on the floor when I heard her suggestion, and so did my husband.
This show wasn't even a big event that was going to pull in loads of sales. I was just getting started, so it was a smaller show I was doing to get some experience.
Plus, I hadn't committed to doing a lot of shows. I had no idea how many times I'd use this craft tent.
A $3000 tent may be the right choice for an established craft business owner who does a lot of profitable shows every year. But a tent like that was definitely not in my budget, and it was well beyond my needs!
To save you some of the pain I went through and help clarify your thinking, I've put together a list of features to look for in a 10 x 10 canopy for craft shows. There's also a downloadable craft tent comparison chart to help you keep track of details as you research different brands and models of tents.
Things to Consider When Choosing a 10 x 10 Canopy
Depending on your needs, some factors will be more important to you than others, and different tents will meet different people's needs.
For example, there's often a trade-off between tent weight and sturdiness. Generally, sturdier tents are also heavier tents.
Will you be doing a lot of outdoor shows, and your tent will need to stand up to significant wear and tear? In that case, the heavier but sturdier tent may be a good choice for you.
Perhaps you won't have help and are unable to lift heavy items easily. If that's the case, you may need to go with the lighter tent and trade off some durability.

You need to consider your own needs and expectations for the 10 x 10 canopy you are going to buy, and review those factors that apply to your own situation.
Let's take a look at different features and factors to consider when choosing a 10x10 canopy including: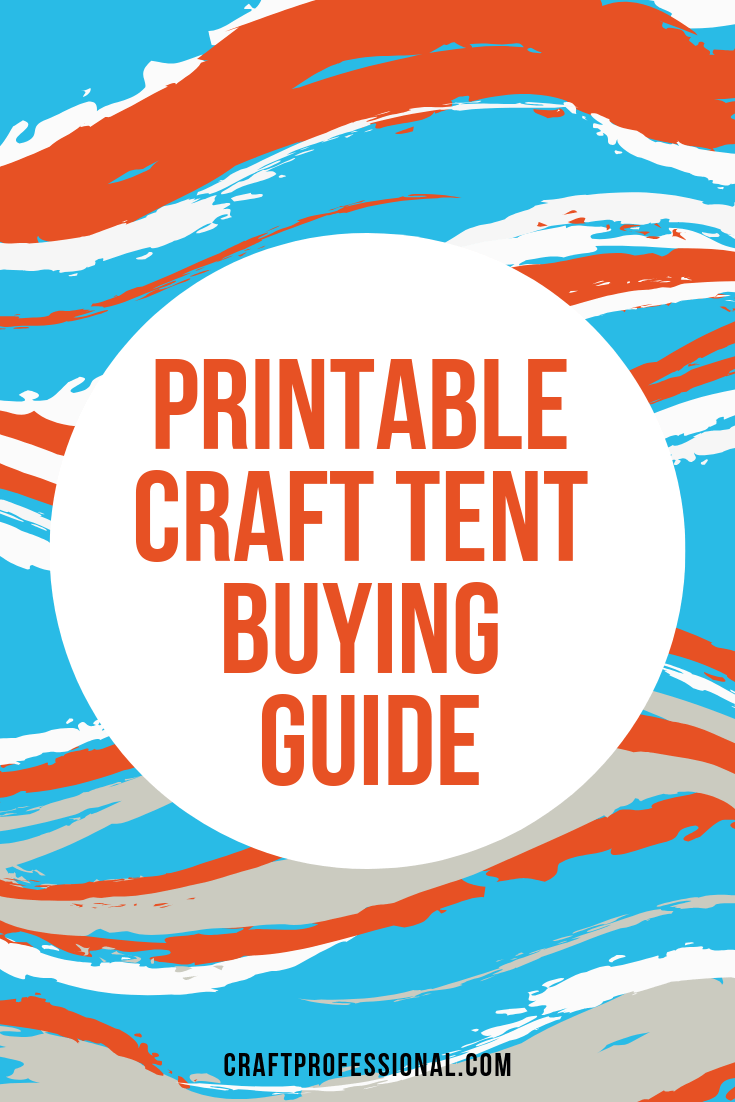 Brand and model
Color 
Size 
Leg style 
Weight of the tent 
Dimensions when folded 
Frame material 
Canopy material 
Availability of replacement parts 
Special features 
Are side walls included? How many, and what type?
Is a wheeled bag included? 
Other accessories 
Accessories that are not included that you will have to buy separately 
Stores that sell the tent 
Return policy/warranty 
Price of the tents 
Price of additional accessories 
Total shipping cost 
Total cost 
Let's take a look at different features and factors to consider when choosing a 10x10 canopy including:
Brand and model
Color 
Size 
Leg style 
Weight of the tent 
Dimensions when folded 
Frame material 
Canopy material 
Availability of replacement parts 
Special features 
Are side walls included? How many, and what type?
Is a wheeled bag included? 
Other accessories 
Accessories that are not included that you will have to buy separately 
Stores that sell the tent 
Return policy/warranty 
Price of the tents 
Price of additional accessories 
Total shipping cost 
Total cost 
The printable craft tent comparison guide has room for you to make notes on all of these considerations. Let's look at each one a little closer.
Brand and Model
There are several companies that sell portable canopies that are suitable for use in craft shows. Some brands you'll see used at shows include the:
If you need an overview of tent brands, I've written about several that are commonly used at craft shows. You can learn about popular craft tent brands here.
Most companies offer a few different models at different price points. Some models are appropriate for craft shows, and others are more suited for use in your back yard, camping, or creating a shady spot at the beach.
Most companies categorize their tents by use. Tents marked for commercial use are a good place to start, but keep reading for more specifications to look for to help you decide which model is right for your needs.
Color - White
I always recommend buying a white canopy.
If you're considering buying a colored canopy just because it's less expensive than the equivalent white canopy, think very carefully about your decision. If you choose a colored canopy, it might not serve all of your needs, and you might end up needing to buy a white tent later.
Some craft shows will only allow vendors to white tents, so your colored canopy might keep you out of some of the better shows. Plus, white tents don't cast a color onto your products the way colored tents do, so white canopies generally show your work in the best light.

Size - 10x10
Standard craft booth spaces are 10 feet by 10 feet, so, for the majority of shows, a 10 x 10 canopy will be your best option. It will fit in your allotted space and allow you to make full use of that space
Leg Style - Straight, Not Splayed
Notice whether the tent you're considering has straight legs or splayed (angled in toward the top) legs. Straight legs are preferable. 
Straight legs make better use of the full 10x10 space you're typically given at outdoor craft shows. Because the legs are straight, the top canopy part of your tent will be the same dimensions as the bottom, a full 10x10 feet. 
Splayed legs angle in towards the top, so if the base of the tent is 10x10, the top canopy part of the tent will only be 8x8 feet. Angled legs cause you to lose 2 full feet from the length and width of your booth space.
Some quick math shows that you lose 36 percent of your booth space with a splayed leg tent. That's a lot of wasted space in an already small area.
Also, the angles created by splayed legs make it difficult to use sidewalls or create any kind of vertical display along the outer walls, so straight legs give you more flexibility in designing your display and protecting your booth from wind and rain.

Weight of the Tent - Choose Between Lighter or Sturdier
There's a big difference in the weights of different tents. As I mentioned earlier, often light-weight tents are less sturdy than heavier tents, but lighter tents are easier to manoeuvre.
You're always making a trade-off between sturdiness and weight. For quick reference, tents with aluminum frames are lighter than tents with steel frames.

Dimensions When Folded
This information is particularly important if you drive a small vehicle. You'll need to ensure that the folded craft tent will fit in your vehicle. You don't want any unpleasant surprises the first time you pack up your tent to transport it to a craft show, especially if you have a long drive ahead of you.

Frame Material
As mentioned above, 10 x 10 canopy frames are made from steel, aluminum or some combination of the two. Aluminum is lighter, but steel frames are generally sturdier.

Canopy Material
Ensure the canopy material is fire retardant. You may also want to note the denier of the canopy fabric. Denier is a measure of the density of the weave of fibers. Canvas canopies with a higher denier are better quality than those with a lower denier.

Availability of Replacement Parts
Some companies provide replacement parts for their craft tents, which can save you some money if you can replace a broken part instead of replacing an entire canopy.
If availability of replacement parts is important to you, check the company's website. If they provide replacement parts, they will include that information on their site.

Special Features
Some tents have special features that aren't essential but might be important to you. Some special features you might find on commercial grade canopies include:
an awning
pockets to insert a banner with your logo or business name
vented canopy top
stability bars
Are Side Walls Included?
When you're comparing tents, be sure to determine whether side walls are included in the package.
Your tent will be far more functional with side walls. Sidewalls allow you to block the view beyond your display space, provide shade as the angle of the sun changes, and they can be a great backdrop if you're displaying items on a gridwall system.
When you compare the prices of different craft tents, a cheaper tent might not seem like such a bargain if you realize you'll have to buy side walls separately.

Type and Number of Side Walls
Are you getting four side walls?
If side walls are included, be sure to note how many you get.
You'd think all craft tents would come with four side walls, including one wall that zips up the middle, so you can open up the front of your booth with the walls up.
That makes sense to me.
Unfortunately, some tents that come with side walls don't always come with a full set of four walls. You need to check carefully to be clear about what you're buying.
Avoid mesh side walls.
Determine whether the side walls that come with your tent are fabric or mesh. You want fabric sidewalls, not mesh.
The mesh walls that keep out bugs aren't all that useful for craft shows because they don't block sight lines or wind and rain as well as fabric sidewalls. 
The only mesh sidewalls you might ever want are display mesh panels. These mesh panels are designed to be sturdy enough to hang your art on them. They are not the same as the bug protection mesh walls that come with some tents.
If you want display mesh panels, you'll need to buy them separately from your tent. I'm often asked where to find these display mesh panels, and Flourish is the brand that keeps coming up in my research. 
Finally, check whether the side walls include a window. While a window can bring in extra light, it might detract from your craft display.

If the tent you're considering does not include side walls, and you think you will need them, be sure to factor in the cost of buying them separately when comparing brands.
IS a Wheeled Bag Included?
A wheeled bag will make transporting your craft tent from your vehicle to your booth much easier. A bag will also keep your tent clean and in good condition when it's stored and help it last longer.

Other Accessories
Determine whether there are other accessories included with the tent you're thinking about buying. Occasionally a craft tent package may include weights for the tent, or an extra wheeled bag. Extras like that make the package a better bargain if it means you won't have to go out and buy those extra accessories.

Accessories That Are Not Included Which You Will Have to Buy Separately 
Note whether there are any must-have accessories that are not included with the craft tent. If you have to buy these accessories separately, that may make a difference in terms of which tent is the best deal.

Stores That Sell the Tent
Note each store that sells the tent you are considering. If you're planning to order your tent from an online shop, make note of the URL. 
Return Policy / Warranty
Determine the return policy for the store or any warranty on the tent so you know if you will be able to return it if there is a problem. Some of the large retailers that sell craft tents have excellent return policies.

Price of the Tent
Earlier, you checked all of the accessories that came with the tent you're considering. Now it's time to do a little math and see if the bargain you may found is truly a great deal. Alternatively, the tent that looks expensive at first glance might turn out to be a great deal if everything you'll need is included in the price.
Check the Price of Additional Accessories
First, note the price of the tent you're considering, then go back in your notes to see if the package is missing any key accessories (a full set of four side walls, for example) that you feel are necessary.
If you'll have to buy extra accessories separately, be sure to factor in that extra cost when your price comparing different tents.
Check for Shipping Costs
If you're buying your tent online, determine whether you'll need to add shipping fee into the price.
Download the Craft Tent Comparison Chart
Phew!
That's a lot of information.
Good thing you can use my printable craft tent comparison chart to organize it all!
If this all seems a bit overwhelming, don't worry.
Keep in mind, you do not have to compare every single one of these points if they are not relevant to you.
For example, if you drive a minivan, and cargo space is not an issue, then you might not need to worry about the dimensions of the tent when folded.
Just review the points that are relevant to you.
Click here to download your handy craft tent comparison chart to track all of this information. 
How to Save or Print Your Craft Tent Comparison Chart
When you click the link above, the file will open in a new tab in your web browser. Simply right-click (or control-click on a Mac) and chose the option to save it on your computer if you want to save the file for later.
If you want to print the file to use it right away, right-click (or control-click on a Mac) on the document, and choose "print" to print up the chart. You can either print the whole document with instructions, or you can print only page 2 of the document if you just want to print up the chart.
Print as many copies of page 2 as you like to compare as many brands as you like. You'll use one page for each brand you want to research
Once you've printed as many copies of page 2 as you need, write the relevant information onto the sheet, and you will end up with a simple way to compare each 10 x 10 canopy that you are considering.
Best of luck in your search for the perfect craft tent!