Quik Shade Instant Canopy Information
If you buy something through links on Craft Professional, I may earn a referral fee. To learn more see my
disclosure
.
---
The Quik Shade instant canopy is available in several models. I have not used this tent brand myself, but it is popular among craft artists.
Some Quik Shade models are appropriate for use as craft tents, but others are better suited for times when you want some shade in your backyard or while camping.
The higher end Commercial 100 and Marketplace models are designed to serve you well at craft shows, and some people may want to consider the Weekender 100 model.

Models Appropriate For Use at Craft SHows
Commercial 100
The Quik Shade Commercial C100 model tent is a sturdy outdoor canopy with a heavy duty frame designed for use at outdoor craft shows. It comes with a single back wall panel. If you want side walls for all four sides of your tent, you'll need to purchase those separately.

As with any new portable canopy, if you purchase this tent, be sure to read and follow the assembly instructions very carefully. Assemble the tent once or twice before you take it to a craft show to ensure you don't have any trouble on the day of a show.

Marketplace
The Quik Shade Marketplace model is also classed as a commercial grade tent. It is a little less expensive than the Commercial 100, but it does not come with the back wall panel you receive with the Commercial 100 model.
If you plan to buy a set of four side walls, the Marketplace is a better bet than the Commercial 100. You pay a little extra for the Commercial 100 because it comes with a single back wall. If you're buying side walls separately, you'll end up with an extra side wall if you buy the Commercial 100. Unless you want an extra side wall, you might as well save a bit and buy the Marketplace model.
Weekender Elite WE100
The Weekender is not designated for commercial use, it is intended for more casual use. However, some professional craft artists do start out with the less expensive Quik Shade Weekender Elite WE100 model.
If you are thinking about purchasing the Weekender model to save a bit of money consider the following:

The Weekender comes in four models: Weekender WE100, Weekender WE144, Weekender WE81, and the Weekender WE64.
Of all the Weekender models, the Weekender Elite WE100 is most appropriate for craft shows. It is a 10 x 10 canopy with straight, not splayed legs. The straight legs and canopy size allow you to make full use of the 10 x 10 booth size that is standard at most craft shows. The other models are either too large for a standard booth, or they have slanted legs that make it tough to make full use of your space.
The Weekender WE64 is less appropriate for craft shows. It has slanted legs, so the base of the tent measures 10 x 10, but because the legs angle inward, the canopy top only measures 8 x 8. 
The WE81 and WE144 are completely inappropriate for craft shows because the base of the legs on both models measures 12 x 12, so these tents would be too large for most booth spaces.
The Weekender is commonly found in many colors, and often you will find the darker colored Quik Shade Weekender canopies on sale. Colored canopies are not ideal for use as craft tents. If you buy a canopy, look for one that is white
The Weekender is more light weight than many other portable canopy brands, and it is not specifically designed for commercial use. It is also on the less expensive end of the price spectrum.
If you are not certain whether you want to do a lot of outdoor craft shows, and you just want an inexpensive craft tent to get you through a few shows, this tent is one to consider. If you are looking for a tent that will last through many, many shows, I'd suggest looking at the craft tent models that are designed for commercial use.
Other Quik Shade Instant Canopy Models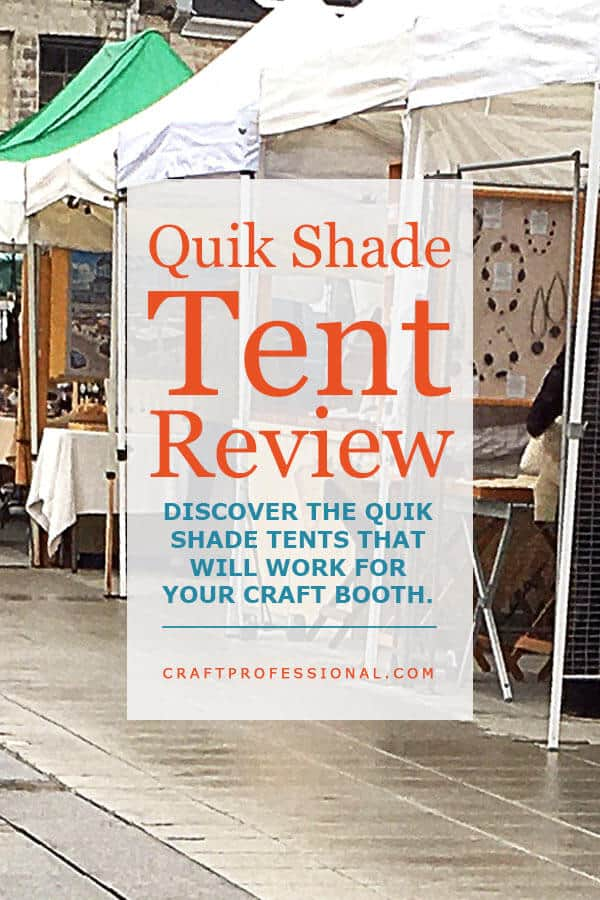 There are a couple of other Quik Shade instant canopy models on the market. These models are not designed for use as craft show tents.

Quik Shade sells replacement parts on the company's website, so if you ever have a problem with this brand of tent, you may be able to simply replace a part instead of replacing the entire tent.