A Bounty of Craft Show Ideas
This week on the Weekly Craft Business Challenge:
craft show Season approaches. Get inspired to create your booth with 34 craft booth photos
This week's focus - craft display ideas.
We are quickly approaching craft show season. Some of you who live in warmer locations might already be deep into shows. So this week, all of the articles are focused on helping you get your booth ready for shows.
There's a long article about securing your tent with canopy weights - a must-read if you do outdoor shows and use a portable canopy. It includes information about DIY tent weight options as well as information about store bought tent weights.
There's also an article about lighting your craft booth. While the photos all show jewelry booth lighting, the lighting solutions apply to any booth type, so do be sure to check it out even if you're not a jewelry designer.
There are 34 booth photos including handbag displays, hat displays, and food display ideas. Again, I've organized the photos by craft type, but you can get inspiration even if you make something else. You'll see examples of table top stands, pegboards, grid walls, and plenty of other craft display ideas you can translate to your own booth.
Craft Show Ideas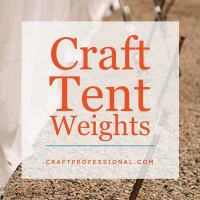 Secure Your Canopy With Tent Weights
Is your craft tent set-up secure?
Are you sure? 
It's surprising how easily a portable canopy can be blown around in the slightest bit of wind.
Here are several options for securing your craft tent including DIY and store bought options.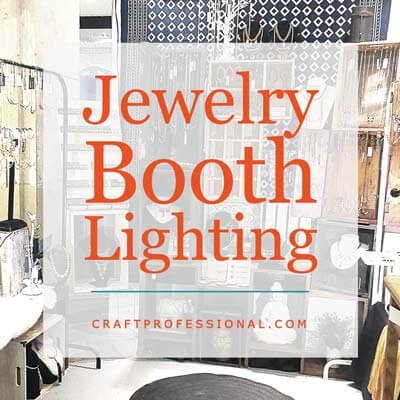 9 photos of jewelry booths with clever, creative lighting solutions. Plus links to buy similar lighting for your own booth.
Lots of ideas for displaying your handmade hats including tabletop stands, millinery trees, gridwalls, pegboard, and DIY stands.
6 food display photos to help you create a fantastic booth for your next craft show.
Working on a display for handbags? Here's the article you need! 9 photos of clever displays for purses and other accessories.
Thank You For Joining in the Weekly Craft Business Challenge
I'm thrilled that thousands of craft artists have signed up for the Craft Professional email alerts. I'm happy you want to keep in touch, and I love the kind and helpful messages you share. Crafters really are the best people!
If you've reached this page by surfing around the site, and you'd like to get the weekly updates, simply add your best email address in the form below.
You can also follow my updates on:
or Pinterest
You Are Here
You are here:
Home
➤
Weekly Craft Business Challenge
➤ May: Craft Display Ideas