Celebrating Independence
THIS WEEK ON THE CRAFT BUSINESS CHALLENGE: 
In honor of independence day, I'm Celebrating the single business resource that is completely responsible for my own independence. Plus, the biggest secret I've learned about being happy in your work.
by Lisa McGrimmon
My American friends will soon be celebrating Independence Day. So, I thought it was fitting to celebrate the single resource that is completely responsible for my own independence this week. 
If you're interested in building your own online business, and you want to know more about how I went from knowing absolutely nothing about building an online business to having a site in the top 1% of all active websites, you can read all about it this week.
Plus, one of the most important lessons I learned when I was studying to become a career coach is about how to be happy in the work you do. This singe factor is a huge predictor of your happiness in your work, so it's important to get it right as you build your business.
Meanwhile, in Canada, I'll be celebrating Canada Day on the July 1st weekend. We have a massive celebration at the beach, which is about 4 blocks from my house. I feel like it's a party in my back yard, but I don't have to pay for the entertainment and party decor or clean up at the end. I spend the weekend shopping at the fantastic craft show, enjoying live music and party food, and, of course, watching fireworks.
I live near the Canada / U.S. border, so there are always plenty of American guests at our big celebration. Amid all of the red and white displays of Canadian pride, our beach always has several American flags flying as well to welcome our American neighbors this weekend. I love the show of friendship between two countries.
A very Happy Canada Day to my Canadian readers, and a very happy Independence Day to my American readers!
NEW THIS WEEK
The Secret to Happiness in Your Work
This might be the most important thing I learned as a career coach. It's the one factor that will most reliably make you fee happy in the work you do. If you're someone's employee, you don't have as much control over your work, but as a small business owner, you have a lot of control over the direction you take, so you might as well get this happiness secret right!
TIMELY TIPS FROM PAST ARTICLES
Focus: Celebrating Independence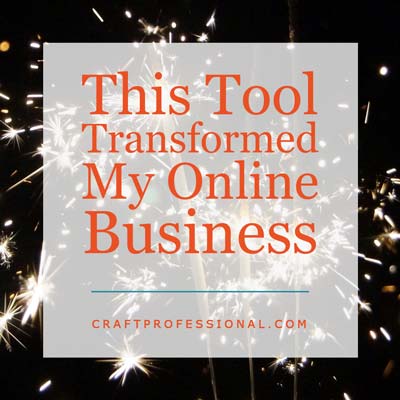 How Solo Build It! Transformed My Business
Solo Build It! is the single resource that makes my business work. This site wouldn't exist without it, I wouldn't have the independence I currently have without it. If you're thinking about building your own online business, this is the only resource I recommend.
Independence Day is a good time to check them out because they always run a 33% off sale at this time of year. 
THANK YOU FOR JOINING IN THE WEEKLY CRAFT BUSINESS CHALLENGE
I'm thrilled that thousands of craft artists have signed up for the Craft Professional email alerts. If you've reached this page by surfing around the site, and you'd like to get the weekly email updates, simply add your best email address in the form below.
You Are Here
You are here:
Home
➤
Weekly Craft Business Challenge
➤ July: Celebrating Independence