Art Show Booth Ideas
If you buy something through links on Craft Professional, I may earn a referral fee. To learn more see my
disclosure
.
---
This week on the weekly Craft Business Challenge: 
Get your art show booth looking great with ideas from these gorgeous craft booth photos. Plus, learn about a portable canopy that's popular at craft shows, and discover how to make your craft website Pinterest-friendly.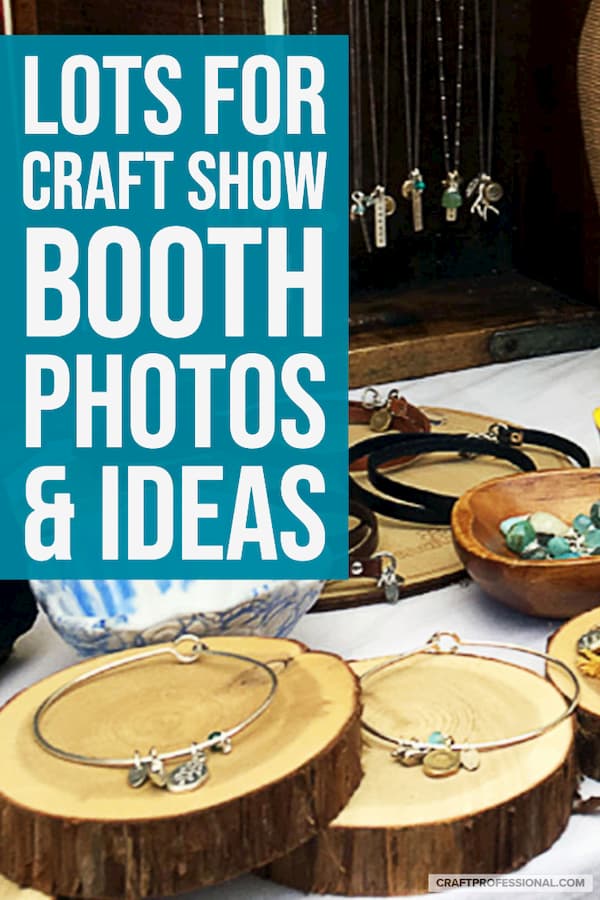 This week brings you help getting your art show booth ready for the upcoming show season. 
If you sell at craft shows, you're probably busy planning and creating, or improving your display for this season. To help you with that task, I have 18 craft show booth photos with clever DIY display ideas, and ready-made options. These photos feature jewelry booths, but even if you're not a jewelry designer you can get inspiration from these photos.
The EZ Up brand tent is quite popular among craft artists. If you're in the market for a new portable canopy, you can read more about this popular brand in this week's newsletter.
Finally, I'm continuing work on the Pinterest for Business series. This week you'll learn how to optimize your craft business website for Pinterest to encourage people to share your site on Pinterest, so you can grow your business online.
What's NEW THIS WEEK?
Make Your Craft Website Pinterest Friendly: The next article in my Pinterest for business series shows you how to optimize your craft website to make it more enticing for Pinterest pinners to share. It takes some time and work to make your website Pinterest-friendly, but the social platform can send substantial traffic to your site, and a single pin can send traffic for months. I think you'll find it's well worth the effort.
TIMELY TIPS
FOCUS: Art Show Booth Ideas
EZ Up Tent Review: The EZ Up Tent is quite popular with craft professionals. Here's what you need to know about this portable canopy.
Portable Jewelry Displays You Can DIY: Are you up for a little craft booth DIY? Here are 8 photos of clever, portable, and affordable displays you can make yourself.
10 Jewelry Booth Photos: 10 more jewelry booth photos to inspire your own craft booth design.
PRINTABLE SIGNS FOR YOUR CRAFT BOOTH
Encourage your customers to splurge a bit!
I have plenty of printable craft booth signs in my Etsy shop to inspire your customers to treat themselves and support your small business.

THANK YOU FOR JOINING IN THE CRAFT BUSINESS CHALLENGE
I'm thrilled that thousands of craft artists have signed up for the Craft Professional email alerts. If you've reached this page by surfing around the site, and you'd like to get the weekly email updates, simply add your best email address in the form below.