Lots of Craft Display Pictures
Planning and creating your craft display can be a lot of work, and it's important to get it right. Your sales at shows depend on it!

That's why I've committed to gathering and sharing as many original art show booth photos as I can. You'll find them through this site, and I've put several on this page.
Personally, I find it so much easier to plan my displays if I can see samples of how ideas work in real life.
Designing my booth for the first time would have been a lot easier (and less expensive because I would have avoided mistakes) if I had been able to see lots of pictures of craft booths before I jumped in and started creating my own booth.
As always, please respect the artists who have designed the booths pictured below.
Use these craft show booth pictures for inspiration and to get an understanding of how different display materials and strategies work to create different effects. Avoid outright copying ideas, but use seeds of an idea to create your own, original craft display.
Colorful Craft Booth
I love the way the adventurous, vivid color scheme in this booth grabs a customer's attention.
This booth was located in a big and very busy craft show, but, because of the colors, there was no missing it among the other booths.
The home decor items this craft artist sells are fairly small and, therefore, not immediately easy for customers to notice when strolling along crowded aisles, so using something else (in this case, color) to grab attention is smart.
Garden Sculpture Display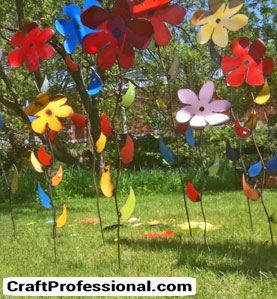 Here's another colorful craft display, but this time it's the actual items for sale that are colorful and attention grabbing.
These handmade garden sculptures are large and brightly colored, so they easily command attention even from a distance. They hold their own at a busy show and don't really require any additional help from a display in order to get noticed.
I love that these sculptures are displayed as they would be used in your backyard. The display makes it easy to imagine how these pretty metal flowers would brighten up any backyard.
Wreaths on Gridwalls
Where to Buy Gridwall Panels
Here's a great use of gridwalls
.
The panels provide plenty of space to hang these wreaths, and they don't take up a lot of floor space, so there's plenty of room for customers to browse.
Notice the wreaths aren't hung in orderly lines. They are laid out in a more fluid arrangement, which draws the eye around the booth.
Also, it might not be obvious from the photo, but the wreaths have also been hung on the back of the gridwall that you can see on the right side of the picture. The wreaths that are displayed on the outside of the booth can be seen by customers approaching from several angles, which helps to draw in more people.
More Craft Display Photos...
| | |
| --- | --- |
| Prints and Cards | Cubes as Shelves |
| Handmade Wood Bowls | Portable Wood Shelves |
| | |
| Dips and Sauces | Wood Vases |
| Purse and Accessories Display | Great Attention to Detail |
I hope these art show booth photos have been helpful.
If you're looking for supplies to create your own booth, Amazon is a surprisingly good craft display source
. You'll find busts, racks, tents, display easels, and a selection of gridwall panels
there.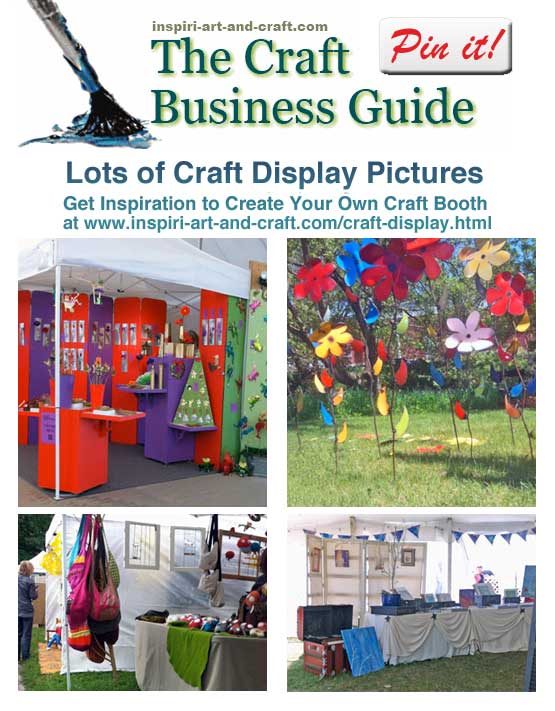 You Are Here
You are here:
Home
➤
Display Booth
➤
Craft Display Pictures