How to Rule Your Craft Business Online
Are you really in charge of your craft business online? Are you sure?
If your income relies heavily on another company, you may have less control than you realize. One change made by a third party can devastate your business overnight if you have all of your eggs in one basket.
If the success of your business hinges too much on terms and conditions that are controlled by an outside company, you need to be wary.
If you have a craft business online, and you are totally dependant on a single third party such as:
a marketplace, like Amazon or Etsy
a search engine, like Google
or a social site like Facebook or Pinterest
you run the risk of losing a large percentage of your business income every time that company makes a change in their policies.
Some Definitions
In case you'd like some clarification, here's what I mean by the following terms:
Third Party Site
"Third party" in general refers to a person or business that is separate from the primary person or business. So, from my point of view, CraftProfessional.com would be the primary business, and any other company I might deal with (Amazon, Etsy, Google, etc.) is a third party.
From the point of view of the owners of a site like Etsy, all of the sellers on Etsy are third parties.
From your perspective, a third party website is any website that is owned and controlled by someone other than yourself. For example, assuming you're not Mark Zuckerberg, Facebook is a third party site.
Online Marketplace
A site where products are bought and sold. The products are provided by a large variety of third party sellers. The payments are processed by the online marketplace. Amazon, Etsy, and eBay are all examples of online marketplaces.
Some Hard Lessons from Past Experience
Relying on a Single SOurce of Traffic to Your Website
Lessons from Google

If you had a craft business online prior to 2011, you might have been hit hard by the massive changes Google made in 2011 and 2012. Suddenly your site that once ranked well for important keywords might have dropped out of sight on Google.
A lot of people who depended on Google to send them most of their customers were hit hard by those changes.
Relying on a Single Social Media Site to Connect with Customers
Lessons from Facebook

If most of your customers come from people who follow your Facebook business page, you might have felt the pinch when Facebook made changes so business posts no longer reach as many people as they once reached. In this case, business owners either lost sales or they needed to pay to advertise to reach the same number of customers they could previously reach for free.
Relying on a Single Marketplace to Find Customers and Make Sales
Lessons from eBay

If, a few years ago, you had built a thriving business selling digital products on eBay, your business would have been devastated the day eBay changed its policies and no longer allowed the sale of digital products on its site. Certainly there are other options for selling digital products, but if you had put all of your effort into building your reputation and business solely on eBay, that single policy change could have devastated your business.
Lessons from Amazon

If you put all of your efforts into selling Kindle books on Amazon, you may have been sailing along beautifully making a good income until Amazon introduced a program allowing the unlimited borrowing of Kindle books for a small monthly fee. Many authors reported their earnings dropped by 75% as soon as that program was introduced.
Whose Business Are Your Building?
Another concern you need to keep in mind when you rely heavily on third party sites is that you might be putting a lot of effort into building someone else's business and not your own.
If you invest a lot of time promoting your storefront on a third party site, ultimately, you are promoting someone else's business, not your own. If, at some point, that third party site no longer meets your needs, and you decide to move to another sales venue, a lot of your promotional efforts may be lost because you had been sending potential customers to a site that was not your own. Rather than building your own customer base, if you're not careful, you can be building the customer base for the third party site.
If you are not able to build an email list of customers who purchase from you on your third party site, you are building equity in someone else's business, not your own. That third party site will certainly be collecting email addresses so they can keep in contact with customers, but those contacts benefit the third party site in general, and not your business specifically.
If you spend a lot of time creating unique content for third party sites (videos, photos, descriptions, clever posts on social sites, etc.), you are building someone else's business, not your own.
What's a Craft Professional to Do?
There are definitely advantages to working with these third party sites. The online marketplaces generally make it easy for non-technical people to set up shop quickly, and they come with their own built-in customer base. The search and social sites are a valuable source of customers and can't be ignored.

However, if you depend solely on a single third party business for a large portion of your income, you leave huge elements of your business completely out of your control. All it could take is one change to that site, which you cannot influence, to have a huge impact on your craft business.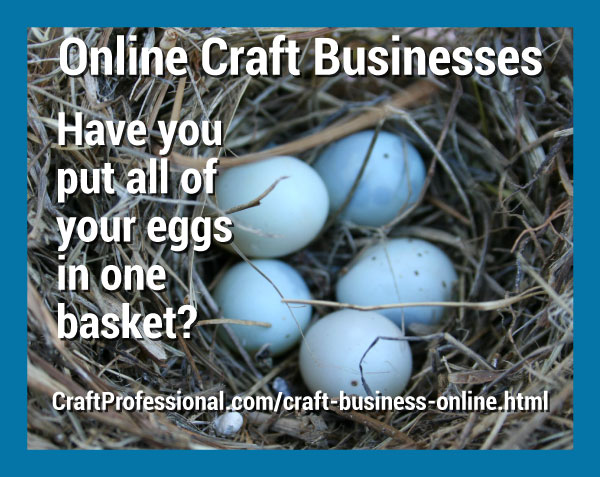 Let me be perfectly clear. I'm not suggesting you completely ignore Google, or Facebook, or Pinterest, or Etsy, or any other third party site that can help you grow your business. You'll need some of them to grow your craft business online. When used well, these sites are powerful tools that can bring you plenty of customers.
I am saying that ultimately, you want those sites to be a part of a mix that support your business. As much as possible, it's wise to avoid relying on a single third party to drive your business. It's also smart to ensure you spend the majority of your time building equity in your own business, not someone else's.
Aim to get traffic from a variety of sources.
The more you can generate traffic and customers from a variety or sources - Google, Facebook, Twitter, Pinterest, Etsy, Amazon - the less dependent you are on a single source.
Do what works.
This point may sound like it's a contradiction of the previous point, but it's really just a clarification.
Getting traffic from all of those sources does take effort, and not all of them will be worth your time. Take some time to explore and see what works for your business, but don't feel compelled to be chasing customers on every social site or every marketplace.
Look at the return on investment to determine whether something is right for your business and worth your time. Personally, I get a lot of traffic from Google and Pinterest and, for the time being, I've decided to stay away from Twitter because the need to be constantly tweeting several times per day doesn't work for my business. It might work beautifully for you, but it's just not right for me at this time.
Build a Newsletter
Collecting email addresses from customers or potential customers and keeping in regular contact with them is probably the best way to build equity in your online craft business. You control your own newsletter in a way that you can't possibly control any other source of traffic to your site.
Of course, when people visit your craft business online, your most wanted response (what you most want them to do) is for them to purchase something, but getting them to sign up for your newsletter is a good secondary response.
It's also wise to encourage your followers on your social sites to sign up for your newsletter. Tweet or make a Facebook post whenever a newsletter is going out and send a link to the signup page, or, create a series of enticing images to promote your newsletter on Pinterest. That way, you move people who have expressed an interest in your business from a venue you don't control (a third party site) to a venue you have a lot more control over (your own email list).
RSS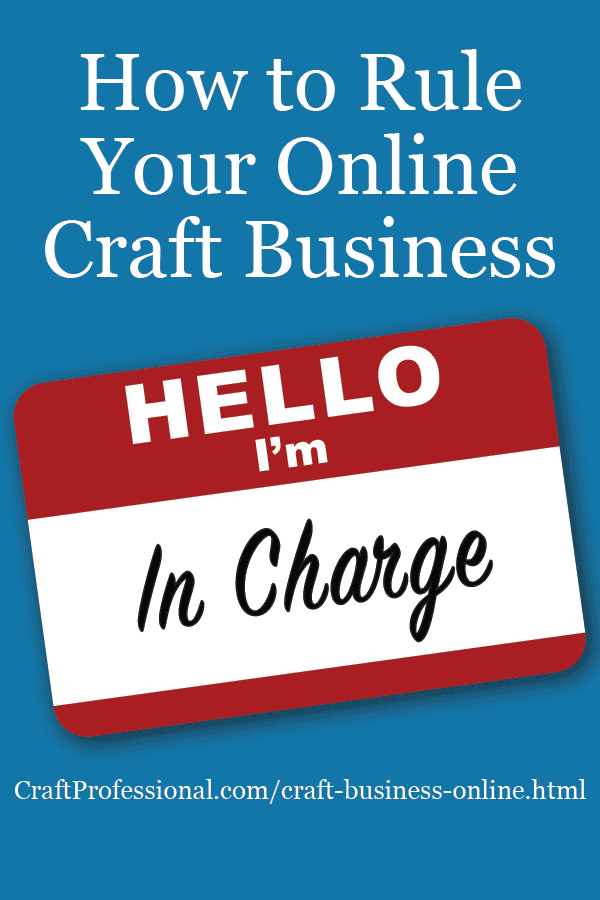 If you have a blog, promote your RSS feed. Not everyone uses an RSS feed, but those who do really want to hear from you if they choose to follow your feed.

People who follow your RSS feed will be reminded of your site every time you make a new post. I use Feedly to follow a few blogs that I love, and I'm constantly amazed at how tough it can be to find the RSS feed link on sites. Don't hide the link to your RSS feed in tiny font on a dreary corner at the bottom of your web page.
Make it easy for people to follow you.
Moving Forward
As I'm writing this, I realize some of these recommendations are easier said than done, and explaining the details is beyond the scope of a single article. If it was simple to get customers to your site from a variety of sources and build up an impressive email list, everyone would be running successful online businesses.

My solution has been the company, SiteSell, and their set of tools called SBI, which I've used since 2006. They've taught me everything I know about online business, and they have helped me build a newsletter that has thousands of subscribers, and a website that has tens of thousands of visitors from a variety of sources every month. If you're looking for in-depth help to move forward and take charge of your online craft business, they are the best resource I know of.
Related Articles
You Are Here
Home
➤
Sell Crafts Online
➤
Rule Your Craft Business Online