Online Craft Sales Strategies
If you buy something through links on Craft Professional, I may earn a referral fee. To learn more see my
disclosure
.
---
A key decision in your online craft sales strategy is determining whether you will sell your product on your own site, or on a third party craft marketplace like Etsy or Handmade at Amazon. Your choice can have a huge impact on your business. Here are a few things you need to consider before you commit to an online shop.

What is A THIRD PARTY SITE for ONline Craft Sales?

We're going to take a look at the pros and cons of selling crafts on a third party site vs. selling on your own site. First, though, let's make sure it's clear what I mean by "third party" site.
When I refer to "third party sites" I'm talking about selling your handmade products on a site that is owned by someone else, not you. Online craft marketplaces like Etsy, Artfire, and Handmade at Amazon are all examples of third party sites.
While selling on third party sites has never been a central focus of my business, I do have a small Etsy shop, and I have some experience with online sales on some other third party sites.
I've also developed a business around my own sites. That's where my primary focus has always been online.
---
I earn a commission for purchases made through links on this page.
To learn more, please see my disclosure.
---
To help explain why I prefer building a business around my own site, and help you come to your own conclusions about what is best for your business, we'll look at issues to consider for online craft sales including:

Controlling and building equity in your online craft business
Costs of selling crafts online
Designing and building an online shop that suits your brand
Promoting your online business
Earning your customers' trust to make the sale
Controlling and Building Equity in Your ONline Craft Business
While other factors are important, having control over the direction of your business is essential and must be considered carefully before you decide where to build your online craft business. 
Third Party Craft Marketplaces

Who Controls Your Business?
On a third party site, someone else controls the site policies.  If you rely heavily on a third party marketplace for your online craft sales, you will leave a significant part of your business outside of your control.
For example, a while back, eBay changed their policies on selling downloaded products. At one time, it was possible to sell digital downloads at a profit on eBay. The new policies made it extremely difficult. If you had built a creative business around selling downloadable graphic images on eBay, that policy change would have, overnight, devastated your business.
When another company owns your online traffic, your craft business is completely vulnerable to any policy changes that company makes.
Who Owns Your Business?
When another company owns your online traffic, you don't really own your online business, and that's the situation you put yourself in when you build your business entirely on a third party marketplace.
Generally, third party marketplaces severely limit your ability to collect customers' email addresses or develop any other way to connect with customers. When you promote your business on a site like Etsy, people who buy from your shop are Etsy's customers. They are not your customers.
If you promote your business exclusively on a third party marketplace, and the site you use suddenly disappeared, your business would suddenly disappear as well.
Your Own Site
Who Controls Your Business?
You control the rules, policies, focus and direction of your own site. You can create your site in whatever way is most beneficial to your business.
Certainly, outside influences can still impact a business built on your own site, but you still have far more control in this situation.
Who Owns Your Business?

When you build your own website, you can build relationships with customers through a newsletter. You can work to get traffic to your site from a variety of sources, so you're not too dependent on on a single source. You build up value in your business, and you're the one who owns that business.
Costs of Selling Crafts Online
Third Party Craft Marketplaces
The costs involved in selling on third party sites vary widely from site to site. Etsy, for example, charges a very modest listing fee and then a sales fee (a percentage of the sale price) when you sell an item.
Often opening a shop on a craft marketplace is initially low risk and less expensive than building your own site. However, if you start making a lot of sales on a third party site, you might eventually end up paying sales fees that are higher than you'd pay to run your own site.
Similarly, if you've built your business on a third party site, and they suddenly increase their fees, you'll be stuck paying those fees whether they seem reasonable or not. Again, if someone else owns your online customers, you'll always have to play by their rules.
Your Own Site
Setting up your own online craft business can be fairly inexpensive. While it's possible to spend a lot of money on building and promoting a site, it's not necessary. There are plenty of excellent, cost effective resources for building an online business.
Depending on the resources you use, creating your own site can be done for not much more than you'd pay in fees if you were quite active on some third party marketplaces.

Designing and Building an Online Shop That Suits Your Brand
Third Party Craft Marketplaces
You should be able to set up your store for online craft sales more quickly on a third party site without too much of a learning curve. In fact, this ease of use is one of the biggest draws for people using third party marketplaces.
There are typically simple forms and templates that you can use to set up your shop. You will need to spend time creating photos, graphic images, and text that encourage people to buy from your shop, but in general, store setup is usually quite simple on third party sites.
The downside of those templates and forms that make craft marketplace shop setup simple is they limit your ability to change the look and feel of your store. If you don't like the site design or the search function on a site, you'll need to find ways to work within the site's parameters because you won't be able to change them.
Also, you'll need to consider how well your items fit with the overall image of the site. For example, many people note that a site like eBay is far from ideal for online craft sales. When people think of eBay, they often think bargain basement prices, not high-end, high-quality handmade items. If your products don't fit with the overall tone of the site, you may struggle to find customers there.
Your Own Site
There can be a sharper learning curve involved in learning to design and build your own site. You won't have to become an expert in HTML and CSS coding to design an effective site, but it will take a little more work than setting up a shop on a craft marketplace.
Once you know how, you can create any type of look and feel you like on your site. Sometimes a simple change in the placement of an item or the phrasing of your text can make a huge difference in your sales.
When you have your own site for online craft sales, you are free to experiment and make any changes you like to test different elements of your site and see what works best for you and your customers.

Promoting Your ONline Business
Third Party Craft Marketplaces

While it's true that third party craft marketplaces already have traffic coming to the sites in general, there are plenty of sellers on those sites who are all competing for the same customers.
You'll need to invest time learning how to best market your store and your items on each third party site you use and then implement those promotional strategies.
Usually those promotional efforts will include (among other things) posting new items frequently, networking on social media, and perhaps creating newsletters to build a relationship with your customers and promoting your site offline.
You'd do all of that work to promote your own site, too. The crucial difference, though, is when you base your business on a third party site, you'll end up spending a lot of time promoting a site that ultimately is not your own.

Your Own Site
You'll need to spend time promoting your own site in order to get traffic to your site. Getting your site to rank well with search engines and mastering relevant social media sites is the route to free traffic, but it takes some investment of time.
While you will need to commit a significant amount of time to promote your own site, you will be promoting something that is yours, that can't be taken away from you. 
Also, once people find your site, there's no other competition. You'll be the only person selling items on your own site, so you won't have to compete with other vendors to get your customers' attention and make a sale.

Earning Your Customers' Trust to Make the Sale
Third Party Craft Marketplaces

Earning customers' trust is one place where third party sites generally have a big advantage. 
Think about it.
If you want to buy something online, do you feel more comfortable shopping on an unknown, independently owned website, or are you happier shopping on a well known site like Amazon or Etsy? 
Most people are more comfortable shopping on known sites. They trust that there are systems in place to deal with any problems they might have, and they probably already have their credit card information entered into the system, so they can shop with just a click or two.
Your Own Site
You have to work much harder to earn trust and convince people to get out their credit cards if you sell on your own website. Your independent website just won't have the same built in trust customers have for larger, well known marketplaces.
That crucial trust factor is why some people will sell products on a known and trusted marketplace like Etsy, even though they have their own thriving website.
The trust and ease of shopping on a third party site can be worth the fees they charge. If you do sell products on your own site, you'll need to pay for services to process orders on your site, and those services may cost just as much as the fees you incur selling on a marketplace.
Built in customer trust and ease of shopping was a big factor when I decided to offer my own digital products for sale on an Etsy shop instead of selling them directly on this site. However, I put my efforts into promoting my own site, not my Etsy shop, so if I ever wanted to leave Etsy, I could, and my customers wouldn't disappear.
---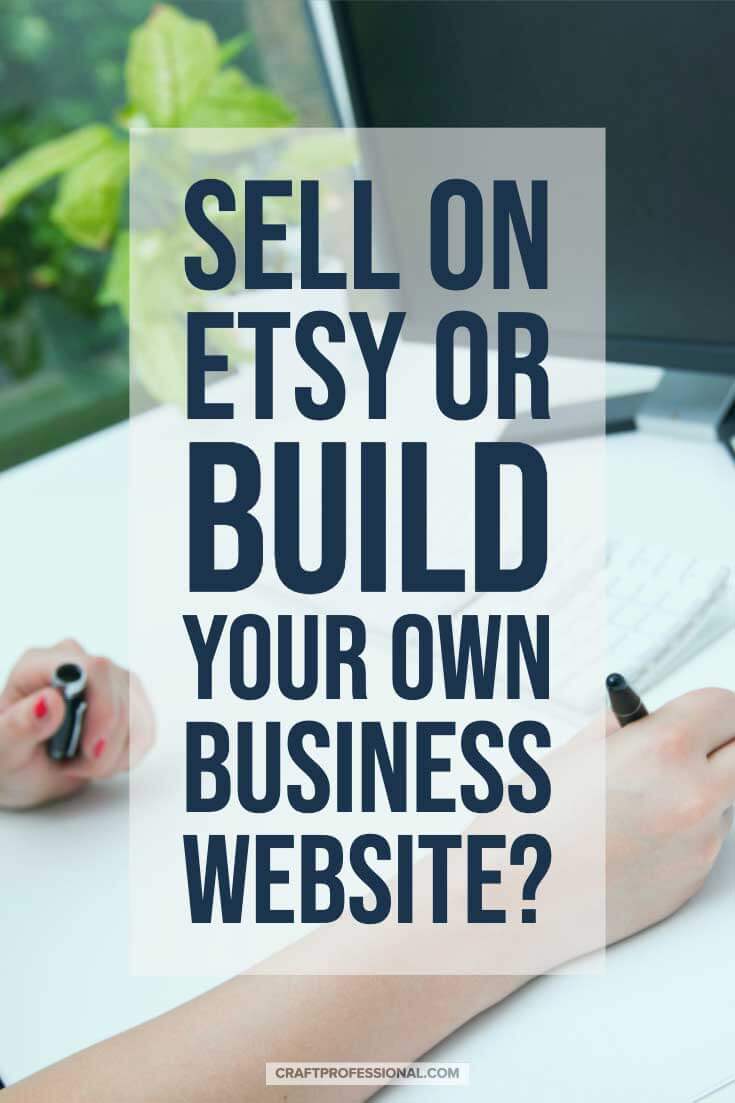 Selling crafts on a third party site can be a way to try online craft sales, particularly if you don't want to or are not able to invest much time learning to create your own site from scratch.
Selling on a third party craft marketplace can also be a smart option to use in conjunction with your own site that you control.
If you're going to go the third party route, consider buying your own URL for your craft business and create a simple, attractive, online introduction to your business that links to your store on the third party site that you use. Use your own URL any time you're promoting your online craft store, and you won't get locked into selling on someone else's site, and you won't spend time promoting a business that is not your own.
If online craft sales will be a significant part of your business, I'd recommend owning your own site. It will involve more of an initial investment of time, but both approaches require time and effort if you're going to be successful.
You'll be spending time creating and promoting your online shop whether it's on your own site or a third party site. Why spend time promoting someone else's business instead of your own business which you fully own and control?

Click here for (in my opinion) the best resource for building your own website.