14 Craft Booth Display Ideas Using Shelves
Looking for some craft booth display ideas to put your shelves to good use?

The right shelves can be sturdy, portable, flexible in design, and a great option for your craft booth. Here are 14 photos of great displays using shelves in a variety of ways.
I love this first booth. It is so simple, elegant, and also effective.
The color of the backdrop might not translate on your monitor. It looks black on my screen, but it is actually a gorgeous dark shade of midnight blue. It works beautifully with the neutral shelves and the handmade white tableware.
Notice all of the lighting used in this booth. There is lighting mounted under the shelves, and the handmade lamps cast a pretty glow.
Here's a booth using tabletop shelves as risers.  They provide height and make good use of the full depth of the table.

These shelves have been painted bright green to coordinate with other elements of the booth.  This photo shows a smart use of color.  The splash of bright green draws your eye to the booth, but it's not fussy, so once customers enter the booth, it will become more of a backdrop and allow the products to stand out.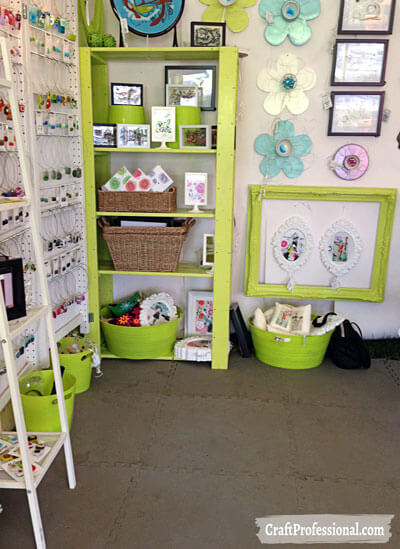 Take a close look at the vertical supports of the shelves in this next picture.  They are hinged to form a V shape, allowing them to fold in half.  I bet the horizontal shelves are removable to make this display system extremely portable.

Winsome Wood makes a stackable, foldable shelf
that is different from the ones shown below but works in a similar way. It's an excellent booth display idea!
Notice the lights under the shelves on this display. If you're going to use several rows of shelves, the lower shelves can get lost in the shadows. Good lighting will solve that problem.

Here's a retail store display using a decorative ladder-style shelf. This booth display idea would work equally well in a portable booth as long as you had a sturdy vertical surface to support it if you buy the leaning style shown here. You can also find similar shelves that stand on their own, making them more flexible for use in a craft booth.  

This type of decorative ladder should be quite easy to find
.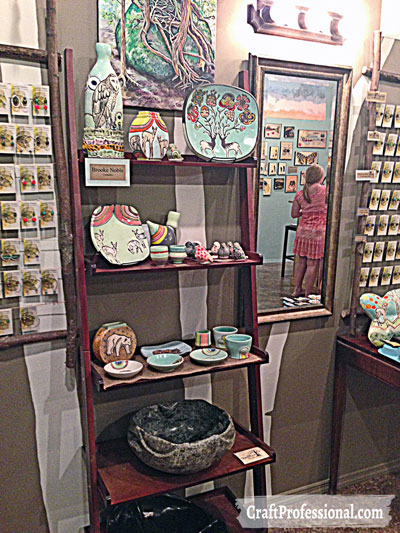 Wooden retail display shelf.
The small, decorative shelves in this next display don't hold a lot of product, but they do provide context.  They are exactly the type of shelves you'd have in a baby's room, so they help customers imagine how lovely the products would look hanging in their own baby's room.

These very simple white shelves completely blend into the booth allowing the brightly colored pillows to stand out.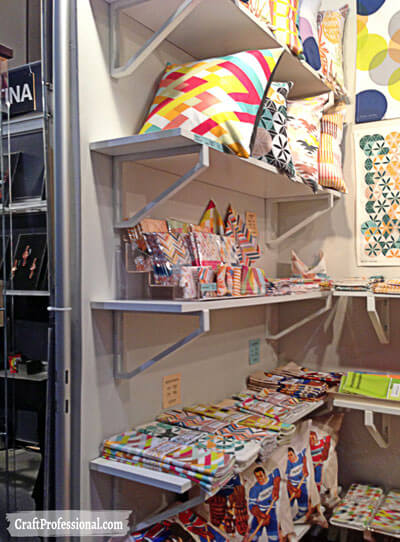 Next, we have a pair of bookcases used as display shelving.  This booth display idea is less portable than other options, so you may find it more appropriate for longer shows that allow you to leave your display set up for a few days.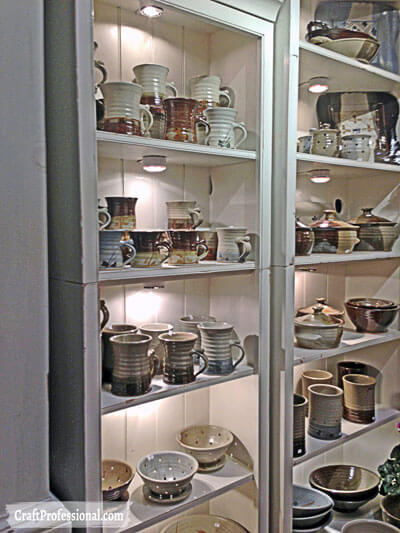 What I really like about this tall, narrow, free-standing shelf is the artist's website address painted (or maybe it's a custom vinyl sticker) along the side.  Look for good opportunities to add impact with your display!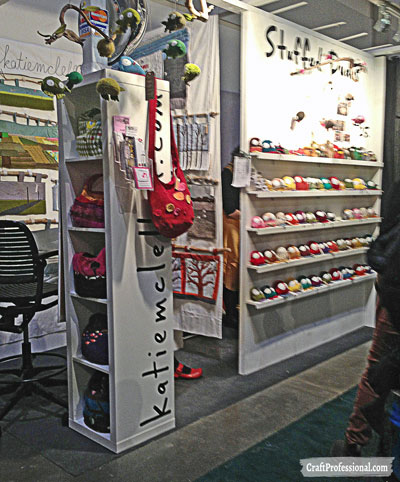 Here's a distinctive shelving system that I believe is custom-made. This photo doesn't do it justice.  In person, the effect of the jewelry almost floating on the clear shelves and clear necklace busts is quite pretty.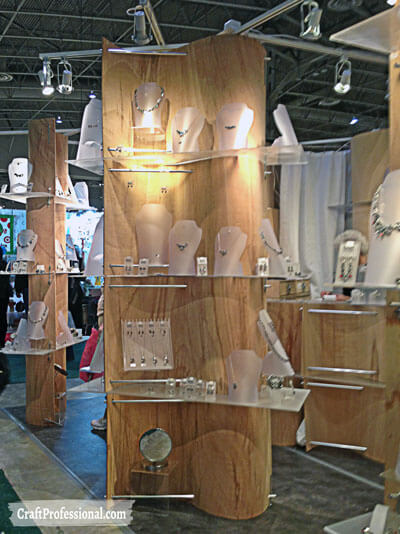 A decorative ladder
functions as a kind of shelf for these colorful scarves. It's used in a retail display here, but it would be equally at home in a craft tent.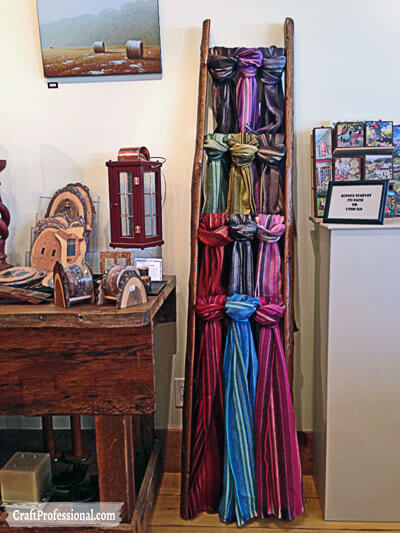 These glass shelves show handmade items in a museum gift shop. Of course, this option is not as practical for moving from show to show, but it creates an airy effect that would be pretty if you didn't need as much portability.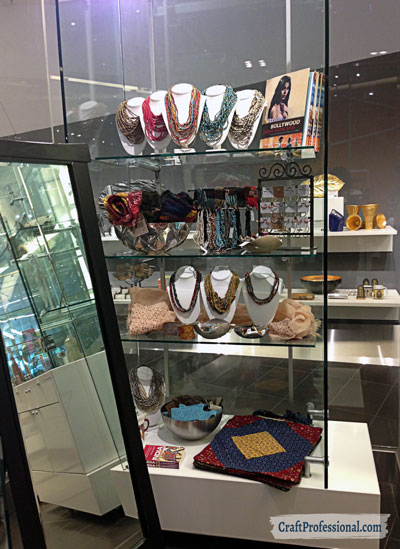 Finally, here's an all-neutral booth with plenty of good lighting under the shelves.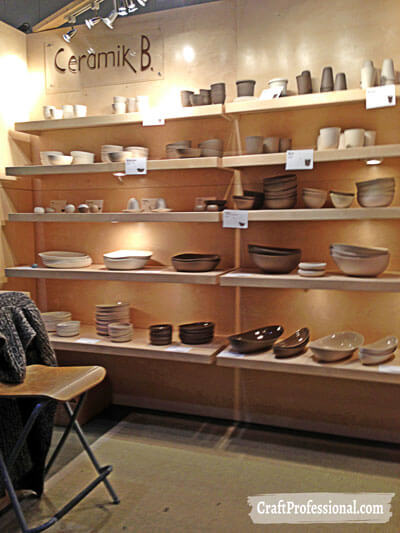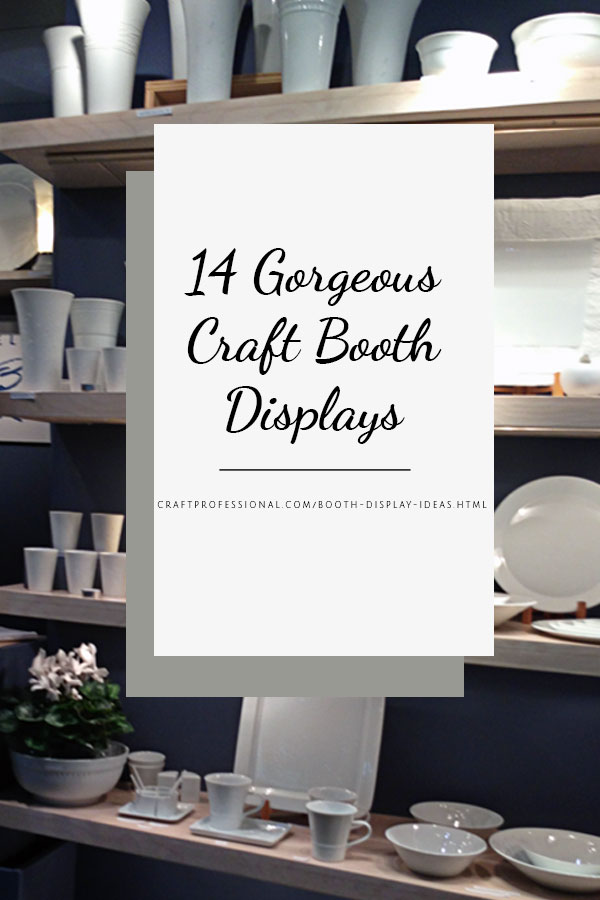 Click through for 14 gorgeous booth photos and lots of craft booth display ideas.
Related Articles
You Are Here
You are here:
Home
➤
Display Booth
➤
Craft Booth Display Ideas With Sheves