Holiday Retail Industry Trends 2019
If you buy something through links on Craft Professional, I may earn a referral fee. To learn more see my
disclosure
.
---
This week on the Craft Business Challenge: 
Holiday retail industry trends for the 2019 Christmas shopping season help craft business owners make the most of this important shopping season.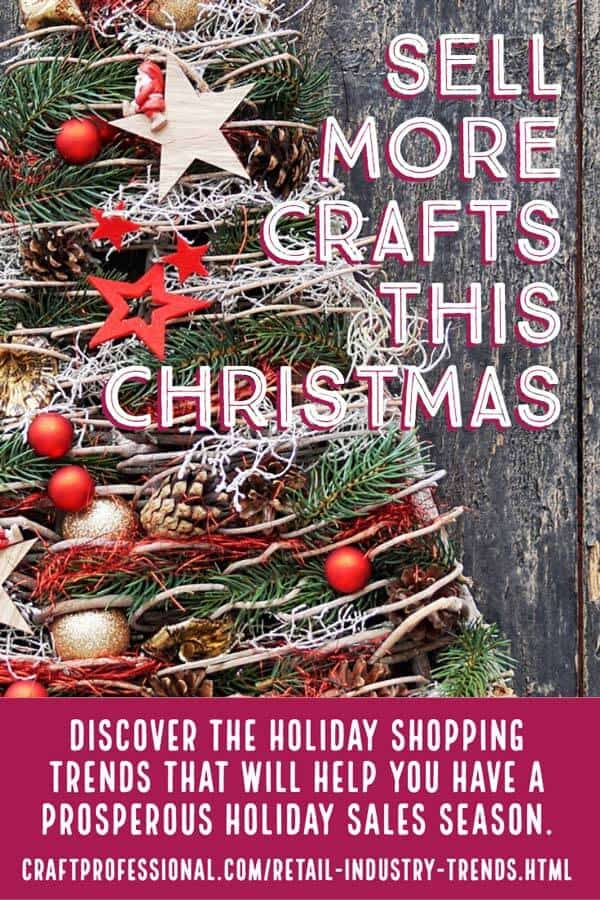 I spent this past week buried deep in retail industry trends data and predictions so you don't have to - unless you love stats - then dive in.
I've included links to all of my research sources, so you can do your own Christmas shopping trends research if you like.
These retail industry stats absolutely fascinating to me. They often point out trends that I find I'm somewhat aware of, but the shopping studies and predictions bring it all into clear focus.
That focus is what helps you interpret these trends in your promotions to deliver what shoppers are looking for this holiday season.
What's new for 2019?
In 2019, shoppers are:

Starting their holiday shopping well before Black Friday, particularly if they plan to spend a lot this year

Shopping online more, but also shopping more in-store
Loyal to brands that sincerely embrace values that resonate with them
Shopping on Etsy more than they were a couple of years ago
Happily, you can take these trends and apply them to your own business to help predict what your customers will be looking for and determine how you can promote and position your products to entice holiday shoppers.
My newest article this week will help you understand 2019 craft sales trends and apply them to your own business.
What's NEW THIS WEEK?
Focus: Holiday Retail Industry Trends
What will be the best selling crafts for Christmas 2019?: Discover what holiday shoppers will buy this year and what motivates them to make a purchase. Apply those shopping trends and predictions to your craft business, so you can give customers exactly what they're looking for this holiday season.
Printable Signs for Your Craft Booth
Encourage your customers to support small business and buy handmade this holiday season!
I have plenty of printable craft booth signs in my Etsy shop to inspire your customers to treat themselves and support your small business.
THANK YOU FOR JOINING IN THE CRAFT BUSINESS CHALLENGE
I'm thrilled that thousands of craft artists have signed up for the Craft Professional email alerts. If you've reached this page by surfing around the site, and you'd like to get the weekly email updates, simply add your best email address in the form below.