Promote Crafts with Marketing Materials
If you buy something through links on Craft Professional, I may earn a referral fee. To learn more see my
disclosure
.
---
Developing marketing materials that showcase your work can be an effective way to promote crafts. Catalogs or brochures can easily be distributed among your network of contacts, sent to your best customers on your mailing list or used to develop relationships with retailers.

Providing your host with a catalog or brochure can increase sales if you sell at home parties. You may give the catalog or brochure to your host prior to the party to show items and promote your crafts before the party and also provide a closing date (one week after a party is typical) so anyone who couldn't come to the party has an opportunity to purchase from your catalog before or after the party.
I've used single page brochures as well as an email version of the brochure (to save a little money) with some examples of my work and a link to my website in this way to promote crafts. I simply provided the host with the email ready to send out to her friends and/or a few copies of those brochures. They definitely went a long way toward helping my hosts promote their parties and increase sales.
You can also use brochures to promote crafts at juried art shows and include them with any correspondence you may send out. Catalogs are extremely useful, some would even say crucial, if you want to develop wholesale relationships with retail stores, but they absolutely must be of high quality.
Of course, designing and printing great catalogs or brochures for your home craft business is an expense, so you'll need to balance your need to keep prices within your budget with the need to ensure your promotional materials are high quality and professional looking.
Some cost effective ways to promote crafts with brochures and catalogs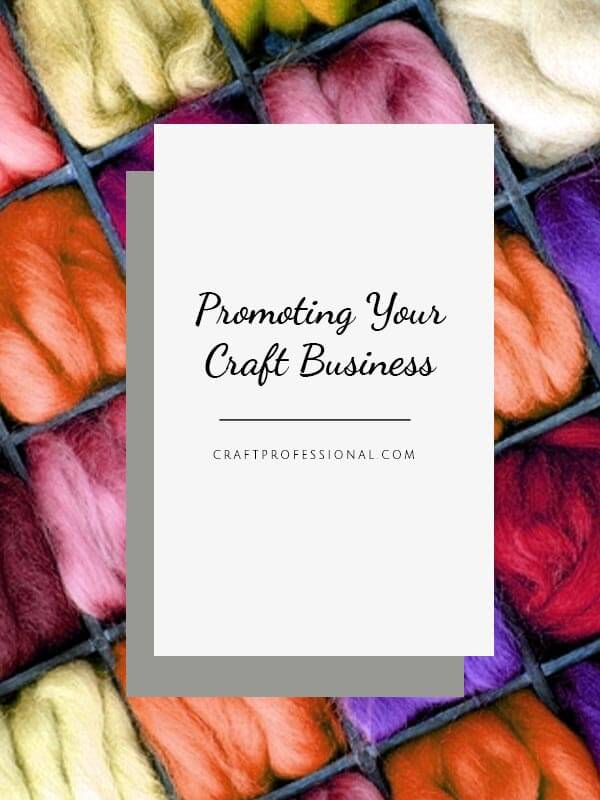 Consider using a single page brochure instead of a catalog in order to keep prices low. Or, do create a catalog, but save it to promote your crafts to larger potential wholesale customers and provide the single page sheet for other customers.
Consider using an Internet based printing company for your printing needs. You can typically request samples from these companies in order to ensure the quality meets your expectations. I've used both a local print shop and an online company for printing needs. I was happy with the quality of the Internet based printer's product, and their price was vastly cheaper than what my local printer could offer.
Check into larger quantity printing. Printing prices typically drop dramatically with higher quantities. Particularly if you are doing a lot of big shows and will have/make opportunities to get your promotional materials out there, it may actually be more cost effective to get a large volume of great quality copies instead of a few lower quality copies.
Do not skimp on printing quality or take short cuts with your product photos or catalog design. The quality of your marketing materials is, in the minds of your customers, a direct reflection of the quality of your products. Using low quality marketing materials to promote crafts just does not translate into sales.
Most home printers are not adequate for high quality printing, particularly where photos are important. When you factor in the cost of ink for your home printer, and the cost of lost sales due to low quality promotional materials, having your brochures printed professionally may suddenly seem more reasonable and cost effective than you originally thought. If you decide it's worth creating a brochure or catalog to promote your home craft business, you should also decide that it's worth doing it well.
Related Articles