Better Habit Management = Better Goal Achievement
If you buy something through links on Craft Professional, I may earn a referral fee. To learn more see my
disclosure
.
---
This week: For many, A New Year means new goals. How Do You accomplish those goals? develop better habits. Here's how You can build better habits to achieve important goals.

Plus: What crafts will sell well in 2019? I have the trend reports that can help you develop popular, on-trend products.
What's a new year without new goals? January presents us with a clean slate. 365 fresh, new days laid out before us to accomplish something big and important.
I spent last week working out my own goals for 2019:
Write more new articles for this site
Update old articles on this site, so they are current and the absolute best I can make them
Update another site I have that I haven't worked on in years
Work on new strategies to get more traffic to both sites
All of the business goals I want to accomplish in 2019 feel overwhelming when I look at the big picture and think about everything that needs to happen to accomplish them.
But goals can be broken into small actions, and a lot of those actions can be turned into habits, which makes achieving a big goal more manageable.
Accomplish More With Better Habit Management
Don't think about everything all at once!

That's the best advice I've ever received when I was feeling intimidated by the sheer enormity of a project. My roommate in university shared those words of wisdom when I was completely overwhelmed with essays and exams.
She was right, and I've come back to her advice many times over the years.
Habits Allow You To get Things Done Without The Need to Think About Everything All At Once
Achieving a big goal is a matter of doing a series of many small tasks consistently and over time.

If you can transform those small tasks into habits, you can craft routines that:
support your intentions
help you get down to work faster
and minimize the need to try to scrape by on sheer willpower alone
Habits eliminate the need to constantly decide what needs to be done. They help you get the work done without constantly having to convince yourself to get started. With good habits, the work you need to do to accomplish a goal can be put largely on automatic.
I'm convinced habits play an essential role in shaping our successes. As a result, in a quest to cultivate better habits, I've read and experimented a lot on the subject over the years.
I've had to wade through loads of unhelpful advice to find the real gems that work for me, and that, I believe, would work for many craft professionals. I'm happy to share some of my favorite habit-building resources to help you achieve your own goals for 2019.
"This is the real power of habit: the insight that your habits are what you choose them to be." Charles Duhigg

New This Week
Trending Crafts That Sell Well in 2019
Trend reports show you the hot trends customers will be shopping for in 2019, so you don't end up with a booth full of unicorns when all of your customers want to buy llamas and sloths.
Timely Tips from Past Articles
FOCUS: Better Habit Management
Your habits eventually add up to your results, and, happily, your habits are not inevitable. You can actively cultivate your habits, strengthening those that are helpful, and replacing those that are not helpful with better habits.
Your habits, as expert Charles Duhigg says, are "what you choose them to be." If you want to choose different habits that will help you and your business thrive this year, here's how to do it.
Get 40% of Your Day Right Automatically
What would you say if I told you that you could make at least 40% of your day go exactly as you'd like, automatically without even thinking about it?
I'd be up for that! And researchers say it's possible. Here's how to make it happen.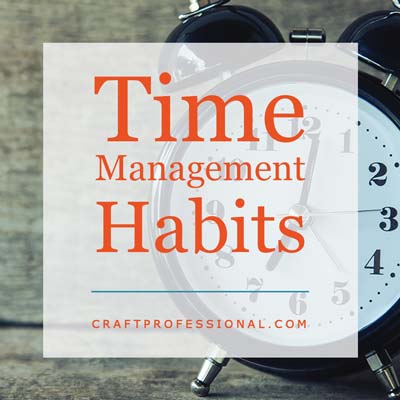 Tony Crabbe is a business psychologist and one of my all-time favorite writers on time and habit management.
Here's what he has to say about how to thrive as a business owner without cramming every waking minute of your day with relentless productivity.
My Favorite Time Management Books
All of the articles above are full of ideas that have been informed by my favorite habit and time management books.
If you're curious and want to read in more depth on the topic, these are the books I recommend. They have all significantly changed the way I think, work and get results.
The Tool I Use to Stick to My Habits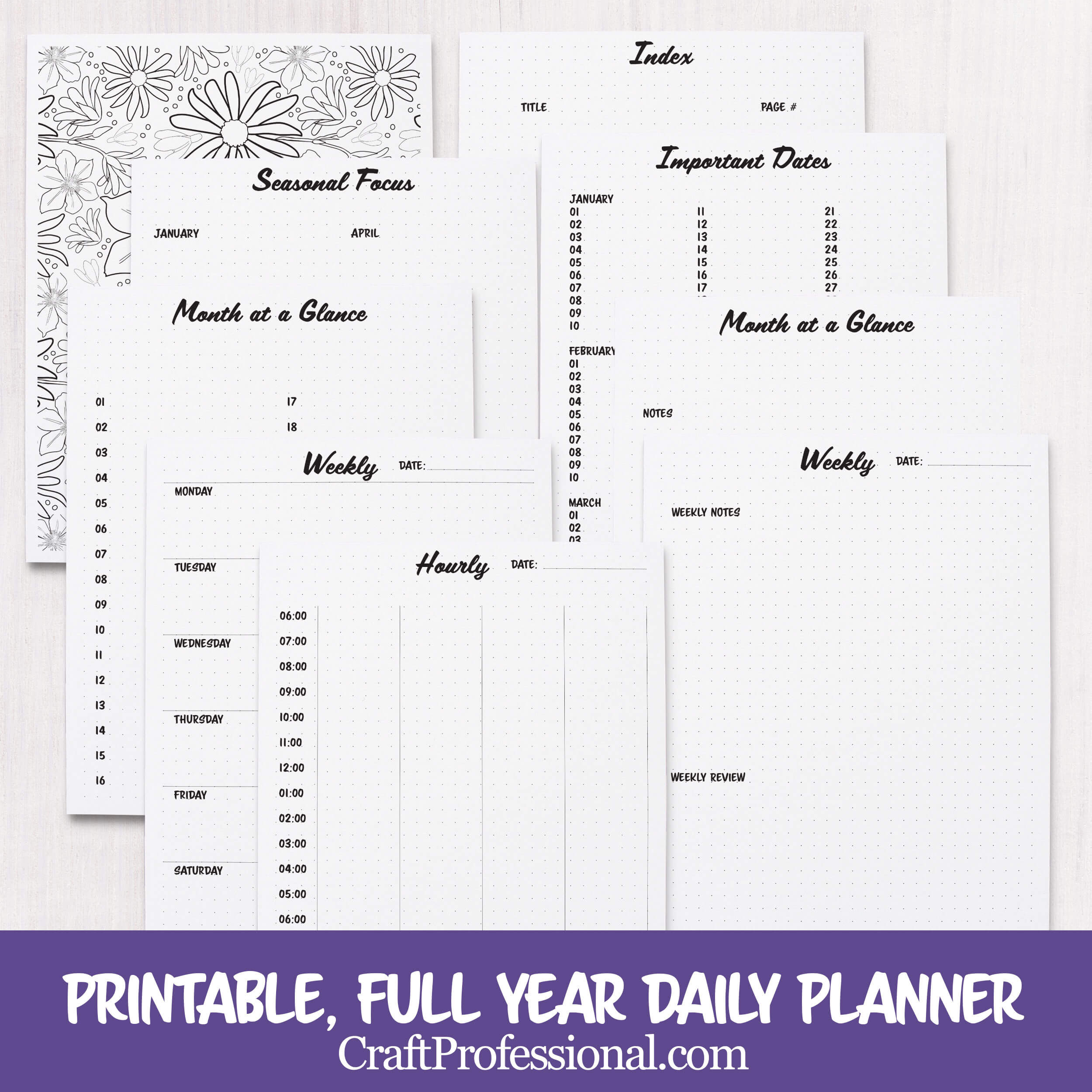 Commit to Your Goals with a Printable Planner
I spent part of the day on January 1st printing up my planner and using it to organize my year, and now I feel ready to take on 2019.
I've been using my printable planner for the past two years, and I'd be lost without it. It has been immensely effective in helping me:
stick to my commitments
be honest with myself about what work I have (and have not) done
and accomplish more while still leaving time for fun
It's available on my Etsy shop if you'd like to try using a printable planner to manage your goals, projects, and day to day life.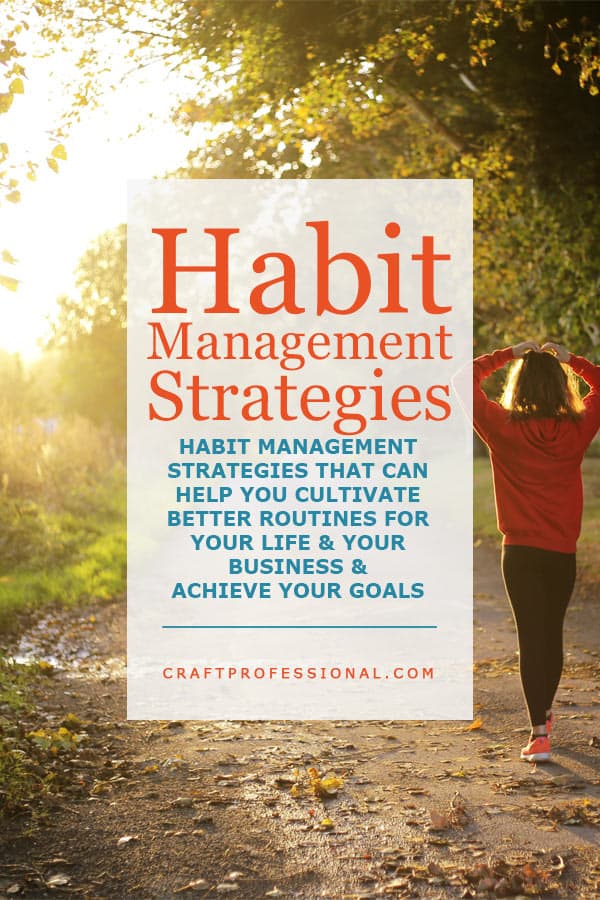 THANK YOU FOR JOINING IN THE WEEKLY CRAFT BUSINESS CHALLENGE
I'm thrilled that thousands of craft artists have signed up for the Craft Professional email alerts. If you've reached this page by surfing around the site, and you'd like to get the weekly email updates, simply add your best email address in the form below.
You Are Here
You are here:
Home
➤
Weekly Craft Business Challenge
➤ Better Habit Management = Better Goal Achievement