Free & Affordable Pinterest Tools
If you buy something through links on Craft Professional, I may earn a referral fee. To learn more see my
disclosure
.
---
There are paid Pinterest tools I wouldn't be without. They speed up my workflow, so I can get on with other tasks and contribute to the growth of my business. However, I've been at this blogging gig of mine for many years, and what's right for an established online business might not be right for a new blogger.
If you're a beginner blogger, paid tools might not be in your budget, or you might not be ready to make the most of them. If you'd prefer to stick with free Pinterest tools, check out these options.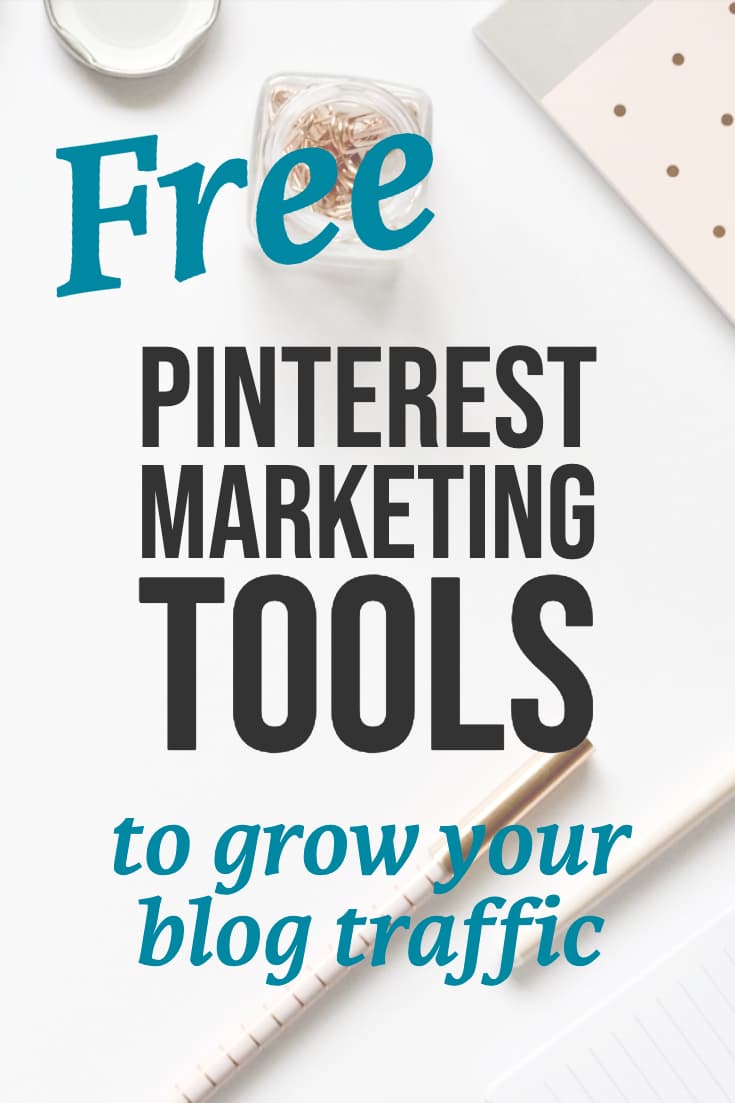 The Pinterest tools I use to promote my online business fall into two main categories:
image editing tools to create pin images
and pin scheduling software
I use paid Pinterest tools for both tasks:
I use Adobe Spark for creating pin images.
Although I have access to more powerful image editing software, I love Adobe Spark because it allows me to create pin images quickly.
I use Tailwind for scheduling pins.

I've used Tailwind for scheduling pins for years, and it has been instrumental in the growth of my business.
 However, what's right for one online business isn't necessarily right for all online businesses. If you're starting a blog with limited capital, there are other Pinterest tools that might be a better fit for your own online business.
1. Free Image Editing for Creating Pinterest Pins
Canva

For social media image editing on a budget, I'd suggest using Canva. Canva does offer paid premium design elements and paid monthly subscriptions that give access to enhanced features. However, if you're starting a blog on a budget and marketing your business on Pinterest, you don't need the paid features.

The free version of Canva includes everything you need to create beautiful pins for Pinterest.
Paint.net and Gimp

I've also use Paint.net and, to a lesser extent, Gimp for image editing. Paint.net and Gimp are both free image editing software along the lines of Photoshop. Paint.net is for PC only. It's not available for Mac users. Gimp is available for both PC and Mac computers.

You could use either Paint.net or Gimp to create pin images for Pinterest. However, you'll need to invest time learning the software. Each program does a lot, so there's a lot to learn if you're a beginner. In my opinion, learning to use this software is not the best use of your time if creating pin images is the only thing you want to do with it.
I'd really only suggest using software like Paint.net or Gimp if someone was interested in learning about image editing software and had some other uses for it beyond creating Pinterest images. 
If you only need an image editing tool for creating pin images for Pinterest, and possibly making images for other social media marketing platforms, I'd say stick with Canva. It's easy to learn, and the free version should meet your needs for creating pin images for Pinterest.
2. Scheduling Pins to Pinterest
Pinterest Tools for Scheduling Pins
Beyond Tailwind, which I use, Hootsuite and Buffer also offer Pinterest pin scheduling. However, none of those products is free.
If you have a business account on Pinterest, you can, for free, schedule up to 30 pins to publish later directly from your Pinterest account. 30 pins isn't a lot to schedule, but it's a start. It would allow you to schedule a few pins spread throughout the day, so you wouldn't have to constantly interrupt your work to save pins.
Beyond Pinterest's limited pin scheduling feature, I don't know of any other free pin scheduling software, and I'd be very wary of using any tool from a company that isn't a Pinterest-approved partner.
Using unapproved Pinterest tools for things like pin scheduling could put your Pinterest account at risk. That's a risk I'm not comfortable taking with my own account, and I wouldn't want to lead anyone else to that kind of risk.
Manual Pinning to Pinterest
If you don't want to use a pin scheduler, you can give manual pinning a try. That is, you can save your pins manually, directly to Pinterest, instead of using one of the Pinterest tools that will allow you to schedule your pins.
Manual pinning is one of the things I experimented with for this site before I landed on the Pinterest marketing system that's been working for me. 
While I use Tailwind to schedule the majority of my pins for this site, I do still pin manually for another site I own.
Pros and Cons of Manual Pinning Vs. Using Pinterest Tools for Scheduling Pins

Manual pinning has some advantages over scheduling your pins:

It is free, which can be extremely important if you're starting your blog on a budget.
It requires you to go into Pinterest frequently and use Pinterest more like a "regular user" so you'll see what's working and what others are pinning. 
You won't be completely disconnected from Pinterest, which can be a danger associated with using a pin scheduling tool.
Then there are the disadvantages of manual pinning...

Manual pinning for this site drove me to drink. Not literally; I'm a bit of a teetotaler, but metaphorically.
The main downside of manual pinning for me, is that once you have a lot of pins to manage, there's just so much to keep track of, it can become overwhelming and can take up a huge amount of your time. 

As of this writing, for this site, I have at least 4 pins per post for about 275 articles. That's over 1000 pins going to several different boards. And that represents just one small element of all of my online business-building tasks.
There are too many moving parts. At this point, I just couldn't manage it all manually, and scheduling with Tailwind frees up an enormous amount of time for me.
How to Organize and Track Your MAnual Pinning
If you don't want to use a pin scheduler, try pinning manually and see how it works for you. You might have a different temperament than I have, and it might work perfectly well for you.
When you're a new blogger, you'll have far fewer pins and Pinterest boards to manage. You won't have as many moving parts to track, and that could make manual pinning very manageable.

Organizing and Tracking Manual Pinning
Some people pin manually in a more casual way without tracking anything at all. They simply trust they will remember what they have and have not pinned recently.
If you have a great memory for details, that approach might work for you.
I tried that casual approach to manual pinning, and it was a complete failure for me. I have a lot of pin images going to different boards. On top of that, I can't be trusted to remember what I had for breakfast yesterday. I'm not going to remember which image I have pinned to which board and when without using some kind of tracking system.
If you'd like to do more orderly manual pinning, I'd suggest you use a spreadsheet to track your pins.
For each pin you have, use a spreadsheet to track your:
pin image
pin URL
the blog post the pin links to
the date you first pinned it
the board(s) you pinned (or will pin) it to
the date(s) it needs to be repinned
and any additional information you find helpful
It will take some work to initially set up the spreadsheet, but it's a free way to manage your pinning, and it will keep you organized.

Investing in a Paid Pin Scheduler
I personally wouldn't be without Tailwind for this site.
I don't see how I could manage all of the pinning I do without it. The pinning is extremely effective for growing my business, so Tailwind pays for itself many, many times over.

If money were tight and I needed to pull way back on business expenses, my Tailwind subscription would be one of the last things I got rid of. In fact, I'd do my absolute best to find a way to keep it.
If pin scheduling software is not right for you, you can definitely try manual pinning and tracking with a spreadsheet. It might work perfectly for you, particularly when your blog is new and you don't have a huge number of pins to track.
Manual pinning might be all you need until your blog reaches a certain size, and you have so many pins you just can't manage them all in a day by pinning manually. At that point, hopefully you will have enough income from your blog that investing in a pin scheduling tool would quickly and easily pay for itself.