Accessories Magazine Review
An excellent source for accessories trend information to help you design products that reflect current style
If you buy something through links on Craft Professional, I may earn a referral fee. To learn more see my
disclosure
.
---
Accessories Magazine provides forecasts of upcoming fashion trends in accessories, so you can design and create handmade items that are in demand and on trend.
This magazine is written for people who sell women's fashion accessories in any type of retail environment.
Although it's not directly aimed at professional craft artists, Accessories Magazine will provide you with plenty of information about accessories trends for upcoming seasons.
Because the magazine reports on trends far in advance, you'll get that information in plenty of time to reflect those trends in your own products.

Accessories is one of the first magazines I added to my list of subscriptions when I was selling handmade jewelry, and I always looked forward to receiving my copy in the mail.
The magazine is published (six times a year) three times a year, and although the subscription is rather pricey as magazines go, I personally have always felt the information in the magazine is worth the price. The information is central to my business, gives me a bit of an edge over my competition, and is not readily available elsewhere.
Accessories MAgazine Update
Back in 2006, when I started subscribing to this magazine, it was extremely difficult for the average person to get reports on upcoming trends many months in advance, so I was thrilled to have found this resource, and my subscription was well-worth the price.
Now, there are several excellent and free online trend reporting resources, including the Accessories Magazine website. While Accessories still has plenty of information, in my opinion, most craft artists can get all of the information needed to design on-trend pieces well in advance without paying for a subscription.
Even Accessories Magazine itself seems to be moving toward an internet-based business model, publishing fewer paper copies per year, and offering more helpful trend reports on their website.
As solopreneurs, craft professionals can be more nimble than larger companies. Depending on the raw materials and time you need to create a new product, if you see a trend emerging, you can add it to your product line in a week or two if reflecting trends makes sense for your business. Large companies need to work through layers of bureaucracy to make a change happen. This ability to adapt fast is one advantage soloprenuers have over big companies
Although there was a time when I wouldn't be without my Accessories Magazine subscription, once I started finding loads of great, free trend reporting resources online, I let my subscription to this magazine lapse.

If designing "on trend" items is important to you, the information Accessories provides will give you plenty of lead time to source and order supplies, develop designs and create your items with upcoming trends in mind. If you wait until trends are reported in standard fashion magazines, you might not have enough lead time to create your own handmade interpretations of fashion trends.

You can also use the information in this magazine to help promote your handmade accessories directly to your retail customers or to potential wholesale customers or consignment partners.
Having on trend items in stock is particularly important to many fashion retailers, so if you are able to point out the ways in which your items are in line with expected fashion trends, that information can help you to promote your work to store owners who may sell your items on a wholesale or consignment basis.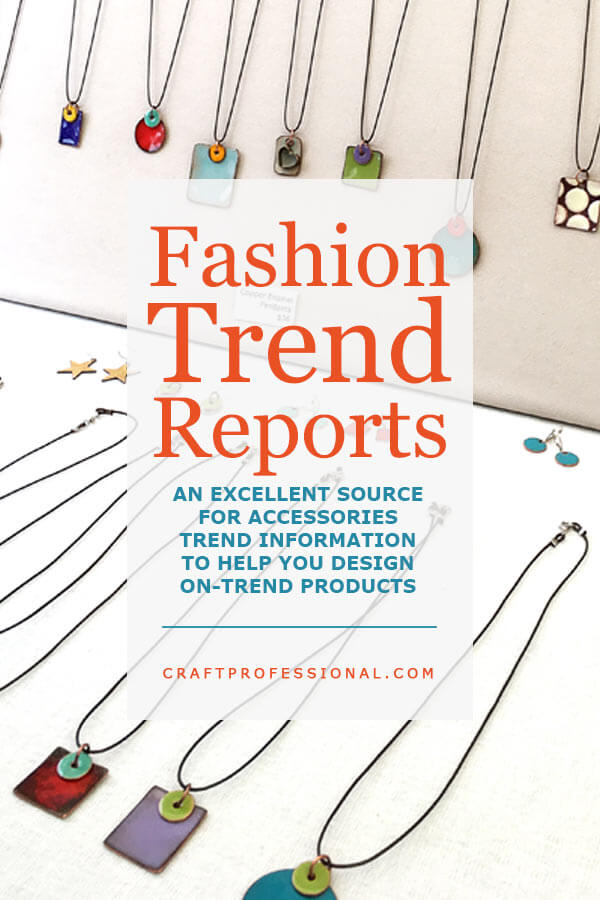 In addition to reporting on emerging accessories trends, Accessories also provides insights into people and companies that are making news in the fashion accessories industry. These reports on business are focused on larger retailers and may or may not be of interest to you, depending on the nature of your business and your long term goals.

As part of the craft business niche monitoring I do, I follow the Accessories website, and I personally find myself jumping straight to the trends stories.
Some craft professionals are more trend conscious than others. Whether your work reflects current trends or not will depend a lot on your own aesthetic sense, your goals for your business, and your target market. If you do include fashion accessories as a major part of your line, and you want to create items that are on trend, Accessories is a very good resource that will allow you to learn about future trends well before they are in stores and in time to incorporate them into your products.

I have not seen Accessories Magazine on newsstands anywhere, but if you are interested in adding the magazine to your collection, you can subscribe directly from the Accessories Magazine site, or simply follow their updates online.