Start a Soap Making Business
If you buy something through links on Craft Professional, I may earn a referral fee. To learn more see my
disclosure
.
---
Of course, the majority of the general craft business tips will apply to your soap making business. Here are some additional tips that are specific to professional crafters who are building this type of business.

Consider Teaching Soap Making Classes
In addition to selling handmade soap, teaching soap making classes could provide an additional source of income for your soap making business. Charge a fee for people to attend the class and to cover your soap making supplies. This couple create opportunities to sell soap making supplies to students who continue to pursue the hobby
Do keep safety and the skill level of your students in mind when developing projects for your classes. If you are working with beginners or children, you may want to consider teaching melt and pour soap making so you won't have to deal with the safety issues around students working with lye.
If you intend to run a soap making class for children, consider getting a copy of a soap making book that is written specifically for children (many libraries carry these books in the kids' section). This type of book will give you some inspiration for kid friendly projects, which may be quite different from the types of products you're accustomed to making. Also, these books can provide you with ideas about how to alter your soap making methods to make them easy to do with a group, kid friendly and safe.
For additional tips on teaching your craft at a home party, see the article Craft Home Party.
Consider Adding Other Bath and Beauty Products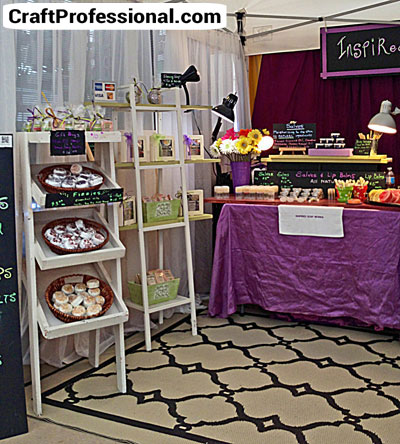 Bath bombs, massage bars, lip balms and other similar items may be a smart and welcome addition to your home based soap making business.
Do be careful about expanding your line too quickly. Do what you know and do best, make it unique and once that is established consider expanding to bath and beauty products if you feel that will help you meet your business goals.

Gift Baskets and Bags

Package several items that work well together and offer them as gift baskets or packages. You can increase your sales by making gift giving much easier for customers. If, for example, you are selling soap for $4.00 each, a customer who is looking for a $20.00 gift idea may not consider your items. If you packaged that soap with other items and created a gift bag or basket for $20.00 your items suddenly become a possibility for that customer.
Research Professional Associations
The Handcrafted Soapmakers Guild offers plenty of information for people starting a home based soap making business. It is a good place to start for resources and regulations related to selling handmade soap.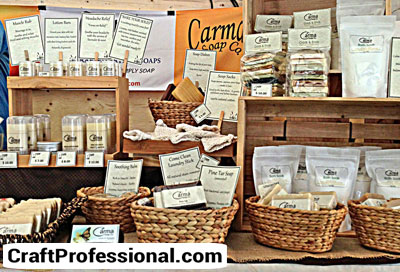 Check Requirements for Entry into Juried Shows

Requirements for entry into juried art and craft shows can be a bit different for soap makers than they are for other professional craft artists. In many shows, samples must be provided for edible and scented items. When you apply to most categories, (jewelry, painting etc.) you simply send pictures of your items, but as a professional soaper, you may need to send samples of your products, so do be sure to read the application form carefully.
This requirement can work to your advantage because jurors get to better experience your items by touching and smelling them; they won't be simply relying on photos. Be sure to follow any instructions regarding packaging your samples to send to the jury, and create packaging that is attractive and shows your products in their best possible light.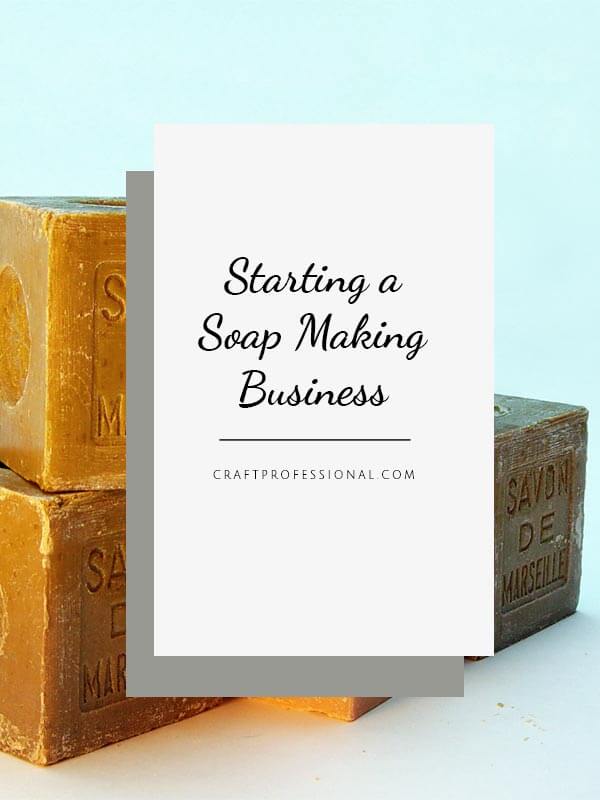 Look for Promising Niches

Look for niches where your products fit beyond art and craft shows. For example, you may be able to take advantage of growing consumer awareness of environmental issues and desire for organic products. If you use materials that are organic, you can promote your products to eco-conscious consumers and consumers who want to avoid unnecessary additives in the products they use.
Looking for these types of niches can help you to distinguish your products from other soapers at craft shows and will provide you with opportunities and venues for selling your soap (health food stores for example in the organic/eco-friendly niche) beyond the traditional venues in the craft industry niche.