Selling Your Crafts
If you buy something through links on Craft Professional, I may earn a referral fee. To learn more see my
disclosure
.
---
Recently I had an experience that underscored the importance of being prepared when selling your crafts.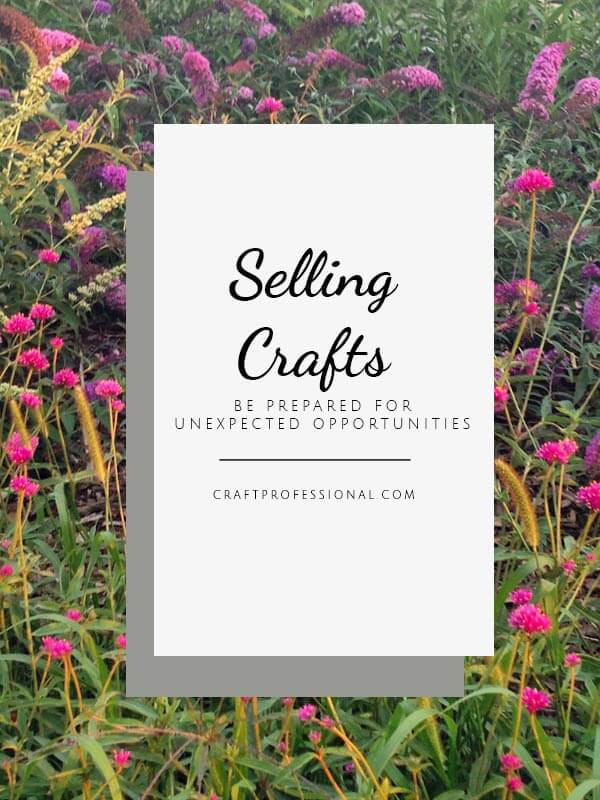 I had been reading from the company I represent, Stampin' Up!, some tutorials that suggest you might want to carry with you brochures, business cards and samples in order to present these to any potential customers we may meet during our everyday lives.
So taking this to heart - and more - I made up my ideal "business mini-kit" of materials which I carry around in a small but attractive tote. The business mini-kit is comprised of samples of handmade cards, products we sell, brochures and of course, my business card. Through experience I learned to add a Customer Log - a small journal in which potential customers could write in their contact information and sign up for my mailing list. So much better than scribbling their email addresses on a scrap of something!
By having this basic business mini-kit along, not only do I achieve what I intend and that is to capture contacts and potential leads when I find them, but I also present a polished image to those important and possibly future clients and associates. They are forming a first impression of you as well, and deciding if they'd really like to do business with you - don't forget that!

And for my first comment here about being prepared when selling your crafts that underscoring experience - Going to a local hospital for some personal reasons, as always, I decided to bring along my mini-kit and after my test, I would look up the Recreational Director to see if I could arrange a craft event. A large hospital could have many potential areas to explore - and I was excited!
As I moved through the hospital towards the section of the building where I could locate the Recreation Office I ended up in an elevator where at the last second before the doors closed, an attractive business woman stepped in and looked me over. Sensing I didn't work there, she asked me if she could help me locate something and I explained where I was trying to go....when she promptly advised me, that she was the Recreation Director! I was 'ON' as we say!
Not losing the sense of importance this opportunity presented, I confidently made a brief introduction and quick presentation of my ideas. Having that well-thought out mini-kit saved the day and gave me that confidence because I was able to make a professional presentation, and it allowed me to focus more on the direct interaction I was having with another professional! The accidental meeting went well, and I was invited back to have a more in-depth consultation. Bingo!
In reflection, was the meeting accidental after all? It may have been - but only in the fact that I met the person I was seeking unknowingly, and maybe if she had not spoke up first, we may have walked down the hall together not realizing we would be having a conversation until we were at her office door, so to that extent, maybe it was accidental. However, the fact that I was creating an opportunity is also a factor because I was prepared and therefore, capable of changing a chance encounter into a business opportunity.
You never know when an opportunity for selling your crafts will arise, and like I said, it's best to be prepared when opportunity knocks!
Guest author Beverly Taylor is an avid crafter and artist with professional background experience as an Art Conservator, Guest Curator and Independent Stampin' Up! Demonstrator. Her blog, Beverly's Stamping Beehive explores her crafty nature and her business.
Related Articles