Selling Art Online with Great Craft Photography
If you buy something through links on Craft Professional, I may earn a referral fee. To learn more see my
disclosure
.
---
When you're selling art online, your photographs are probably the single most important factor that will make or break your sales once people arrive at your online store.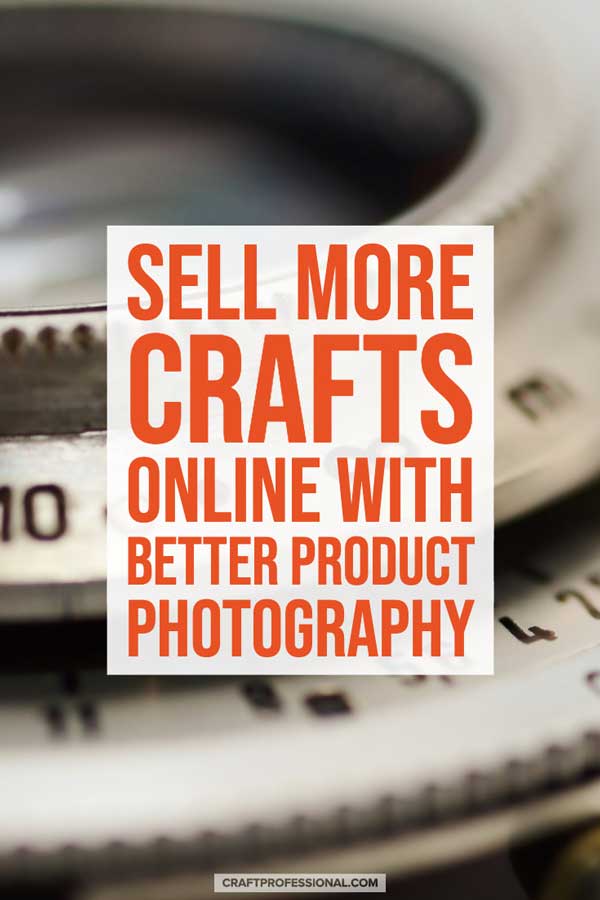 In fact, based on the many craft artists' websites I've explored, I'd say that poor quality photography is one of the most common and costly mistakes people make.
When customers buy an item in person, they typically want to experience that object with many of their senses before they commit to buy. They will touch an item, they may pick up a beautiful vase to feel its weight, and they will ensure they get a good look at any item before making a decision to purchase.
When you are selling art online, customers don't have the opportunity to experience your work in the same way. Your photographs have to stand in place of that experience. They need to show your work at its best, and create an air of charm, or glamor, or sophistication - whatever it is that motivates your customers to buy your items. So great craft photography on your website is a must.
As crafters we like to do things ourselves, and because of that, many artists photograph their own work for sale on their websites. This strategy is a great time and money saver if you have the skills and equipment required to take great photos of your work. However, many of us have neither the skill nor the equipment required to take truly great craft photos.

If you have limited knowledge of lighting, composing and taking craft photos effectively, and if you're working with the typical point and shoot camera that the average person uses to take family photos, you will really struggle to get the kind of photos you need for selling art online. In fact, if you're getting traffic to your site, but not making sales, and your photos are only marginally good, it's very likely that your photos are the culprit in your lost sales.
If this sound like your website, there are a couple of strategies you can use to improve the photos on your site.
Hire a Professional to Take Your Craft Photos
Professional photographers have the skill and equipment necessary to take great photos of your work. The money invested in paying a professional photographer can be well worth it if better photographs lead to increased sales on your site, and if you save on the time you would otherwise spend photographing your own work.

When you choose a photographer, be sure to choose someone who is skilled at photographing objects (as opposed to people). There are a different set of skills and considerations involved when photographing objects, so the photographer who took gorgeous family photos for you might not be the best person to choose for your craft photos.
To be most cost effective, you'll want to have the photographer shoot as many items as possible at once, so you'll need to gather up your best work that is most representative of your style. Hiring a photographer is more cost efective and workable when you sell a fixed line of products; it's a bit trickier when you sell one of a kind pieces. Be sure that you are providing samples of your very best work. Don't expect your photographer to hide flaws with photo editing software; your items must show your skill and craftsmanship.
Learn How to Take Really Great Craft Photos
---
I earn a commission for purchases made through links on this page.
To learn more, please see my disclosure.
---
Digital photography has become much more accessible than it once was. Ultimately, nothing beats the work of a pro, but hiring a pro photographer every time you design a new piece is not always a practical option.
You can purchase a digital SLR camera that will meet your needs for a reasonable price - My photography instructor recommends Nikon or Canon DSLR camera - and if you invest a little bit of time to understand some specific concepts, you can learn what you need to know to take photos that will help you sell your crafts online.
Where to LEarn Traditional, Product-Only Craft Photography
If you are really committed to learning to take great craft photos, the book Photographing Arts Crafts and Collectibles by Steve Meltzer is an excellent place to learn about traditional style craft photography that is commonly associated with juried art shows.
Where to LEarn Lifestyle Product Photography for Crafts
If you'd like to learn how to take lifestyle product photos of your crafts, something more appropriate for blogging or social media, for example, then The Crafter's Guide to Taking Great Photos by Heidi Adnum is a fabulous resource.
My Favorite Craft Photography Online Course
Finally, if you'd prefer to take an online product photography course, Product Photography at Home on Craftsy is my top recommendation. It was created specifically for craft artists and has all of the information a beginner would need to started>
I've researched this subject quite thoroughly for my own craft business, and these two books as well as the Craftsy course have the most complete, helpful, honest and easy to understand information about good craft photography that I've found.
Keep in mind, if you want to photograph your own crafts and you're a beginner photographer, you'll probably need to commit some money to buy appropriate equipment including lighting, backgrounds, a tripod, and perhaps a new camera (depending on what you already have). You'll also need to commit some time to learning the techniques which are very clearly laid out in the book.

The benefit of being able to do your own craft photography for selling art online is that you'll be able to photograph and post new items on your site as you design them. This can be extremely helpful if you don't carry a fixed line of items but rather, create one of a kind or limited edition pieces.
If you can't have a professional photograph all of your work at once, being required to call up a professional photographer each time you want to post a new item on Etsy, or your own site can be quite unrealistic. In that case, learning how to take great photos can be a smart investment in your business, and the money and time invested in acquiring and learning how to use your new camera can really pay off with increased sales online.