Printable Year Planner
If you buy something through links on Craft Professional, I may earn a referral fee. To learn more see my
disclosure
.
---
This week on the Craft Business Challenge: 
I've spent the year developing and working with a printable planner that has helped me triple productivity. Now I'm ready to share it.
Please Note: My printable planner is no longer available on my Etsy shop. I have plans to update the planner. It will be posted here as soon as the project is complete.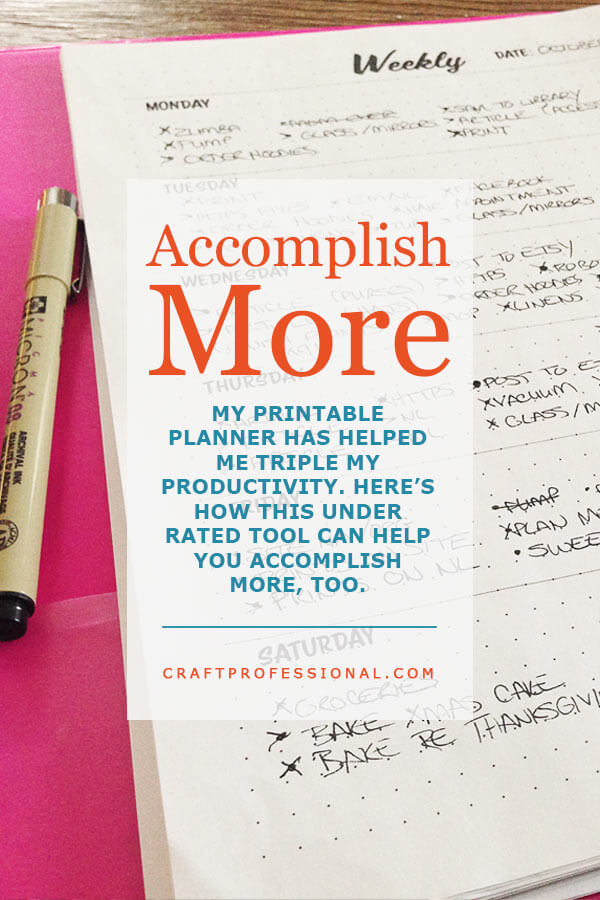 Heading into the new year, many of us are focused on planning for the upcoming year - setting goals, planning out how you'll focus your time throughout each month, thinking about the seasonal nature of your business, reviewing what went well this year and deciding what you want to change for the upcoming year.
When I reflect on my own year, I know one of the best things I did in 2017 was to commit to using a paper-based printable year planner to track all of my work and my personal responsibilities.
It completely changed how I work.
My printable year planner helped me to monitor what I have accomplished, and as a result, I wrote three times more articles for this site in 2017 than I had in previous years. (I averaged the number of articles on the site by the number of years I've been writing the site to get to this number.)

I've started outlining goals for 2018 with my planner, and I'm even a bit ahead for January, which means I can spend time with my family, not working much, and be completely guilt free because I know I've already made a start on my January 2018 goals and tasks.
I've added my printable year planner to my Etsy shop this week, so anyone who wants to commit to their own smart business and personal planning can use this resource, too. Don't worry, although I'm not working much over the holidays, I am checking messages, so if you have questions about the planner, I'll get and reply to your message. :)
If you want to read more about how my planner helped me accomplish more in 2017, there's a link below that provides more details. If you want to jump straight to the printable year planner on my Etsy shop, there's a link for that, too.
Printable Year Planner
My Printable Year Planner: Here's where you'll find more details about my planner. Find out everything that's included in the planner, and how I've used it to improve my productivity this past year.
Wishing You a Wonderful New Year!
I'm immensely grateful for everyone who visits my site, and I'm particularly grateful to everyone who reads my newsletter. I'm fortunate that my life is pretty wonderful. I get to run a business that is meaningful and interesting while still having time for friends, family, and fun. You make that possible, and I truly appreciate that.
I hope you have a fabulous new year. I hope you and those you love thrive in 2018. I hope you spend as much time as possible living your life in line with your values and achieving successes that are meaningful to you.
All the best for a happy, healthy, and rewarding new year.
Lisa
THANK YOU FOR JOINING IN THE CRAFT BUSINESS CHALLENGE
I'm thrilled that thousands of craft artists have signed up for the Craft Professional email alerts. If you've reached this page by surfing around the site, and you'd like to get the weekly email updates, simply add your best email address in the form below.