Printable Daily Planner
"Tell me, what is it you plan to do with your one wild and precious life?"
Mary Oliver
If you buy something through links on Craft Professional, I may earn a referral fee. To learn more see my
disclosure
.
---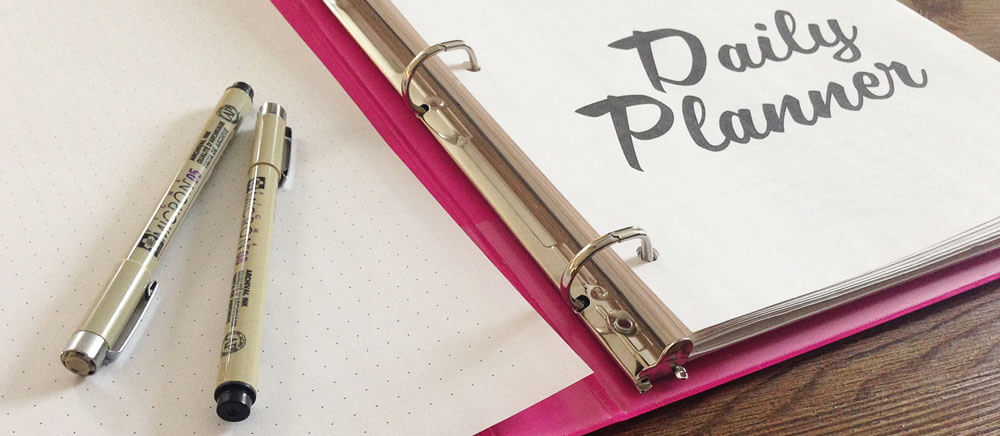 Here it is! The printable daily planner that has helped me to triple my productivity in the past year.
I've spent well over a year working with several versions of a printable planner, revising it until it became a useful tool that truly helped me to accomplish more. Now that it's working beautifully for me, I've added it to my Etsy shop to share with other craft professionals.

Please Note: My printable planner is no longer available in my Etsy shop. I have plans to update the planner. It will be posted here as soon as the project is complete.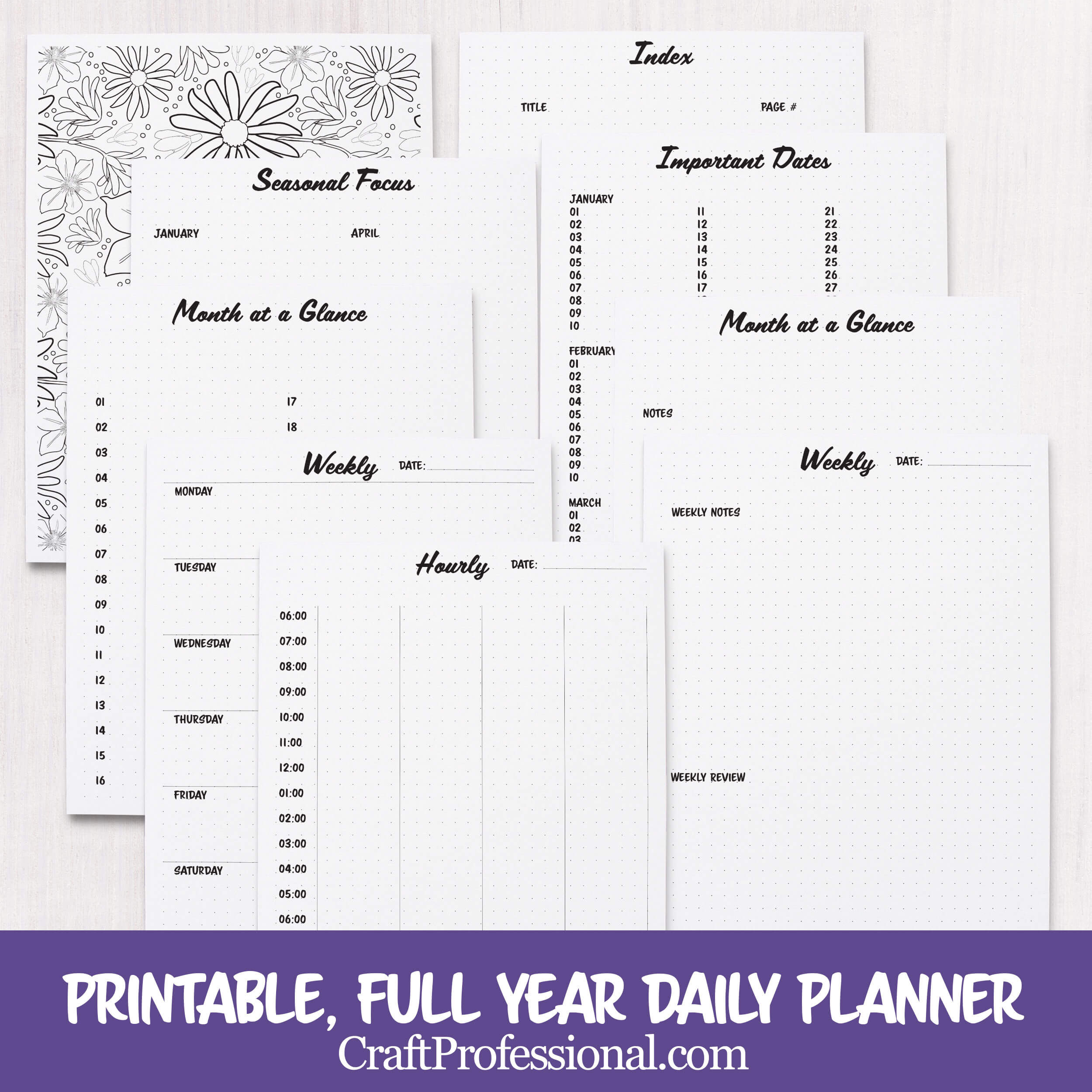 After trying several versions of my planner, I've discovered that less is more. That is, the more simple the design, and the less constrained I am in how to use my planner pages, the better the planner works.

As a solopreneur, you're responsible for everything in your business, and your business demands can change wildly from one week to the next. That's why I've created the planner to provide just enough structure to help you keep everything on track, but also enough flexibility to ensure you can use it to track whatever you happen to be working on at the moment.
It's flexible enough help you manage home and personal responsibilities as well as tracking your business goals and tasks. When you work from home, your personal responsibilities have a tendency to flow into your work responsibilities. My printable daily planner has helped me to get a handle on all of it in one place.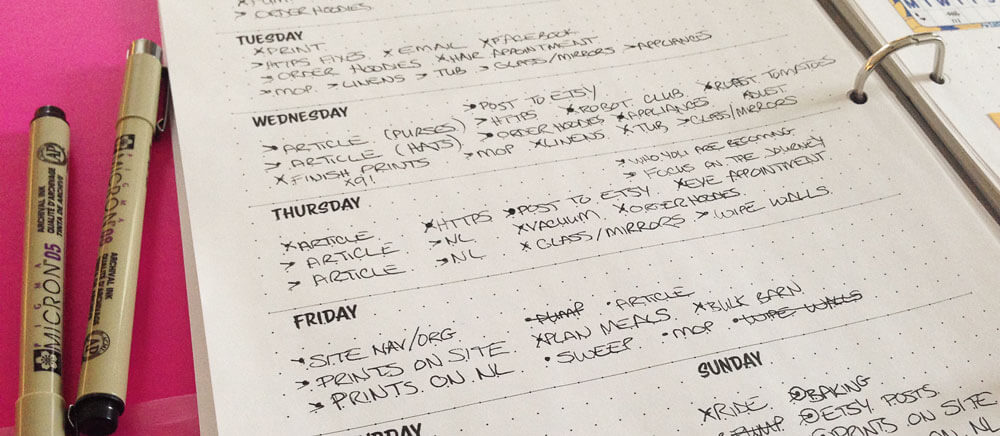 Printable Daily Planner - binder and markers not included :)
Here's what you'll get with your purchase:

PLAN YOUR YEAR
Use these pages for big picture planning to work out and commit to things you'd like to accomplish over the year.
Index Pages - Add page numbers as you complete your planner pages, and you can then use this index to help you easily find pages within your planner.
Seasonal Focus Pages - Plan what you'll focus on during each month of the year. 
Important Dates Pages - Keep note of important dates throughout the year.
Blank Dot Grid Pages - Blank dot grid pages give you flexibility to add anything additional you like to your planner.
PLAN YOUR MONTH
Use these pages to keep track and plan on a monthly basis.

Dated Month at a Glance - Track dates of important events each month on a single page.
Month at a Glance Notes - Use this page to make notes related to the coming month.
PLAN YOUR WEEKS
Here's where you'll plan your week. These are the pages where I take care of most of my day to day planning time management.

Weekly Planner - Week on One Page - Use this page to quickly plan your days each week
Weekly Planner - Notes and Review - This page gives you space to make more detailed notes on your weekly plans and review your week.
PLAN YOUR DAYS
Get your days on track down to the hour
Hourly Planner - Plan your days in detail by the hour. Great for people with packed scheduled who need more detailed time-based planning.
Make it look fabulous
I'm always more motivated to use a tool if it's attractive, so I've designed 5 cover pages you can use to make your planner look great.
Cover Pages - Choose from 5 cover page designs to create a planner that suits your stlye
Tips Sheet
Your planner tips sheet includes tips for printing your planner, suggestions for organizing your pages, and ideas for making best use of your printable planner pages.
Printable daily planner Details
Your printable daily planner can be purchased through my Etsy shop and is delivered instantly in 5 press quality PDF files.
Pages are designed to print on 8.5 by 11 inch paper, and there are 18 different page designs.
All dated pages are set up so they work from one year to the next, so you can purchase your planner once and enjoy years of organization and productivity.
All pages (except the cover designs) include a dot grid background. The dots are built into the design. Simply put blank paper in your printer, and your planner pages will print with a handy dot grid. Dot grids are a great alternative to lined paper. The dots keep your planner looking good by guiding your writing, but dots aren't as confining as lined paper, so you can easily add pictures or diagrams to your planner, too.
Planner Covers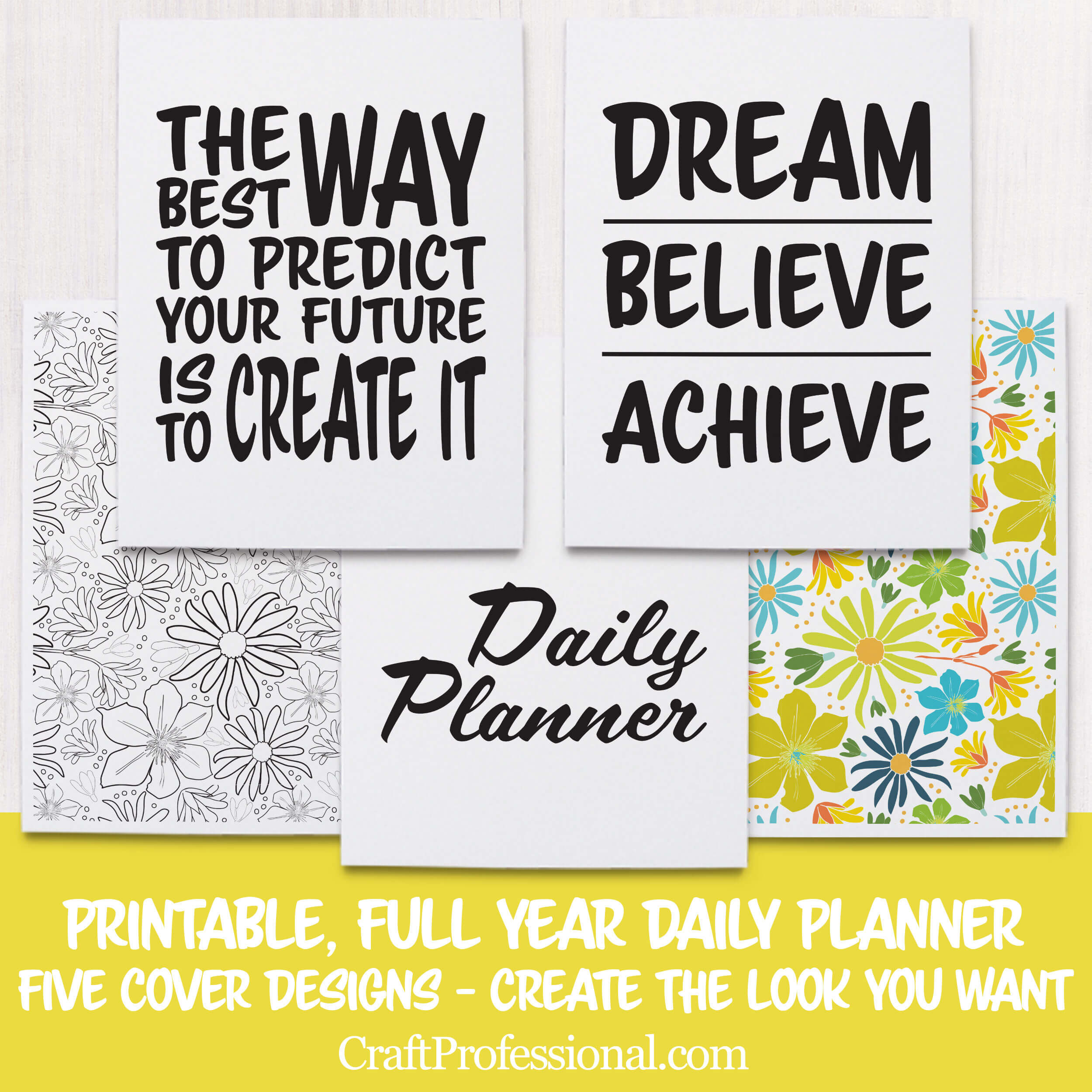 You'll get 5 planner covers to choose from. Create the look that suits your style, or choose the saying the most motivates you. Or print them all and use them throughout your planner.

Seasonal Focus Pages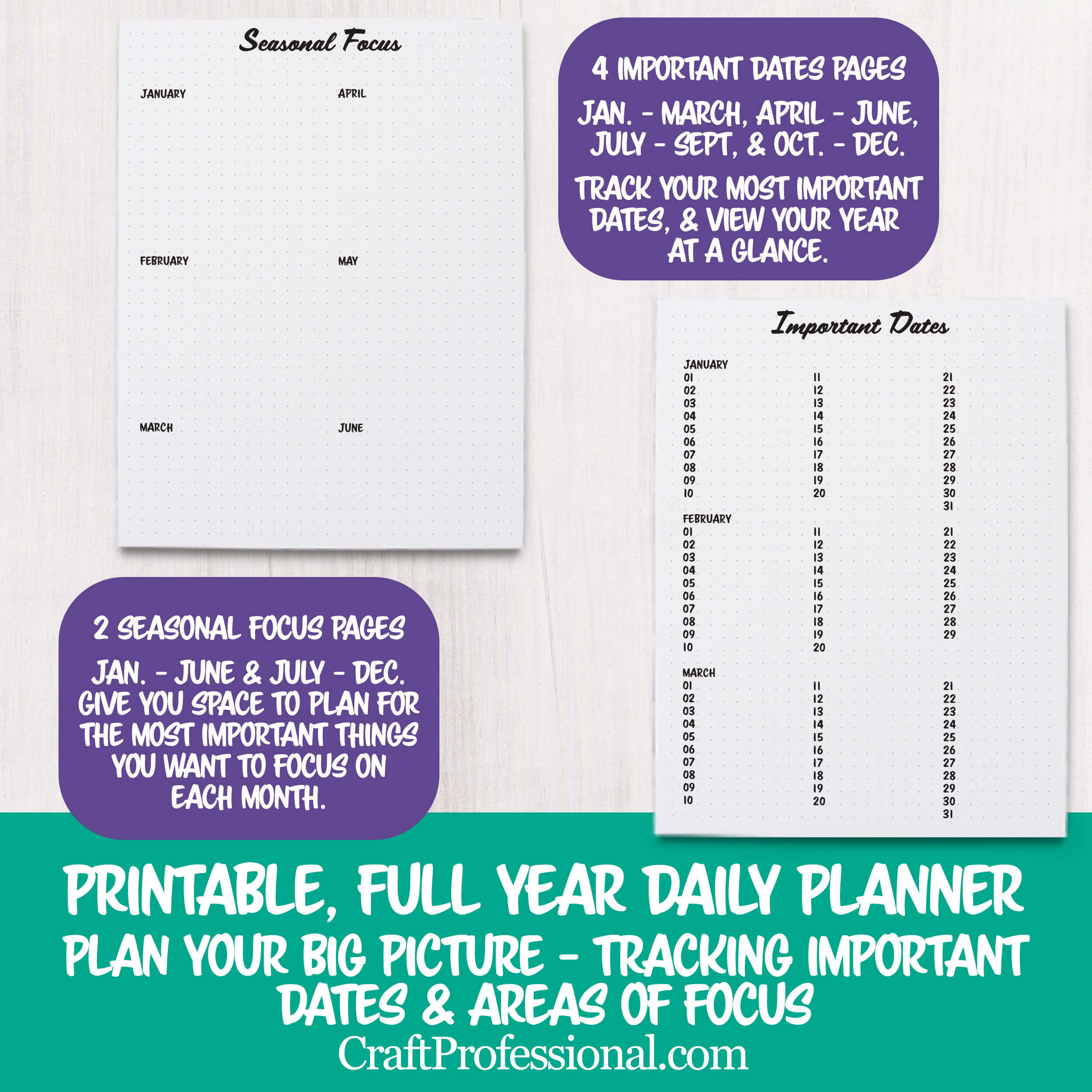 These pages were designed with a craft professional in mind. They cover the entire year on two pages and allow you to map out your main areas of focus throughout the year.

Craft businesses are definitely seasonal. If you do shows, in January and February, you'll be busy applying to craft shows for the upcoming year. Perhaps you spend the spring building up stock for the upcoming summer show season. You may design your line of products early to be ready for seasonal sales (hello, Christmas in July). Maybe you have a personal goal to work toward, and you want to focus on it when your business is quieter. You can map all of that out on your Seasonal Focus pages.
However you organize your year, these pages will help you see your year at a glance and plan out the best times to focus on different aspects of your business and personal goals and projects.

Important Dates
This section shows you the entire year, dated, on four pages. Where the Seasonal Focus pages allow you to do more general planning, these dated pages allow you to track important dates. You might make note of important craft show application deadlines, dates of studio tours you want to attend, or deadlines you've imposed on yourself for finishing a big project.
Putting all of your important dates on four pages allows you to see how your entire year is shaping up. It will give you a picture of when you are busy and when you have a little more free time and help you to avoid missing important deadlines.
Month at a Glance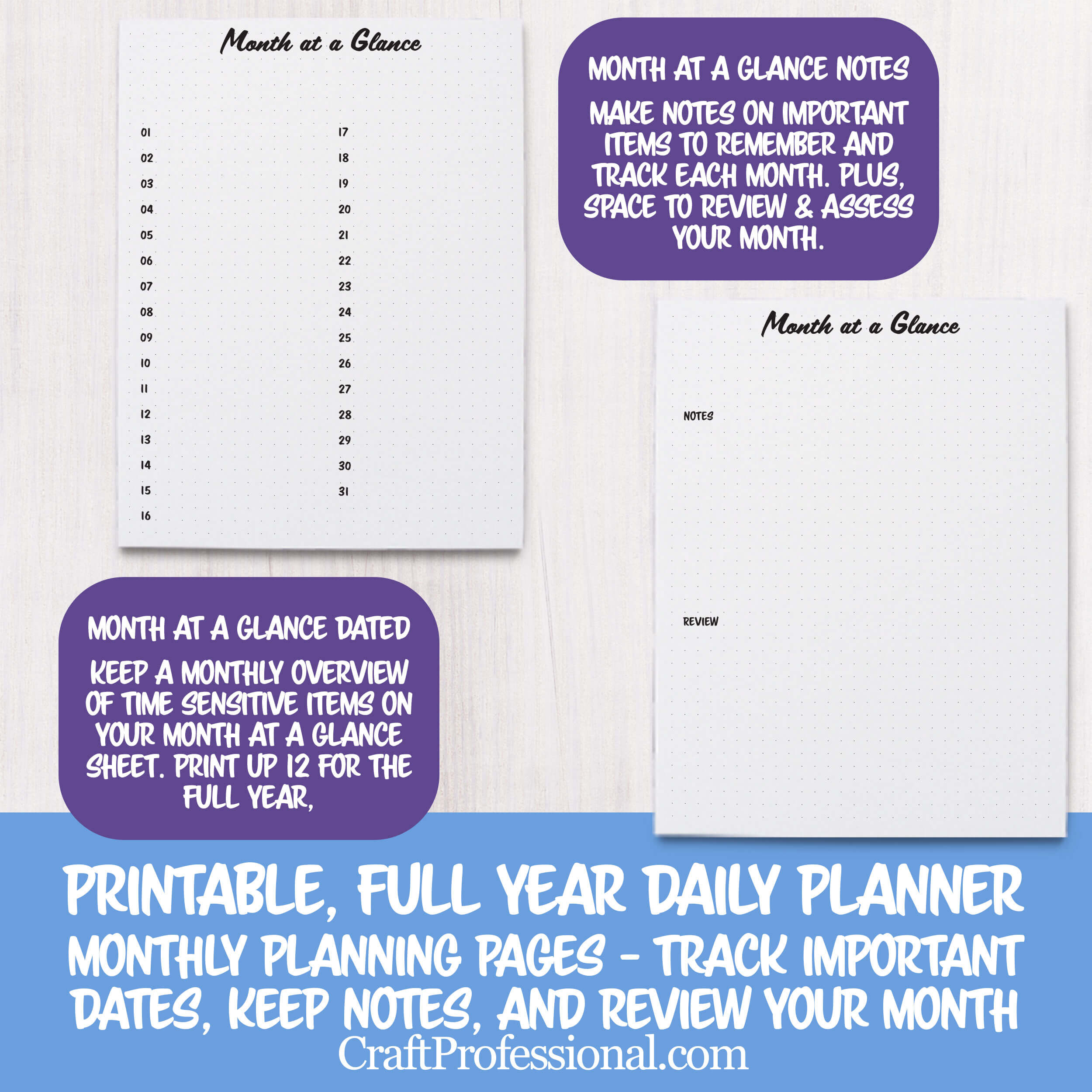 Two month at a glance pages allow you to plan time-sensitive items each month, and also keep general notes for the month.
On the dated page, keep track of anything time sensitive for that particular month. At the beginning of each month, I like to refer back to the Important Dates page, check for anything I've noted for that particular month, and transfer it over to the monthly page. That keeps me on track.
On the undated Month at a Glance page, make general notes about things you want to accomplish or remember that month, and take some time to review the month.

Weekly Planning Pages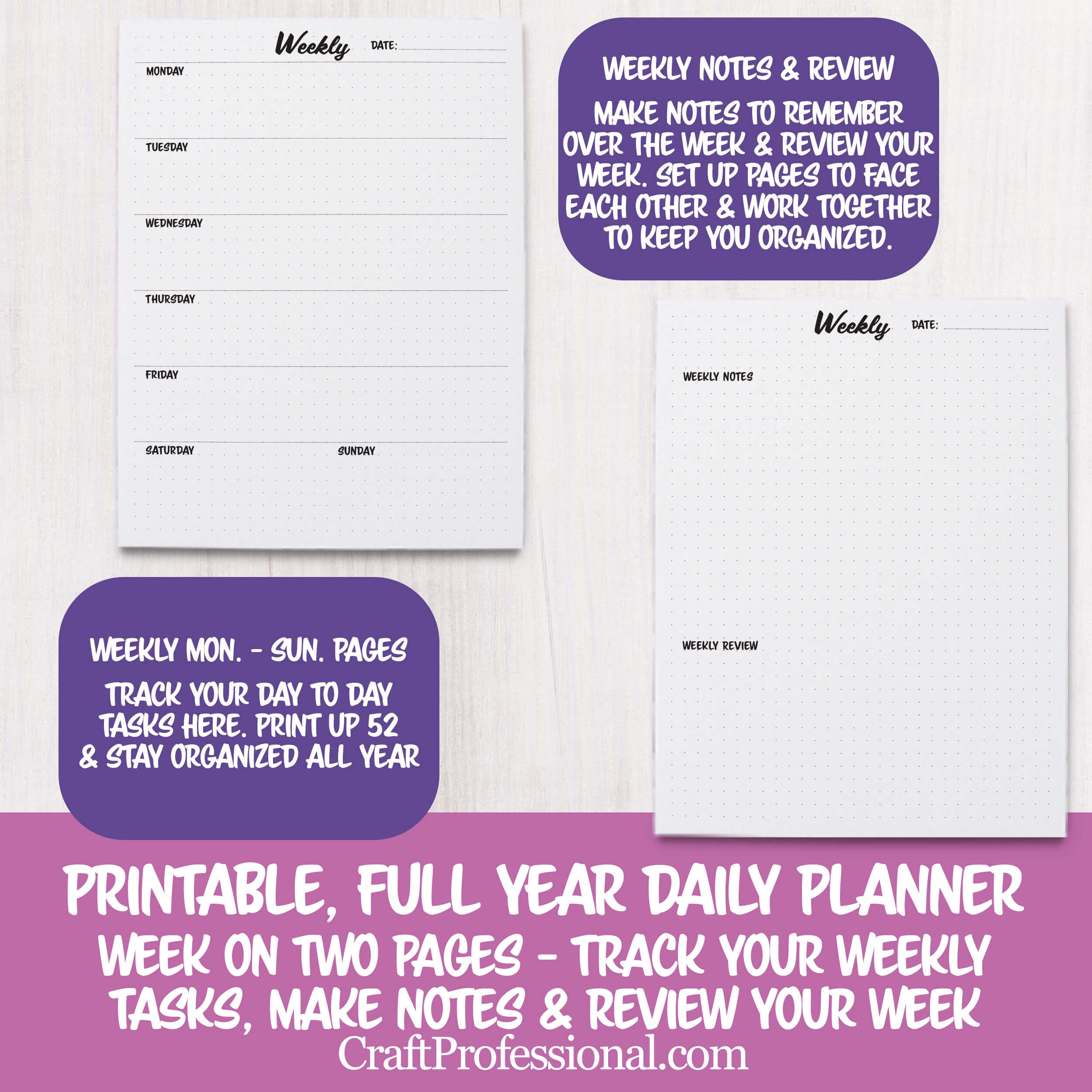 These pages form the core of the printable daily planner. This is where I spend most of my time mapping out my work. 
Your first weekly planner page lets you track an entire week, Monday to Sunday on a single page. There's room to make note of tasks you want to complete each day, and appointments. The second weekly page gives you more flexibility. here's where you can make note of anything you need to remember, keep track of habits, and review your week.
Hourly Planning Pages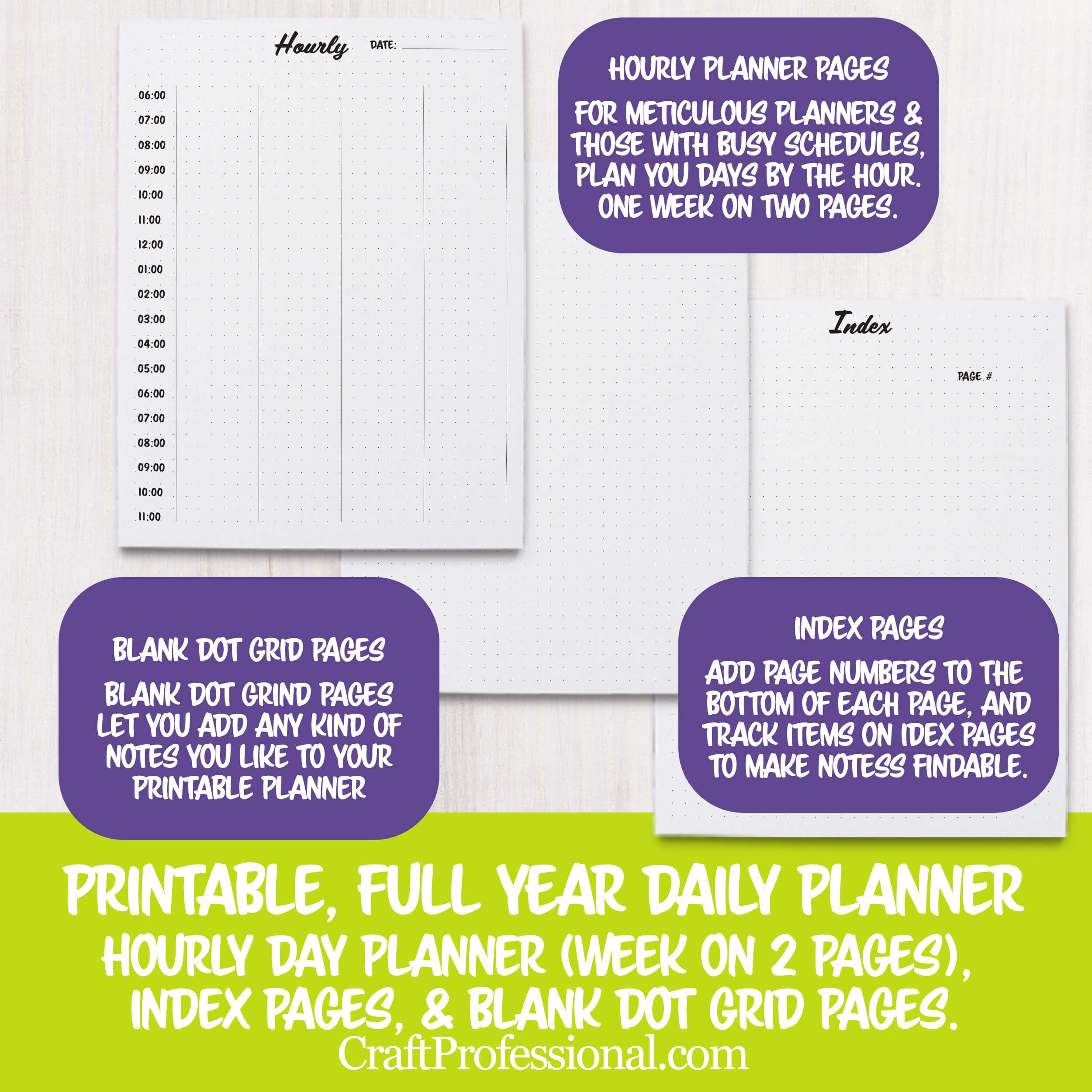 Hourly planning pages are perfect for people who want to plan their days in a more structured way. They are great for keeping track or appointments.
Hourly planning can also be excellent for productivity. One way of getting through a lot of work quickly is to make yourself more aware of time. Your hourly planning page can help you stick to those time commitments.
Index Pages

Index pages help you to keep track of what you've written in your planner. If you get in the habit of numbering your planner pages, then you can note important pages in the index, so you can find them in an instant. You don't have to add every single planner page to your index, but if you add the pages that you think you might want to refer back to at some point, they will always be findable.
Blank Dot Grid Pages
Dot grid pages are fabulous! I really love keeping notes on them. They are so much more flexible to use than lined paper. The dot grid keeps my writing straight on the horizontal, but the grid also make it easier to line up lists, or add diagrams or drawings.
Blank dot grid pages give you the flexibility to anything at all you want to your printable daily planner. Want to keep track of books you'd like to read, make notes on business-related research, do some brainstorming, or anything else you might want to put on paper, your dot grid pages will give you space to do all of that.
I'm truly looking forward to everything I'm going to accomplish in the new year with the help of my printable daily planner. I hope it will help you thrive and meet your business goals, too.