Pottery Displays
If you buy something through links on Craft Professional, I may earn a referral fee. To learn more see my
disclosure
.
---
Here are 6 photos of pottery displays at both indoor and outdoor shows. They showcase a variety of styles and include everything from a simple and casual set up at a farmer's market, to a substantial, elegant display at a hugely popular two-week long show. 
First up, we have a tabletop display with portable shelves. Tables provide a sturdy foundation for this display. The fitted table coverings are a tidy look, and the color scheme matches with the pottery on display. Plus, there's plenty of storage space for craft show essentials under the tables. 
This booth is set up on uneven cobblestone, so it's likely the craft artist has added shims under some of the table legs to keep everything steady. 
The shelves appear to be very portable. Looking at the design, I would bet the horizontal pieces can be removed for easy transportation and storage.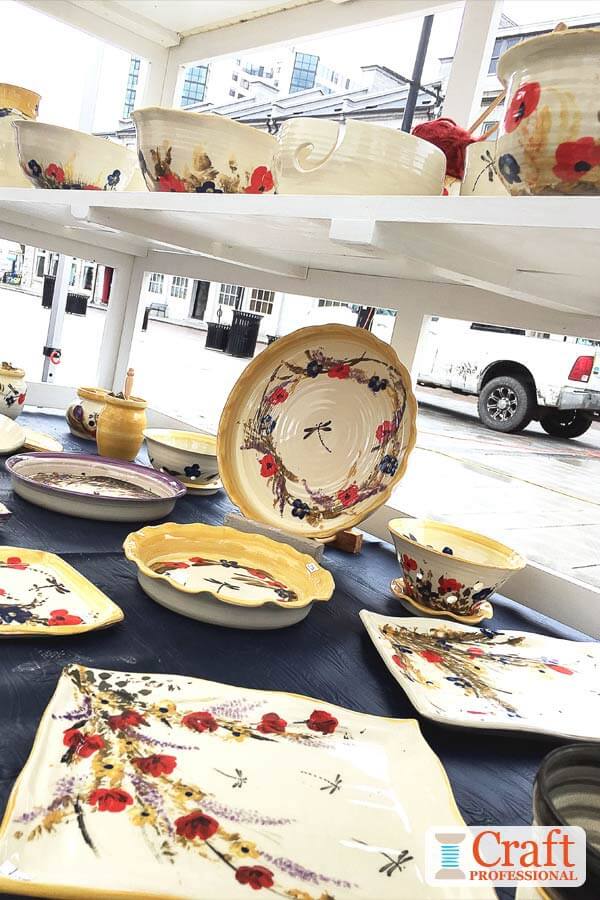 Here's another example of pottery displayed on a tabletop display with shelves used for added height and display space. This type of setup is a popular way to display pottery.
There's no lighting in the booth because it's outdoors, and the vendors may not have access to power. If this booth were indoors, it would definitely benefit from some added lighting.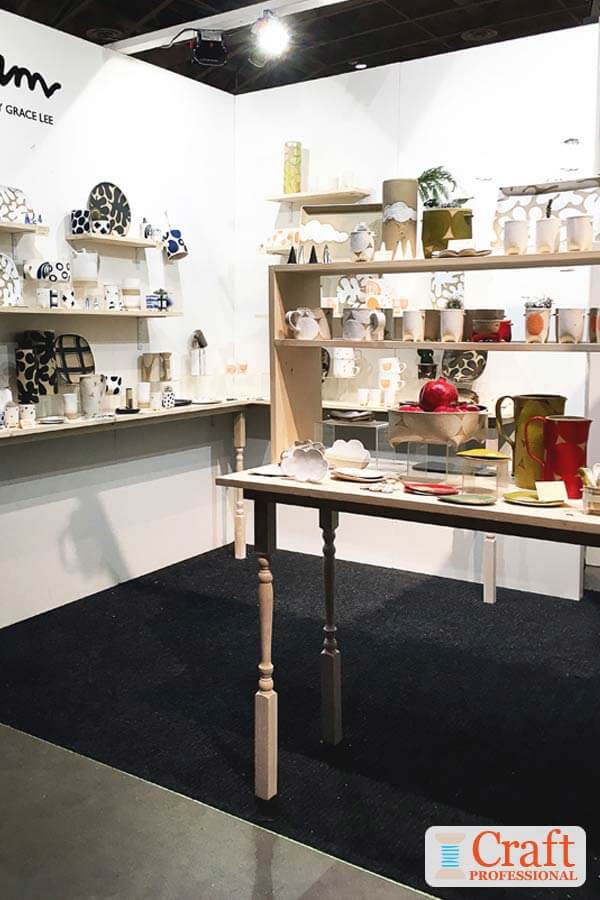 Here's another pottery display using tables and shelves, but this time, in a very different way. Tables are narrow and counter height, ensuring they are easy to browse and don't take up too much floor space in the display. I've looked at a lot of narrow and counter-height tables, but I've never seen ones quite like these. I would guess they were custom made to exact specifications.
The white walls, black flooring, and neutral colored wood provides a simple and elegant backdrop that feels homey and allows customers to imagine the products in their own homes, and also allows the pottery to remain the focus of the display.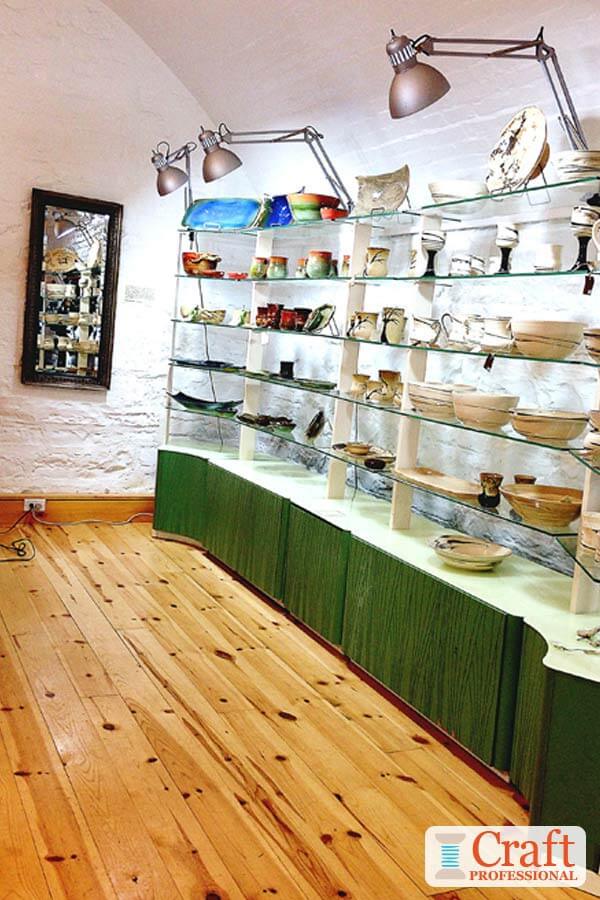 Here's a semi-portable display that's on display for a few weeks during the Christmas season and then taken down for the rest of the year.
This display appears to be a custom made display solution but, again, uses a tabletop and shelving combination.
Placing the shelves on top of a table brings the products up to eye level. 
Notice the swing arm lights at the top, combined with glass shelves that let plenty of light shine through.
Glass shelves certainly aren't for everyone. They do have their drawbacks, but one real benefit is the amount of light they allow throughout the display.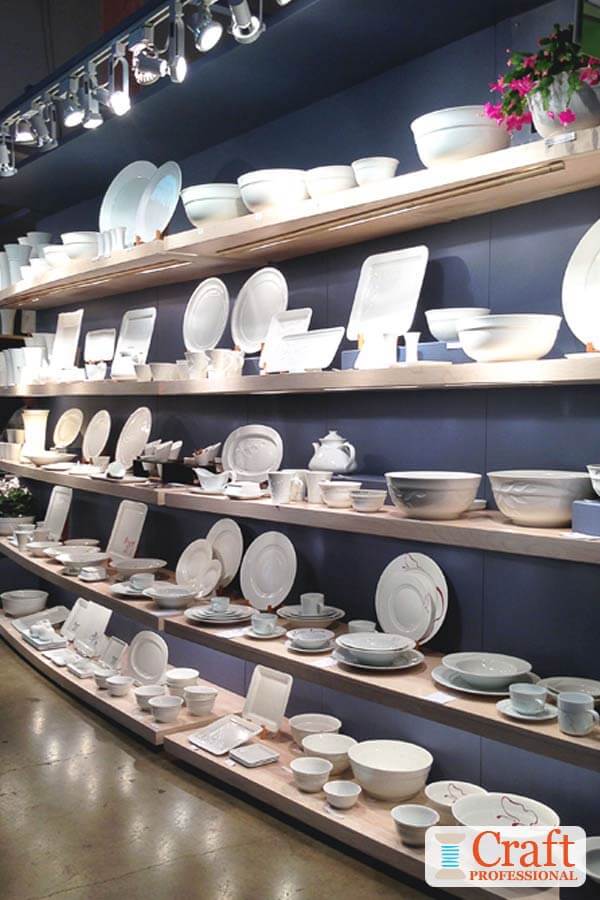 I have several photos of this pottery display, and I've shown this booth before, but I love it. This booth is at a large, two-week craft show, so the displays are more substantial than you'll find at shorter and smaller shows. However, a lot of the concepts illustrated here could translate into a more portable display.
You have to be so careful with rows and rows of straight lines like the shelves used in this display. If you're not careful, they can get monotonous. Here, though, you can see the display features waves of varying heights that break up the linear look of the shelves and help to move the eye around the booth.  A few spall and unexpected pops of color, like the pink flowers show in the top right of the photo also add interest and break up the lines.
The lighting in this booth is fantastic.

There are spotlights at the top of the booth and angled strategically to light up the whole area. In addition, there are also strip lights strip lights secured under the shelves to banish any shadows caused by the shelves above.
I love the choice of midnight blue as a backdrop for this display. It would have been so easy to display this tableware against black, but the midnight blue still creates a strong contrast, while also providing a more interesting and less obvious color scheme.

Printable Signs for Your Craft Booth