Portable Booth Display Ideas, Photos, and Craft Show Tips
If you buy something through links on Craft Professional, I may earn a referral fee. To learn more see my
disclosure
.
---
This week on the Craft Business Challenge: 
8 new accessories display photos, 8 hat display pics, a tool to take the confusion out of craft tent research, and tips to make the most of your day at a craft show.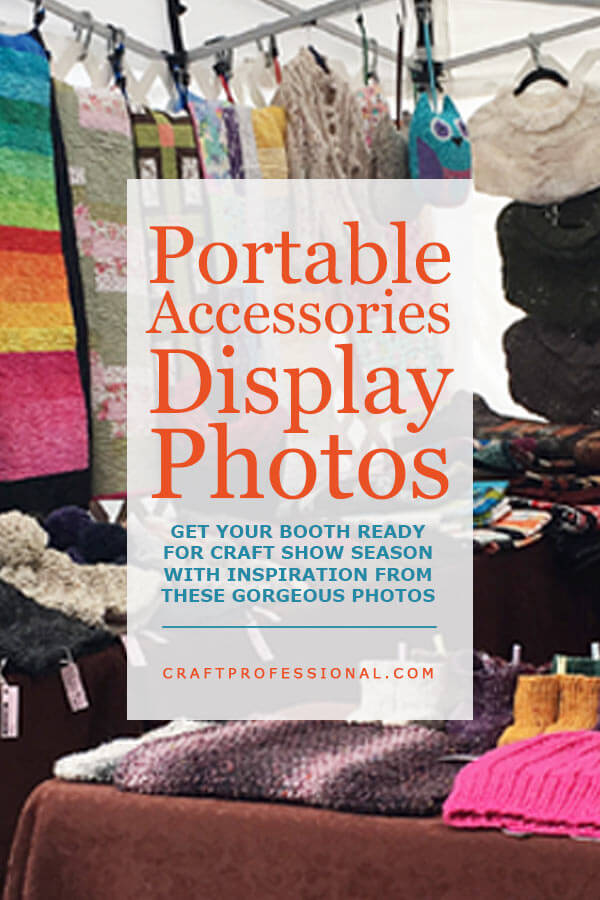 It's not too early to start getting ready for craft shows. This week, I have more new portable booth display photos with a focus on displaying accessories. If you need to show off handmade hats, scarves, or other accessories, this is your week! I have 8 brand new accessories display photos, and 8 hat booth pics. 
If you're researching craft tents and feeling utterly confused, I have a tool to make your decision making easier. Download my craft tent comparison chart to organize your research, and make the task of choosing a craft tent vastly easier.
Finally, you put a lot of work and resources into attending a craft show. Once you get there, you want to have the best experience possible. I have 6 tips to help you prepare and make the most of your day at a craft show.

What's NEW THIS WEEK?
8 New Accessories Booth Photos: 8 new photos with ideas for displaying hats, scarves, and smaller clothing items. If your products are fairly small, you just might find some portable booth display ideas that will work for you here.
TIMELY TIPS
Focus: Get Ready for Craft show Season
Craft Tent Comparison Chart: Take the confusion out of choosing a craft tent with this handy, printable craft tent comparison chart. Track your research, and choose the tent that's the best fit for your needs.
10 Hat Display Photos: More great photos of accessory displays, this time with a focus on hats. Don't skip this page just because you're not a milliner, these display solutions may also work for displaying other types of small to medium sized crafts.
6 Tips to Make Your Next Craft Show More Profitable, and More Enjoyable: Planning and preparation are everything when it comes to craft show happiness. There are plenty of things you can put in place well ahead of the show season to make your experience positive. Here are 6 tips to help you choose the right shows and make the most of your day.
PRINTABLE SIGNS FOR YOUR CRAFT BOOTH
Don't you wish you could encourage your customers to splurge a bit? I have plenty of printable craft booth signs in my Etsy shop to inspire your customers to treat themselves and support your small business.
THANK YOU FOR JOINING IN THE CRAFT BUSINESS CHALLENGE
I'm thrilled that thousands of craft artists have signed up for the Craft Professional email alerts. If you've reached this page by surfing around the site, and you'd like to get the weekly email updates, simply add your best email address in the form below.