Pinterest Business Marketing

If you buy something through links on Craft Professional, I may earn a referral fee. To learn more see my
disclosure
.
---
This week on the Craft Business Challenge:
We start a series on marketing your business on Pinterest.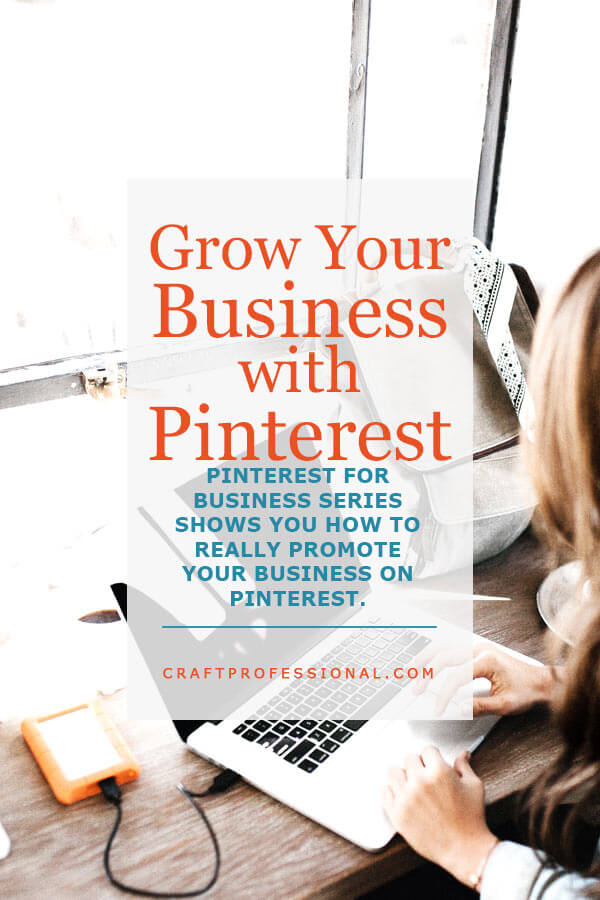 I started updating my Pinterest business marketing articles and ended up with an entire series of articles about how to promote your business on Pinterest. I'm still working on finishing the last few articles, so this week we'll start with the first five articles in the series. Two are brand new, and three are past articles about using Pinterest for business with substantial updates to reflect the newest developments.
Pinterest is an excellent platform for marketing a creative business. It's not particularly tough to master, and with a little work on the front-end, you can promote your business on Pinterest with a reasonable time commitment. I'll share how I grow my presence on Pinterest, and the workflow I use to keep the workload manageable.
I've set up the newsletter a bit differently this week. Usually, I separate out the new articles and the timely tips from the past. This week, because all of the articles are part of a series, I've organized them in the logical way that they fit together. Each article stands on its own, but if your are new to Pinterest business marketing, reading each in order will take you through a logical progression.

The new articles are marked with the word new, so you'll be able to find them easily.
Timely Tips
Focus: Pinterest Business Marketing Series PArts 1-5
How to Use Pinterest to Grow Your Craft Business: Pinterest presents an excellent opportunity for craft professionals who want to sell online. In the first article in the Pinterest series, we'll examine how you can use Pinterest to grow your business, and why, as a craft professional, you should strongly consider getting serious about marketing your business on this platform.
Pinterest for Business: If you want to use Pinterest to market your craft business, you'll need to approach your account very differently than you would approach a personal account. Here's how to set up your Pinterest account to maximize your opportunities to build your business online.
NEW - Create the Right Pinterest Boards: Promoting your business on Pinterest means you need to create the right kinds of boards that will help to attract your target customer. Here's how to choose the right boards to feature on your Pinterest account, plus, how to set your boards up to your best advantage.
NEW - Better Pinterest Pins: Curating excellent pins is at the core of building your following on Pinterest, but it can be a time consuming task if you're not careful. Here's how I choose what to pin and what to avoid, and how I find and schedule pins efficiently.
Pinterest Efficiency Tips: Pinterest business marketing doesn't have to be unreasonably time consuming, but without some smart strategies, it can take up a lot of your time. Here's the workflow and the tools I use to build my business with Pinterest with a reasonable commitment that leaves me with plenty of time for other priorities.
THANK YOU FOR JOINING IN THE CRAFT BUSINESS CHALLENGE
I'm thrilled that thousands of craft artists have signed up for the Craft Professional email alerts. If you've reached this page by surfing around the site, and you'd like to get the weekly email updates, simply add your best email address in the form below.