Smarter Instagram Hashtags 
Understand what you're trying to accomplish with hashtags, and Use better, more strategic hashtags to get noticed and grow your following.
You want to be found on Instagram. Right? That means you must use hashtags. Good use of the right Instagram hashtags is essential to growing your account without using spammy tricks.
The way to be found on Instagram's search feature is via hashtags. Its search function does not include words you type into the comment section unless they are proceeded by a #. For example, if you captioned a photo, "Just finishing up a new batch of handmade soaps" none of that would be found in Instagram's search because there are no hashtags. Instead, if you wrote, "Just finishing up a new batch of #handmadesoaps" then your image would be found for the search handmadesoaps.
You'll find a lot of advice telling you it's not cool to use more than three or four hashtags. I say forget that advice, particularly when you're growing a new Instagram account. 

You can't afford to be too cool for hashtags.

Hashtags aren't quite as important to people who already have a large, engaged Instagram following. They can get plenty of likes and comments from their existing followers. It's easy for those people to tell you to avoid hashtags because they've grown to a point at which they don't need them as much.
Instagram allows you to use 30 hashtags. I say, use them all. Or, at least, use as many relevant ones as you can find.
Here's how to use hashtags without being obnoxious. 

Don't put them in the photo description; they are too intrusive there. As soon as you post an image to Instagram, paste your list of hashtags as a comment. Easy. You have your hashtags without cluttering up your photo description.
Use the Right Instagram Hashtags
If you search up "Instagram hashtags for crafts" you'll find a bunch of articles with lists of generic hashtags that fit handmade products. Do not rely on these lists. The ones I've seen aren't great. They are too generic. They often don't reflect words a potential customer would use to search for your product on Instagram, and they are far too competitive for someone who doesn't already have thousands of Instagram followers.
Do your own research. You'll almost certainly find much better options. Keep reading, and I'll show you how to do that research.
Understand what you're trying to achieve with hashtags
Before you decide what hashtags you'll use, you need to understand what you're trying to accomplish when using them.
When someone does a search on Instagram, the results show the top nine most popular images with that hashtag, followed by the most recent images with that hashtag. I won't pretend to understand all of the details of Instagram's algorithm, but, in general, the top nine results are some combination of posts with the most likes and comments, and more recent posts get a boost.
Ideally, you want to get your posts in the top nine most popular results for that hashtag, and you want your image to hang around in the most recent posts for a while.
How do you accomplish this feat? First, by posting great content, but beyond that, by using hashtags that are popular enough to generate views, but not so over-used that you can't compete.
When you're starting out, you can't compete with the accounts that have thousands of followers. All of their followers generate likes and comments for their posts, and those likes and comments move them up to the top nine most popular results, where they get more likes and comments. Accounts with a lot of engaged followers might be able to get away with using a generic hashtag like #handmade, but a newer account cannot win for something that competitive because a newer account doesn't have the followers to give their posts that initial engagement boost.
So, how do you win when you're establishing a newer account? Use less competitive hashtags. 
It takes some brainstorming to generate a list of good hashtags. I initially spent a couple of days working on it. However, once you have your lists, you just need to reassess them from time to time as your following grows. You can use more competitive hashtags when you have a bigger, engaged following.
How to Find the Right Hashtags for Your Business
Before you can start exploring Instagram, you'll need an account. You can download the app to a mobile device and follow the instructions to create an account, or you can go to Instagram.com and create an account.
Start brainstorming hashtags customers might use to find your product. Type those words into Instagram's search bar. I did all of this work on my computer because I found it easier than working on the Instagram app. You're looking for several pieces of information as you do this research, so be ready to make notes.
Notice, as you type your search term into Instagram's search bar, several suggestions will pop up. These suggestions are fantastic. They can help you find good, winnable hashtags you might not have considered. Make note of ones that look promising.
Second, notice each suggestion has a number below it. That number indicates how many posts on Instagram use that hashtag. You need to find hashtags that aren't too competitive. As a very general guideline, look for hashtags with fewer than 100,000 posts when you're getting started. When you have plenty of engaged followers, you can go after more competitive hashtags.
Keep Lists of Hashtags
Think of the general categories of items you might post on Instagram, and create lists of 30 winnable hashtags suitable for those categories. It will take you a while to make these lists, but it will save you time each time you post to Instagram, and it will help ensure you use hashtags consistently. 
If you have a list of good hashtags that are relevant to most things you're likely to post on Instagram, you'll simply need to go to that list when you're posting on Instagram, copy your hashtags, and paste them into your Instagram post.
I use Microsoft OneNote to store my lists of hashtags. I can use it on my computer and on my smart phone. On my computer, I open up OneNote, and create all of my lists of hashtags. When I'm ready to post to Instagram, I open up the OneNote app on my smart phone. All of the hashtag lists I created on OneNote on my computer are there on my smart phone. I find the list of hashtags that are most relevant to what I'm posting, copy them, and paste them in my Instagram post.
Avoid Hashtags That are Too Competitive
Let's explore the hashtag #shopsmall.

In the generic lists of "good" hashtags that some bloggers will tell you to use, #shopsmall is one that comes up frequently. Also, I do see a lot of craft professionals using this hashtag. 

Go on over to Instagram.com.  Type #shopsmall into the search bar and see what you get. 
As of this writing, there are over 7,700,000 posts tagged with the hashtag shopsmall. When I checked the #shopsmall search results, the top nine most popular items have between 500 and 1000 likes, plus several comments. They come from accounts with 15,000 to 200,000 followers. 
On top of that, there were 130 new posts made with the hashtag shopsmall within 10 minutes. I don't know how many posts the average person will scroll through. I certainly don't look at much more than 100 at a time. That means, a post with the hashtag shopsmall is practically invisible for that hashtag after about 10 minutes unless it can generate several hundred likes to put it in the top nine most popular posts.
Can you compete with that?
If you have a large, established, engaged following, and you can compete, great. If you're just starting out, though, that hashtag is way too competitive. You need to find something that is more winnable.
What hashtags are your customers using to find images like yours on Instagram?

Keep in mind, customers and experts in your niche can use quite different hashtags to search for the same item. 

For example, if I made semiprecious gemstone jewelry, I might tag my latest creation (assuming it was an amethyst necklace) with #amethystnecklace to help potential customers find it. It's not terribly competitive, and it's a hashtag someone who's interested in that product might use.
On the other hand, I might not be in a hurry to use #lapidary or #lapidaryartist to connect with customers. They are both not terribly competitive, but they are technical terms that a customer is not likely to think of. If I wanted to be found by other jewelry artists, or gemologists, then I certainly might use those hashtags.
Key Takeaways
Good hashtag use is essential to being found on Instagram. Use them, and use all 30 of them. We are not too cool for hashtags! 
Research them wisely. Don't accept a generic list created by someone else. And don't just copy hashtags you see others using. They might work for them because they have a larger following, or they are targeting different people. They may not work for you. 
Take your time to research relevant keywords people interested in your niche might use to search for images like yours. Save lists of hashtags so it's easy to copy and paste them to your post whenever you post something new on Instagram. 
Ensure your hashtags aren't too competitive, so your posts have a chance of getting some attention, knowing that you can use more competitive keywords as your account grows.
Moving Forward
Learn more about how to grow your business with Instagram.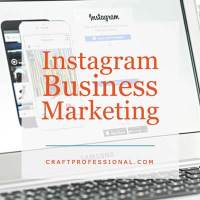 Is Instagram Marketing Right For Your Business?
Solopreneurs have limited time. You can't do everything. So, should you be doing Instagram? Read more here to determine if Instagram marketing is right for growing your craft business.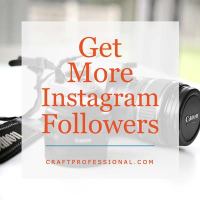 How to build an engaged Instagram following without using spammy techniques that could get you in trouble.
You Are Here
Home
➤
Sell Crafts Online
➤ Smarter Instagram Hashtags